The Haibike Trekking 5 is a fully loaded ebike with the new Bosch Performance Line Cruise motor (65nm), a 500wh in-tube battery, and comes with front suspension, full fenders, a rear rack, 2.4" tires, and lights hooked into the Bosch system!
Quickly Ride to a Section -
The Haibike Trekking 5 – At A Glance
*Price – $3,550 * Weight – large 58.4lbs, XL 59.8lbs – large step-thru 59.3lbs * Sizes – Step-thru – small 44cm, medium 48cm, large 52cm, Step over – small 48cm, medium 52cm, large 56cm, extra-large 60cm * Class 1 mid-drive 
Range Test
I weigh 220lbs and can get 22-50 miles on this ebike in real-world testing. Depending on which assist mode I'm in, how many hills there are, and how windy it is. Lighter riders will get more range.
I recently had a couple of customers that weigh around 150lbs take this bike out for a 3-mile test ride so we could check out what kind of range they will get. After letting the range feature reset to their riding weight, it said they will likely get 35-70 miles on this bike! Rider weight plays a big role in the overall range.
Of course, the bike can be ridden if the battery runs out, just without any motor assistance. 
Pros
Bosch motor system
A great option for tall riders (the extra-large step over option)
2.4" tires
Front suspension
Price includes fenders, lights, and a rear rack
Cons
The front fork is pretty basic (I would not do rugged trail riding with it)
Who's it For? 
If you want a bike that is just as at home on the road as it is on the gravel, then this is it.
If you want a super commuter ebike that comes with everything but the bags, here it is.
If you are not sure what you may need your ebike to do but want to make sure you're covered for miles to come, then get this bike!
Also, I'm 6'4" and can have a hard time finding bigger bikes. The stepover Haibike Trekking 5 comes in an extra-large size that fits me perfectly and would be a good size for someone even taller.
This bike also comes in smaller sizes and has a step-through version, scroll to the bottom to see the step-through.
Some Backstory 
This is actually the 2021 model and just arrived at my shop (Bend Velo Bike Shop) on January 24th, 2022. These will technically be the 2022 models.
Haibike offers a ton of different models of ebikes in Europe, but only a select few make it over here to the US. If you look them up, be sure to go to HaibikeUSA.com for the Haibikes that will be in the US.
If you are an ebike drooler like me, then check out the german version of their site (it's in English) and just look at all the cool ebike they have. Hopefully, as ebikes are getting very popular in the US, we will see more and more Haibike models make it here.
My first ebike was a Haibike Trekking 9 (2018) and I put over 2,000 miles on it in just about every terrain possible and it rocked! (unfortunately, I had to sell it, but I have another Haibike now!)
Form & Function 
When you buy an electric bike or any bike for that matter, what you are really buying is the ride. You could have the prettiest bike in the world and unless it rides well, it's just a piece of artwork.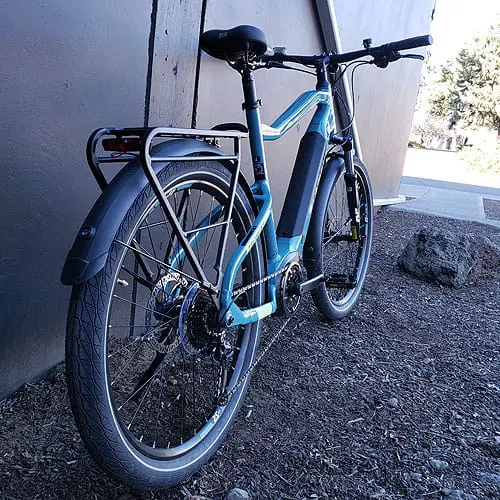 This ebike looks amazing and can take on most terrain on the big semi-smooth tires.
They redesigned the rear dropout section and integrated the rear rack quite nicely compared to my 2018 model. The rear thru-axle is beefy and strong, yet elegant with nice contours.
Having lights at the push of a button, fenders for wet roads, and a rear rack that can carry all of your stuff makes this ebike ready to replace your car!
Nuts & Bolts 
Here's a breakdown of what comes stock on the bike – 
The Motor, Battery, and Display
These are the parts you are really looking for when buying an electric bike.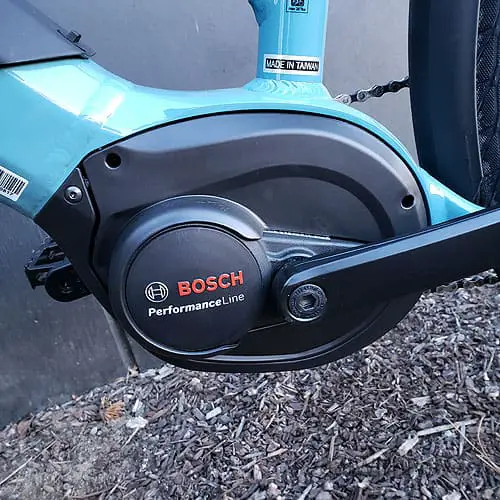 The Haibike Trekking 5 is a Bosch-powered ebike, which is the best there is!
Motor
Bosch Performance Line Cruise mid-drive, 250 watts, 65 nm max torque, up to 250% assist)
Battery
Bosch 500wh in-tube with a Bosch compact charger (will charge from 0-100% in about 7hrs)
Display
Bosch Purion (basic speed, trip, odometer, range)
The Drive Train
If you are looking for a pedal-assist mid-drive ebike then the drive train is very important. This is the gearing and shifting part of the bike. You will want lower gearing if you plan to ride up steep hills.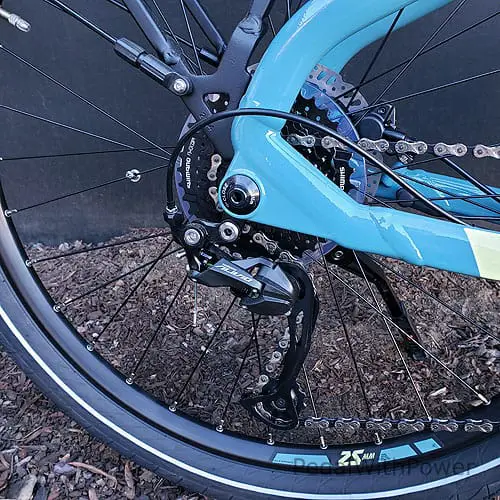 Shifter
Rear Derailleur
Cassette
Now the tooth count on the cassette is where you can tell how low the gearing is, the higher the tooth count on the biggest cog, the lower the gear is. 
The fact that this ebike has a 36 tooth biggest rear cog paired with a 65nm torque motor means it will be able to take even heavier riders up all but the steepest hills.
The Brakes
The brakes on an ebike can often get overlooked, but ebikes are heavier than regular bikes and it's easy to go much faster on them so it's good to know you have brakes that stop you fast if necessary.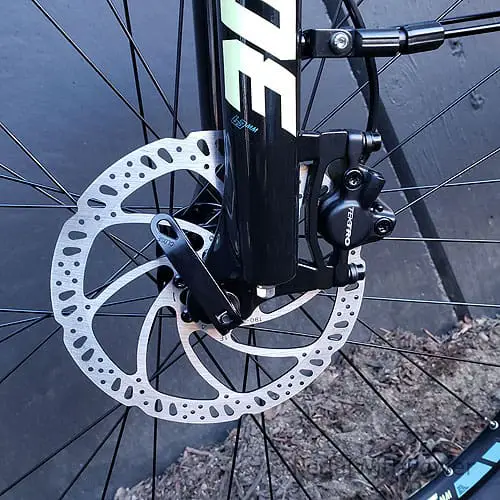 The Haibike Trekking 5 comes with Tektro HD-T275 hydraulic 2 piston disc brakes with 180mm rotors front and rear. These are pretty nice brakes, not high end but have good stopping power when paired with the 180mm rotors.
I had no problem with these brakes stopping me on a downhill and I weigh 220lbs!
The Fork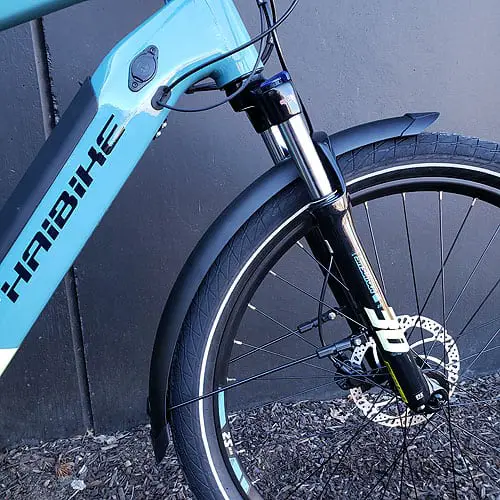 The fork is an SR Suntour XCM 30 with 65mm of travel. It has standard 100mm quick-release front dropouts. It's a pretty simple fork that will help smooth out the bumps.
The SR Suntour fork does have a lockout lever on the top left-hand side of the crown so you can adjust the fork's stiffness while riding.
The Wheels and Tires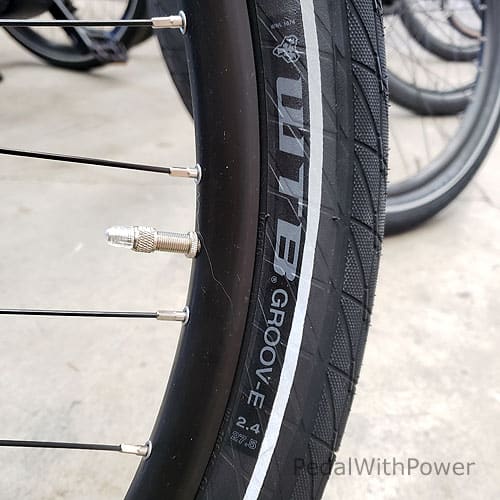 Wheels –
The Trekking 5 comes with double-walled, 32 spoke, eyeletted, tubeless-ready Alex rims, laced to Haibike brand hubs with standard 9x100mm quick release front and a 12×142 thru-axle rear. 
Tires – 
The stock tires are the WTB GROOV-E (that's what it says on the tire, not "groove-e" like on the Haibike website) size 27.5 x 2.4". Nowhere on the tire does it say that they are tubeless-ready, so I don't think they are. Just use tubes.
These must be a brand new tire for WTB, just for ebikes. Not much info about them available, but they look very similar to the Schwalbe Moto-x's that have been out for a while and I love those!
These semi-smooth tires are great for road riding and will handle most off-road terrain, just be careful turning hard in loose dirt. For off-road riding, I suggest lowering the tire pressure a little to give you more traction.
Before you buy – 
These ebikes will sell out fast so if you are interested in one, don't wait!
The Haibike Trekking 5 can be found here!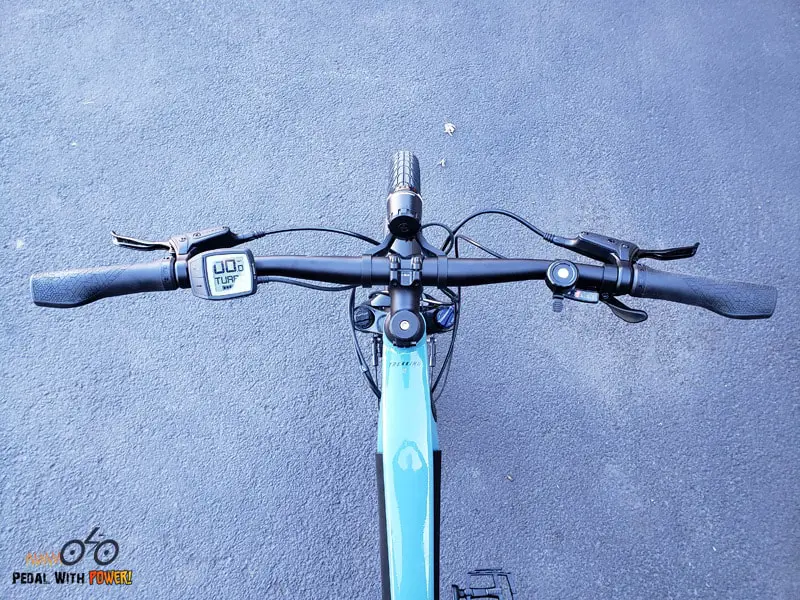 At the End of the Day
The Haibike Trekking series ebikes have been some of our favorites, here at the Bend Velo Bike Shop.  Currently in stock!
As I mentioned earlier, my first ebike was a Haibike Trekking 9 from 2018 and it's the bike that got me to love ebikes.
I rode that thing everywhere, on the road, off-road, single track, muddy trails, dusty conditions, you name it. I commuted 19 miles to work on it with fully loaded panniers, on paved roads and gravel roads, and it was a blast. The only reason I sold it was because I needed money at the time. Life happens 🙂
It wasn't long until I got another Haibike and I have almost 10,000 miles on this one and counting!
If you can get your hands on one of these then you will be getting an amazing ebike. The only downside to this bike is that supply will be very limited and not everyone who wants one will be able to get one 🙁
Hopefully, you will be one of the lucky ones! Keep on riding!
Bonus – Haibike Trekking 5 Step Through