Electric bikes have 2 different options when it comes to the drive system. The motor is either in the hub of the wheel, helping provide power through the wheel (usually the rear), or it is in the lower, middle section helping you pedal the cranks.
A "mid-drive" motor system is where the motor is near the middle of the bike, down between the crank arms to which your pedals are attached.
Quickly Ride to a Section -
The advantages of a mid-drive ebike system are –
Best ebike motor brands
Best efficiency
Smoother ride
Better weight distribution
Easier to service
Better looking (In my opinion)
Some disadvantages are –
More expensive
Top brands have no throttle
In this article, I will go in-depth into both the advantages and disadvantages of mid-drive ebike systems, how they work, and why you may want to choose one.
The advantages of a mid-drive electric bike
The Best Ebike Motor Brands (are all mid-drive only!) –
(These are the motors found in the majority of mid-drive ebikes in the US)
#1 Bosch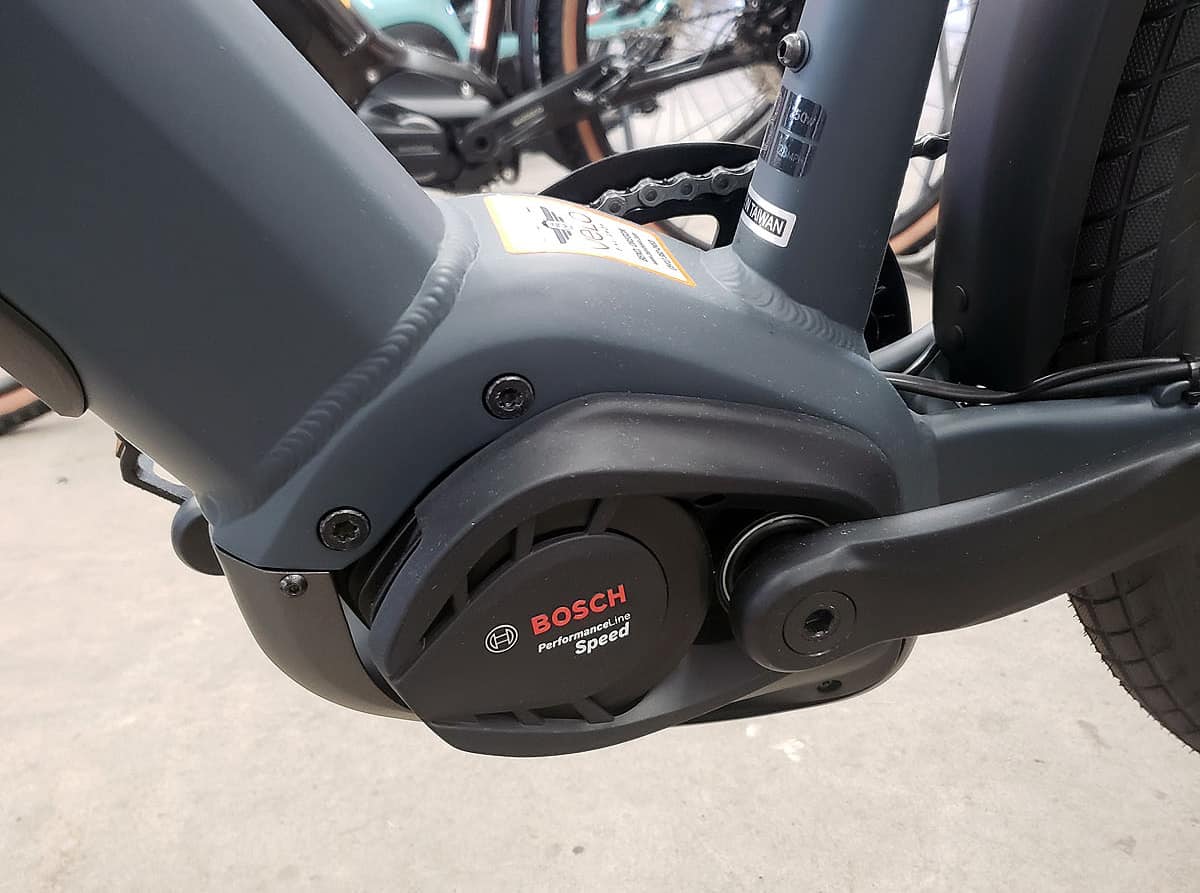 Bosch stands out as a leader in the ebike industry. Bosch takes the same ingenuity that they put into their home appliances, power tools, and industrial machinery, then applies it to their electric bike motors.
Bosch also produces their own batteries and controllers so that they all work perfectly together. They offer a motor and battery combination to suit any riding style.
There are many Bosch certified technicians across the US, (I happen to be one of them), and Bosch continually updates their firmware which can then be transferred to your bike at your local Bosch certified shop.
Bosch also has some of the most innovative displays to choose from –
Purion – Basic handlebar display for speed, trip miles, odometer, range, battery
Intuvia – Bigger display on the stem and has more metrics than Purion
Kiox – Color stem display with even more metrics and Bluetooth capable
Smartphone Hub – Has a basic readout, but paired with a phone, skies the limit
Nyon – Larger color stem display with built-in GPS mapping, Bluetooth, and WiFi
The new Smart System Led Remote and Kiox 300 (2022) – coming soon
You can upgrade your Bosch display at any time, they are backward compatible.
If you are looking for the best ebike system available, get a Bosch!
#2 Shimano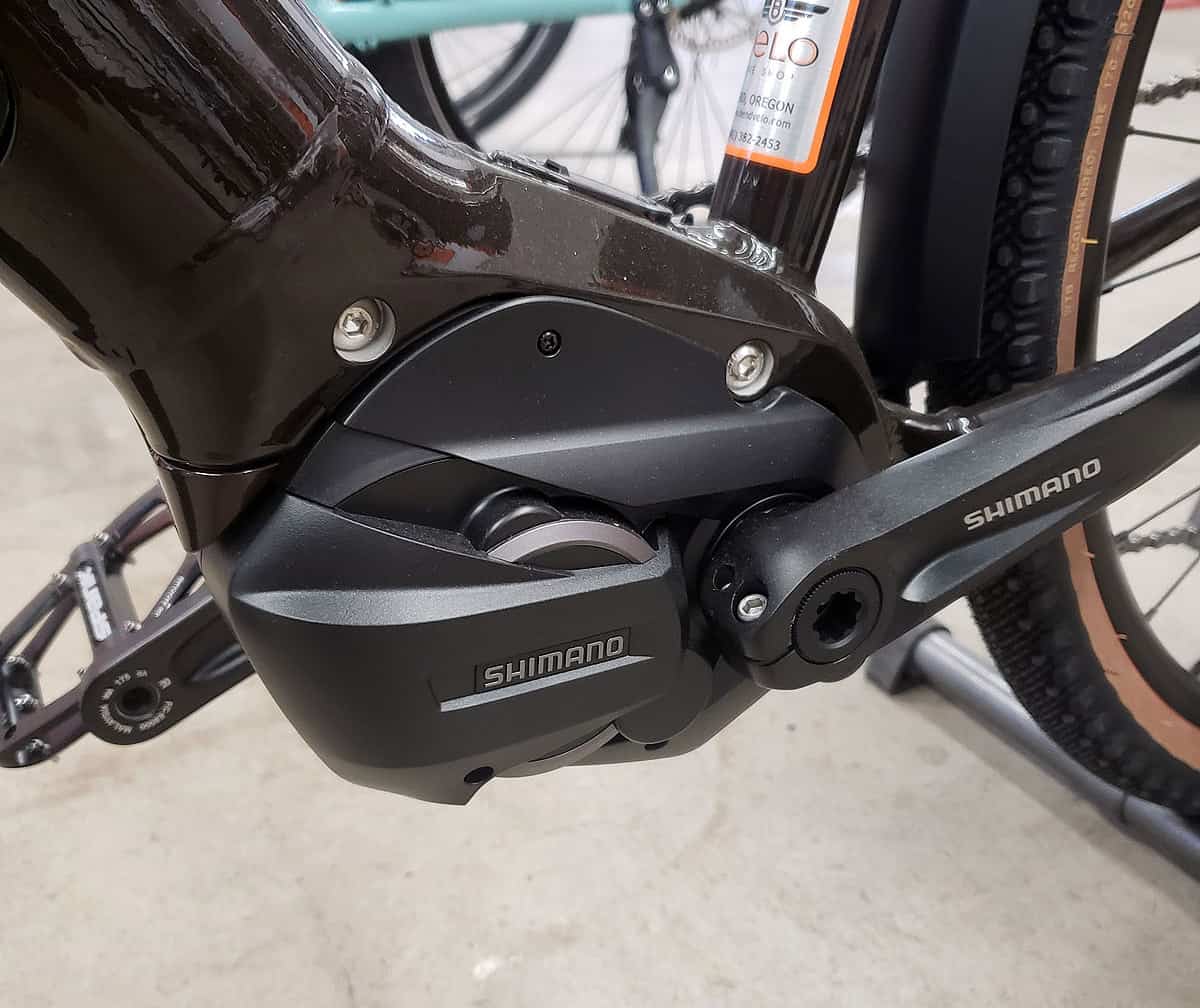 Shimano has been the leader in the bicycle parts industry for decades. Shimano electric motors are some of the most compact and reliable on the market. As ebikes have gained popularity, Shimano continues to expand the electric bike motors they offer.
Shimano also uses its own battery systems and displays for fully compatible integration. Shimano displays are simple, sleek, and give you the information you need.
Shimano makes one of the best ebike motors available, with amazing range and they are a great choice for an electric bike.
#3 Yamaha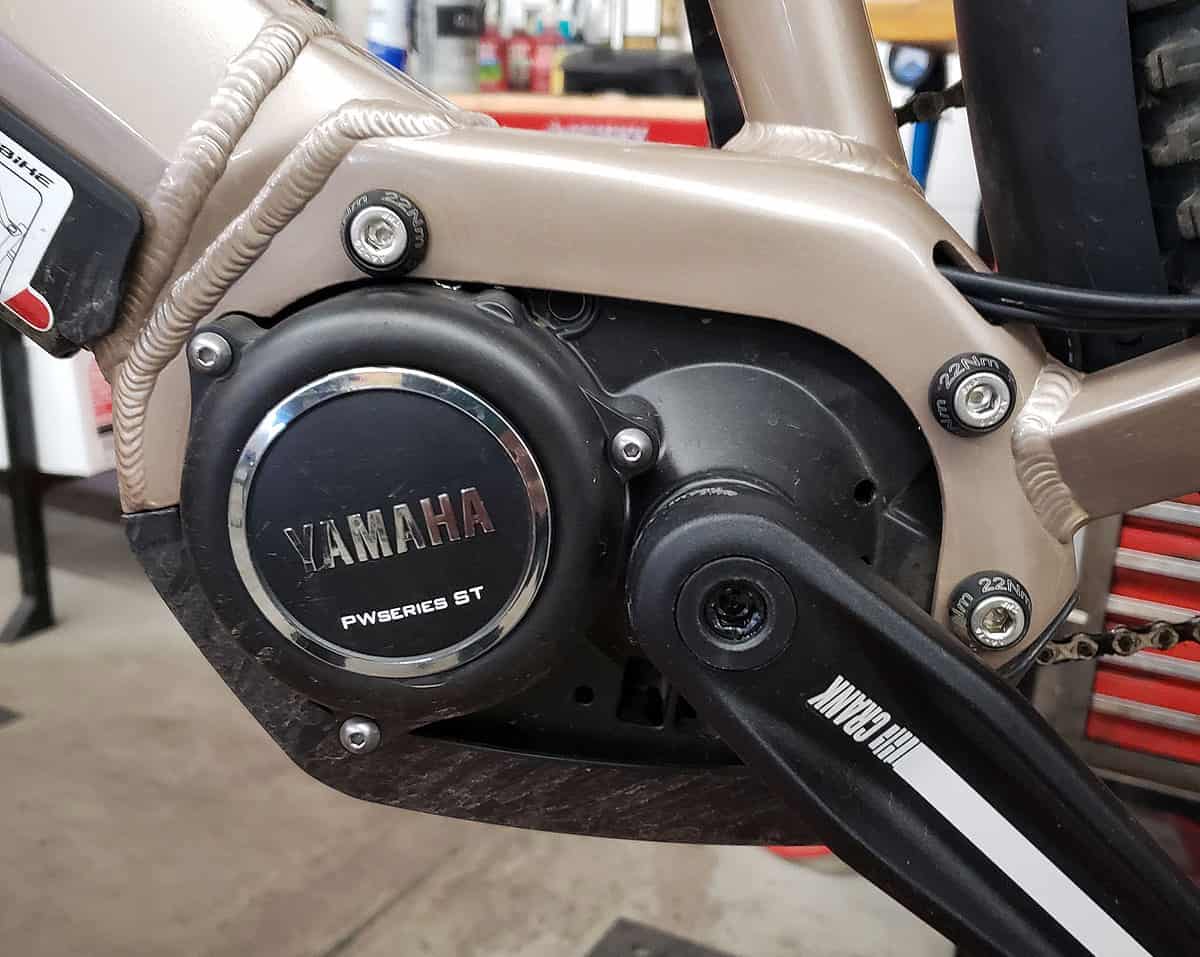 Yamaha is known for its motorcycles but has been making electric bike motors for quite some time now. They now have many different options to fit your needs.
Yamaha started with 2 motor options and now has 5 available. If there is any indication that ebikes are here to stay, it's how quickly these companies keep adding and improving motors to their line-ups.
Yamaha now has 3 different display options –
Display A – basic handlebar display for speed, trip miles, odometer, range, battery
Display C – large display on the stem with more metrics and Bluetooth
Interface X – smaller, sleeker stem display with Bluetooth and ANT+
I have had many customers over the years thrilled with their Yamaha systems. Their range is top-notch.
#4 Brose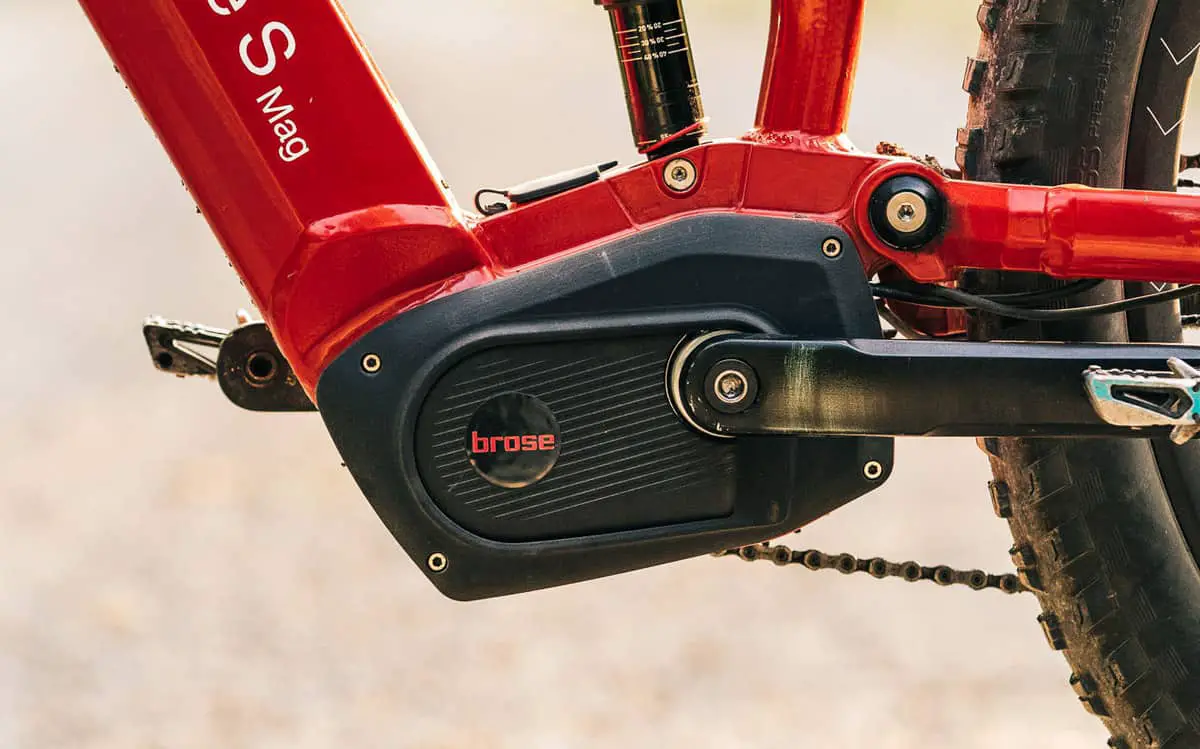 Pronounced /bro-sah/, Brose started out making motors for power steering in cars and has since gone all-in on the electric bike market. Brose motors are some of the smallest and quietest available today.
Brose used to just make motors and allow bike manufacturers to use whatever battery fit their designs, but they have now begun to use their own battery systems for full integration.
Brose offers 3 different display options –
Allround – Basic handlebar display with essential metrics
Remote – minimalist handlebar display with assist level lights
Central – bigger, easy to read stem display
Brose makes a solid, quiet motor and now that they are using their own batteries, they are a great choice.
Mid-drive Motors are The Most Efficient for Ebikes
The majority of mid-drive motor electric bikes are sold in Europe. (The US is catching up)
With Europe regulating motors to 250 watts without a license, these brands now only offer 250w motors.
What is great about this is that these companies have used their combined resources to get the most power out of a 250w motor. With mid-drive motors the power is not directly linked to how many watts the motor can run at, but rather how many newton meters of power the motor can supply.
I have included a chart at the bottom of this post that details all of the different systems these brands offer and how powerful they are.
Mid-drive Motors Offer the Smoothest Ride
All 4 of these brands are pedal-assist only. None of them have a throttle option. Throttles can be useful for some but can make the ride a lot more inconsistent. With pedal assist, you are pedaling the bike like a regular bike, just with less effort, this makes it feel more like riding a bike than being on a moped.
Mid-drive motors are directly connected to the front chainring on your bike allowing power to be transferred with little disruption. You simply start pedaling and the motor will help out at the assistance level you set.
Mid-drive Motors Distribute Weight Evenly
With a mid-drive motor, the motor sits centered on the bike at the lowest point on the frame. This keeps the balance of the bike even and can actually make your ebike feel more stable.
Most did-drive set-ups also have the battery on the down tube of the frame just in front of the motor, keeping battery weight and placement from having much effect on your balance.
Keeping these heavy components centered and low on the bike is key to keeping the bike well balanced.
Mid-drive Motors are Easy to Service
For me as a bike mechanic, this is a big one.
One of the best reasons for you to consider a mid-drive electric bike is that all the actual bike components (wheels, shifters, brakes, derailleurs, gearing, etc.) are standard bike components that you can find at any local bike shop. (or they can order them)
This means that if you are traveling and have an issue with your ebike, you can take it to any local bike shop (it doesn't have to be the shop you bought your bike at) and they should be able to help you out, even if they don't carry electric bikes.
Also, all of these companies have great warranties that will cover the electric components for up to 2 years. If you do have a problem with your motor or battery, it will usually happen in the first few months.
Mid-drive Motors Look Good
I believe if you can have function and form then that's a win-win. Mid-drive motors are integrated into the design of the frame and have gotten smaller and more powerful in the last couple of years.
These top brands work directly with the manufacturers of the bikes to make sure the motor and battery are seamlessly integrated into the design of the bike. Some ebikes now don't even look like they're electric bikes. With batteries being concealed in the frame and the motors hidden behind the cranks, mid-drive ebikes simply look amazing.
The disadvantages of mid-drive electric bikes
Mid-drive Motors are More Expensive
With all the advantages listed above and all the technology being used to make these motors awesome, there is a cost. A mid-drive electric bike can cost 2 to 3 times as much as its hub-drive counterpart.
Bicycle manufacturers have had to completely redesign their electric bikes in order to integrate the motor and battery. The good thing about this is that the bikes are built specifically with electric motors and extra power in mind. They didn't just strap motors to their existing bikes and send them out the door.
Keep in mind –
Though mid-drive electric bikes cost more upfront, they will last longer and cost less to service.
Long term, the cost of a mid-drive ebike is often negated by the quality they provide.
The Best Mid-drive Electric Motors do not Have Throttles
None of the brands listed here have a throttle option. There are some mid-drive motors that offer a throttle but they do not make my top 4 list.
Bafang makes a mid-drive with a throttle. Currie used to, but I don't think they do anymore. Pretty much any modern mid-drive electric bike is going to be pedal assist only. The vast majority of electric bikes with throttles use a hub-drive system.
If you would like a mid-drive electric bike with one of the best motors but think you may also need a throttle, I would recommend trying a mid-drive ebike at your local shop first. I have had many people come into my shop, convinced they want a throttle, but once they try a mid-drive ebike they realize how easy they are to ride without a throttle.
At The End of the Day
Mid-drive systems ride the best, look the best, and provide you with the best quality electric bike experience. They offer Bluetooth integration so you can use apps like Strava, connect smartwatches and heart rate monitors if you like, even control your music and answer your phone while riding. (hands-free of course)
43% of the bikes sold in the US come from 3 bicycle brands – Trek, Specialized, and Giant. What do they all have in common? Every electric bike they carry is a mid-drive. Maybe they're onto something.
The technology is continuing to advance and mid-drive motors have the biggest names in the business behind them. Right now is a great time to buy an electric bike.
Mid-drive electric bikes are the latest technology and provide the best ebiking experience. At the end of the day, you are not just buying a bike, you are buying the ride.
The top 4 mid-drive electric bike motor systems in the US (breakdown)
I compiled this table for you to compare the top 4 mid-drive brands, the models they offer, the different levels of assistance in each mode, their max speed, max watts, and max newton meters of power. (Newton meters are a measurement of torque, the higher it is, the stronger the motor) All of these can also be ridden with the motor off.
Brand
Model
Mode – Assist (%)
Speed (mph)
Watts (Max)
Nm (max)
Bosch

 

(gen4)

Active Line
Eco – 40

 

Tour – 100

Sport – 170

Turbo – 250

20
250
40
Active Line Plus
Eco – 40

 

Tour – 100

Sport – 180

Turbo – 270

20
250
50
Performance Line
Eco – 55

 

Tour – 120

Sport/Emtb – 120-300

Turbo – 250

20
250
65
Performance Line Sport
Eco – 55

 

Tour – 120

Sport – 200

Turbo – 300

28
250
65
Performance Line Speed
Eco – 60

 

Tour – 140

Sport – 240

Turbo – 340

28
250
85
Performance Line CX
Eco – 60

 

Tour – 140

Tour+ – 60-340

Sport/Emtb – 140-340

Turbo – 400

20
250
85
Cargo
Eco – 60

 

Tour – 140

Sport – 240

Turbo – 400

20
250
85
Shimano

 

(Steps)

E5000
Eco – 40

 

Normal – 100

High – 200

20
250
40
E6000
Eco – 70

 

Normal – 150

High – 230

20
250
50
E6100
Eco – 70

 

Normal – 150

High – 230

20
250
60
E7000
Eco – N/A

 

Normal – N/A

High – N/A

20
250
60
E8000
Eco – N/A

 

Normal – N/A

High – N/A

20
250
70
EP8
Eco – N/A

 

Normal – N/A

High – 400

20
250
85
Yamaha
PWseries ST
Eco+ – 50

 

Eco – 100

Standard – 190

High – 280

20

 

28 (on 1 bike)

250
70
PWseries TE
Eco+ – N/A

 

Eco – N/A

Standard – N/A

High – N/A

20
250
60
PWseries CE
Eco+ – N/A

 

Eco – N/A

Standard – N/A

High – N/A

20
250
50
PW-X2
Eco – 50

 

Standard – 170

High – 280

Emtb – 360

Expw – 360

20
250
70 (in Eco/High/Std)

 

80 (in Emtb/Expw)

PW-X3 (new)
Eco – N/A

 

Standard – N/A

High – N/A

Emtb – N/A

Expw – N/A

20
250
85
Brose
Drive C
Max – 280
20
250
50
Drive T
Max – 320
20
250
70
Drive TF
Max – 280
28
250
90
Drive S
Max – 410
20
250
90
(Some of the assist levels could not be found. My guess is that they are similar to motors above or below them.)