In this article, I will dump out my bag and show you the Power Kit that I bring on every bike commute (every ride, actually) and the six things that are always in it. Bring these with you so you can be a Confident Super-Commuter!
But Chris, I thought you were going to tell me the 7 things that you should bring? Keep reading to find out the answer to this riddle. Or, just re-read the first line 🙂
This list is just for the bike gear that is always in my bag and comes on every bike ride. After 10's of thousands of miles commuting to work, school, the grocery store, and everywhere, I've narrowed it down to these 7 essentials. Obviously, you should wear clothes and bring your phone, keys, money, and such…
Disclosure – This post uses Amazon Affiliate links. If you click on a link and make a purchase I will get a small commission at no extra cost to you. All products listed, I have personally used for years and highly recommend.
Quickly Ride to a Section -
The 7 Essential Things You Should Bring Are 
1. Spare tube
2. Patch Kit
3. Tire levers
4. Travel Pump
5. Multi-tool
6. Bike Lock
7. The Bag – surprise!
The first 4 items on this list are for fixing a flat tire. If you don't know how to fix a flat on your bike, it is worth the time to learn. I will add a video on this soon, but for now, you can ask your local bike shop to show you. 
Even if you don't know how to fix a flat, it is still good to bring these things because someone else may come by and be able to help you out, as long as you have the first 4 things. I have stopped and helped people with their flat tires because they had the right tube with them.
Here Is Why I Recommend Bringing Each Of These Things
1. Spare Tube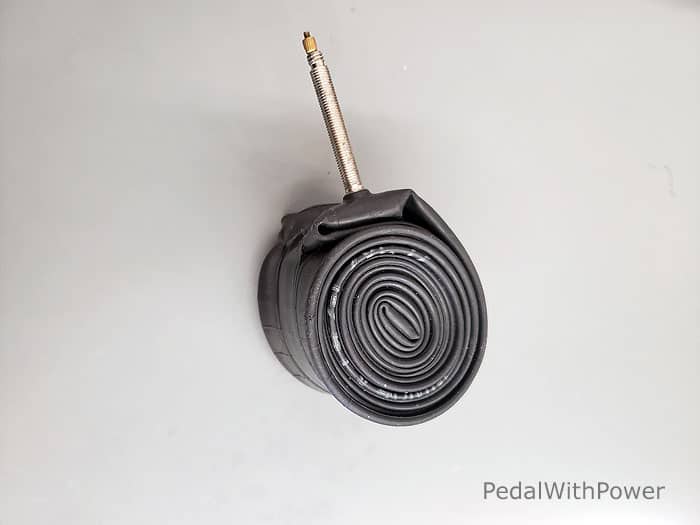 Always bring a spare tube. Don't rely on patches. Sometimes your inner tube can puncture in a way that a patch will not work, or the valve could break and you can't patch that. Sometimes patches just don't work, period.
It's also much quicker to just put in a fresh tube and patch the busted one later when you're not on the side of the road.
To get the correct tube, you need to know your tire size and which valve you have. This is very easy to figure out, see the picture below

You can find tubes here or at your local bike shop!
2. Patch Kit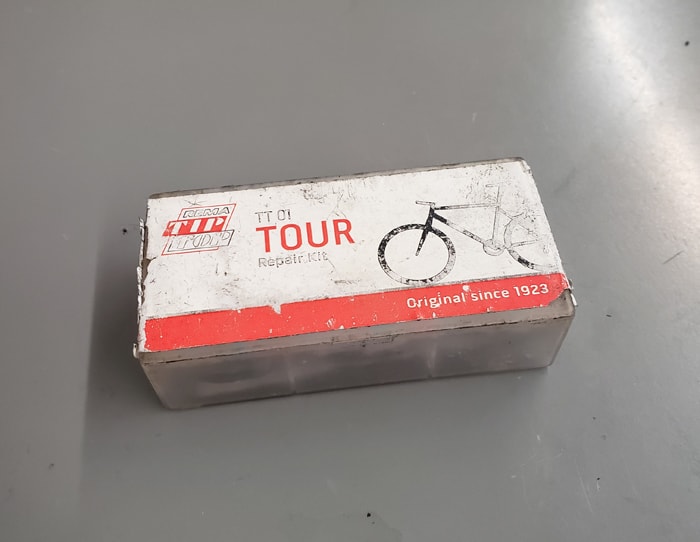 You may be asking "Why bring a patch kit if I'm already bringing a spare tube?" 
Well, I have had the personal experience of getting another flat right after using my spare tube to fix a flat. This does not happen often, but patch kits are small and easy to carry.
I have also had times when I've gotten a flat and used my spare tube but it was late and bike shops were closed, so it's good to have patches to repair the popped tube and use it for a spare.
I recommend Rema Patch Kits, the ones with glue. I don't recommend the quick patches they rarely work.
3. Tire Levers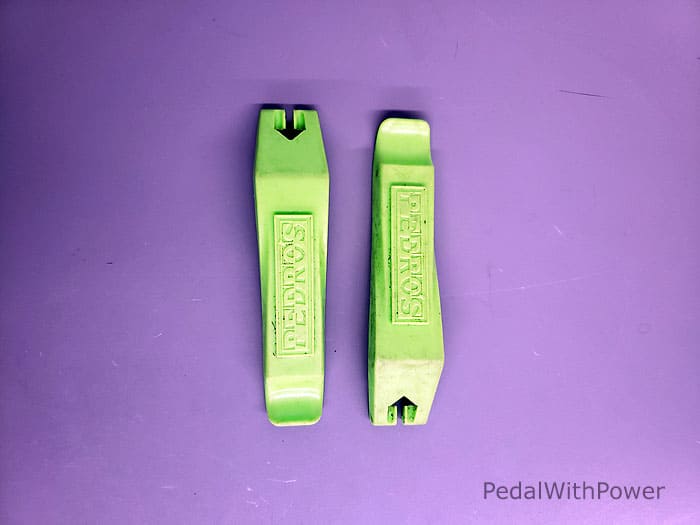 These are another very small and easy-to-carry item that can come in very useful. Sometimes tires do not want to come off the wheel easily and tire levers help you out.
If you don't know what these are or how to use them, I will add a video on this soon. For now, just speak with your local bike shop and a mechanic should be happy to show you. If they're unwilling, then don't use that bike shop. I've shown anyone at my shop who asks.
My Favorite tire levers are Pedro's and you can find them here!
4. Travel Pump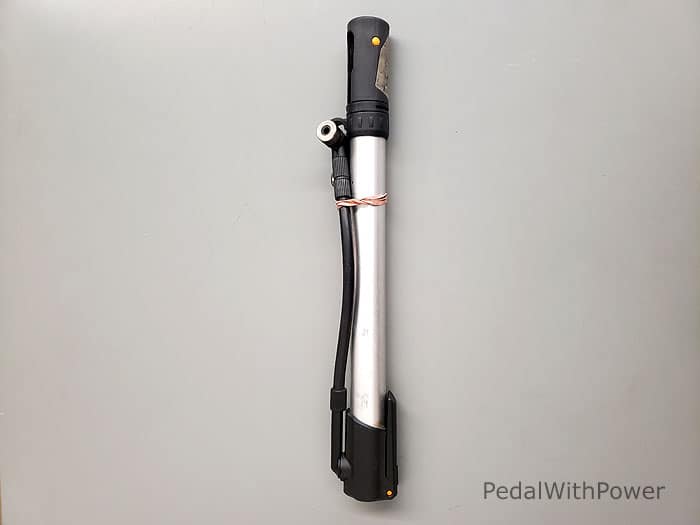 Spare tubes and patch kits are useless without a pump. Always have a good travel pump with you. Travel pumps have gotten really good over the last decade and work just as well as floor pumps. If you choose the right one.
I recommend the Topeak Morph series pumps. I like to bring the Topeak Mountain Morph for daily riding, but the Topeak Mini Morph for multi-day adventures just to save some space and weight.
Topeak also makes the Road Morph if you need to reach higher tire pressure.
All of these Topeak pumps have separate hoses that connect to the valve, which keeps you from breaking the valve when you pump. They also have a footplate and handle so you can pump them on the ground, making it way easier to fill the tire.
5. Multi-tool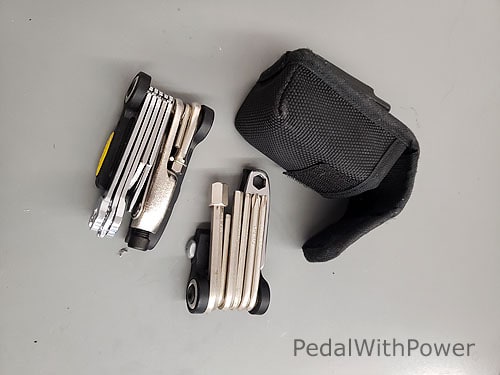 Multi-tools are a must for the first few rides on a new bike. You can make small adjustments to your seat height, brake lever position, shifter position, handlebars, and saddle position. This is best to do while you are out on your bike so that everything is in the best place for you.
I always carry a multi-tool even after I've made these first adjustments just in case I need to tighten my rack or make any further adjustments. Oftentimes I've needed my multi-tool for something that is not bike-related.
My main multi-tool is the Topeak Alien II. This thing can do just about anything. I can build an entire bike with this tool, it separates and allows you to hold a nut with one side and tighten the bolt with the other. Sweet!
The Topeak Alien II is bulky, heavy, and a bit overkill for most, so I also have the Crank Brothers M17 that I bring on multi-day adventures. It has everything you need and a chain tool, but it is much more compact.
6. Bike Lock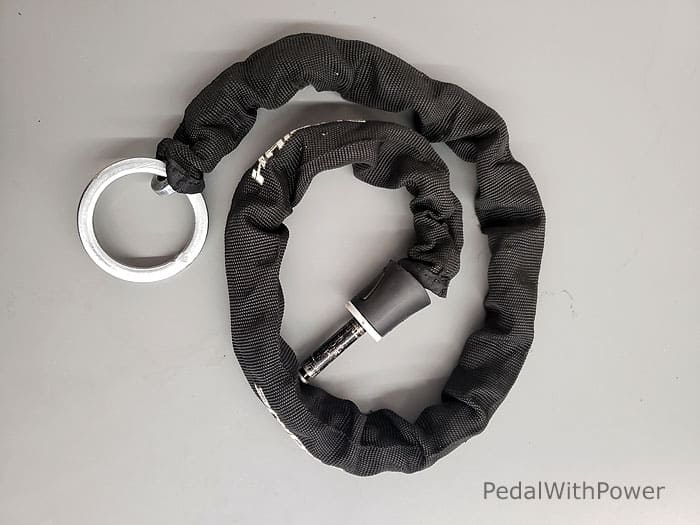 Having a good secure bike lock is essential for any commuter. Hopefully, you can bring your bike inside when you go to work or school, but if not a good lock is a must!
I always bring my lock with me now. In the past, I would sometimes leave it at home if I didn't think I'd need it and those were always the times that I would end up wanting to stop at the store or run in somewhere, so now I just bring it every time.
There are a lot of bike locks out there and many of them are useless. Any type of cable lock can be cut pretty easily with hand tools and I don't recommend them for an ebike. 
In my experience, the best bike locks are ones that use hardened steel chain links. Good lock brands will wrap the links with material that will not scratch your bike. 
These locks are very hard to cut, come in a variety of lengths, and will sit in the bottom of your bag with ease.
My favorite lock brand is Abus and you can find their locks here. I personally prefer the keyed versions to the combination versions. Combination locks can be hard to use if it gets really cold or if you have gloves on. 
This is our best-seller at the bike shop and the new version of mine! 
(I have a Haibike and they worked with Abus to make an integrated chain lock for their bikes, that's why mine looks weird)
7. A Bag to carry it all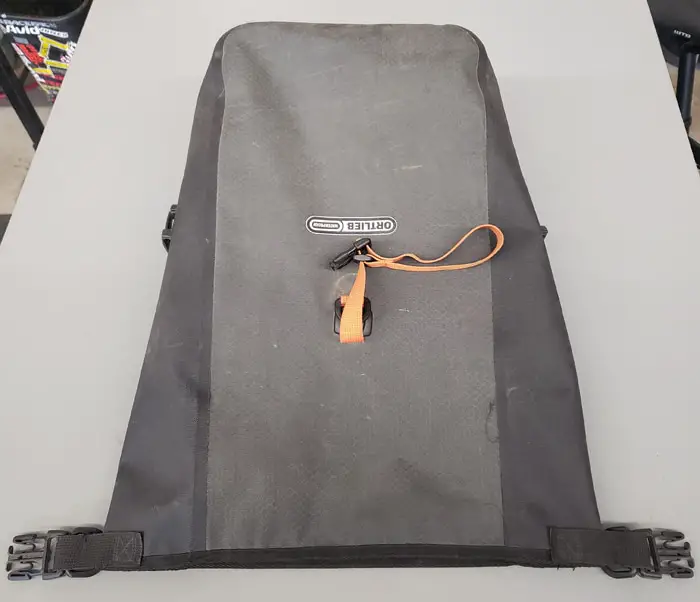 You can use a backpack, I did for years, but once you get your bag off your back and onto your bike, you will never use one again.
If you want to be a Super-Commuter and make it easier to stick with bike commuting then you should have some sort of rack on your bike. This can be in the front or the rear. 
Some of you may prefer a front rack or front basket to hold your goods or a rear rack with panniers (side bags) or a trunk bag (goes on top of a rear rack). There are many ways to carry a bag on your bike and not have to use a backpack.
For regular commuting, I like to have a rear rack with a pannier bag on the side. If I'm using just one bag, it's always on the left side. This is because the bike leans left on the kickstand and it makes me more visible to traffic. Sometimes I'll add a second bag for groceries or clothes.
There are a ton of bag makers out there, but the best is Ortlieb! If you want the most durable, waterproof, longest-lasting bags then I recommend Ortlieb.
I like the Ortlieb Sport Roller Plus bags which are their smaller bags, but they also have the Back Rollers which are a lot bigger. Most of their "Roller" series bags are priced as pairs, so it may seem high but you are getting 2 bags for the price shown. Ortlieb also has waterproof backpacks.
A more budget-friendly option is Banjo Brothers Waterproof Pannier. These are priced individually and we have sold many at my shop. It's a pretty decent bag for the price.
At the End of the Day
So there you have it! These are pictures of my actual bag and the actual gear that I bring on every ride. All of these items stay in my bag and I just bring my bag on every ride.
Once you have a good rack and bag set up, it's easy to never forget your Power Kit.
Keep in mind – 
These essential items only take up a little bit of space in my bag. There is plenty of extra room for food, clothes, laptop, books or whatever else you may need. Plus if I need more space I just bring another bag.
Keep all your essentials with you at all times and be prepared for anything!