The Izip Vibe is the budget-friendly Bosch-powered ebike with a low step-through and upright riding position that is perfect for a lighter weight rider that wants a Bosch mid-drive for cruising around town and doesn't want to break the bank.
This bike has been a great choice for many of my customers and with all the extra options available you just can't go wrong.
Quickly Ride to a Section -
The Izip Vibe – At A Glance
*Price – $2,300 * Weight – medium 48lbs * Sizes – small, medium, large* Class 1 mid-drive  
Range Test
I weigh 220lbs and can get 13-28 miles on this ebike in real-world testing. Depending on which assist mode I'm in, how many hills there are, and how windy it is. Lighter riders will get more range.
Of course, the bike can be ridden if the battery runs out, just without any motor assistance. 
For me, at 220lbs the 40nm motor on this ebike does help me much on the hills. This bike is not intended for someone my size though 🙂
Pros
Inexpensive Bosch-powered ebike
Cool rear rack, that is part of the frame
Nice low step-through design
Upright riding position
Cons
The rear derailleur and brakes are very budget but can be upgraded
The Bosch Active Line motor is not very strong and is meant for lighter riders only
Who's it For? 
Well, it's not for heavy riders like me. Bosch has many different motors in their line-up and the Active Line is their more recreational motor. It's a very smooth riding motor, just not a very powerful motor, and will simply not perform well for big guys.
This may be the least expensive, entry-level Bosch-powered ebike around! So if you want Bosch and don't want to spend a ton, then this ebike is for you.
This ebike is meant for general around-town riding, it's not good for off-road. The frame and wheels can handle it but the components would need to be upgraded.
We have generally sold these to older women just looking to get some exercise or younger girls needing their transportation to school.
It has a nice rear rack built into the frame and can take fenders and a front basket quite well.
Some Backstory 
Izip has been producing the Vibe now for their third year and from what I can tell the 2022 Vibe will be the same as the 2021 Vibe. They have not yet told us if there will be a new model for this year.
We had one lady who is now 86 that bought one of these a couple of years ago and she just loves it! Another, I sold to a girl who had just turned 16 and she rides it to school. So a 70-year gap between two very different people who both love the same bike!
Form & Function 
When you buy an electric bike or any bike for that matter, what you are really buying is the ride. You could have the prettiest bike in the world and unless it rides well, it's just a piece of artwork.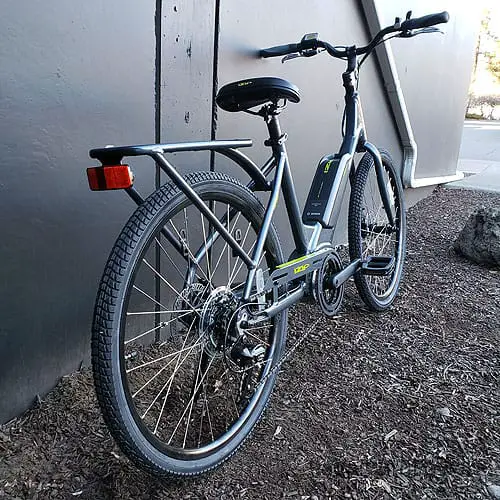 This is a good-looking ebike and comes in a couple of different colors. We have set these up with different handlebars, with and without fenders, sometimes with a front basket, other times with bags for the rear, it's really a pretty versatile bike.
The Vibe comes stock with really nice ergonomic grips that are very comfy!
The Izip Vibe is also nice and small, if you remove the battery, it weighs a little over 40lbs and is easy to get onto an auto hitch rack.
Scroll to the bottom to see the Izip Vibe in blue!
Nuts & Bolts 
Here's a breakdown of what comes stock on the bike – 
The Motor, Battery, and Display
These are the parts you are really looking for when buying an electric bike.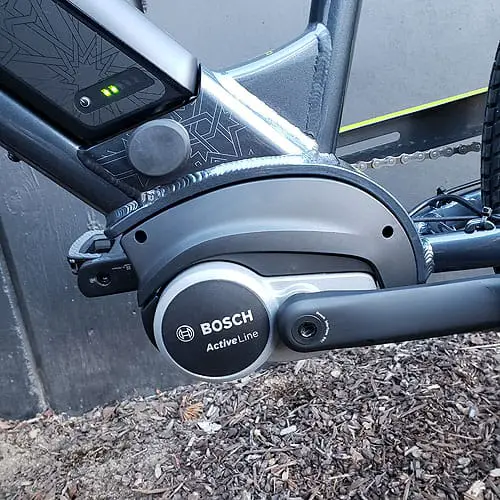 This ebike comes with a Bosch motor and battery which is one of the best!
Motor 
Bosch Active Line mid-drive, 250 watts, 40nm max torque, up to 250% max assist
Battery 
Bosch 400wh external battery and come with a Bosch compact charger (charges from 0-100% in about 6hrs) 
Display 
Bosch Purion (speed, trip, range, odometer, assist level, battery level) 
The Drive Train
If you are looking for a pedal-assist mid-drive ebike then the drive train is very important. This is the gearing and shifting part of the bike.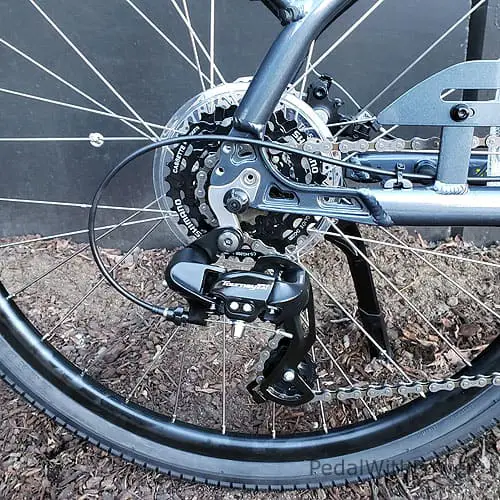 Shifter 
Shimano Tourney TX50 thumb shifter – 7 speed
Rear Derailleur
Shimano Tourney – 7 speed 
Cassette 
The shifter on this bike is mostly plastic, so be gentle when shifting and it works just fine.
This ebike is simply not designed for big climbs. With a lightweight rider, it will climb hills well enough, but anyone over 175lbs should consider a stronger motor. You could go a little bigger on the rear cassette, but only to a 34t gear, which does not give you much.
One potential upgrade would be to switch it to a 9-speed set-up and put an 11-36t rear cassette on the back, then you could climb a bit better. That would just cost more though.
The Brakes
The brakes on an ebike can often get overlooked, but given that ebikes are heavier than normal bikes and you tend to go faster on them, it is good to know you have brakes that stop you if necessary.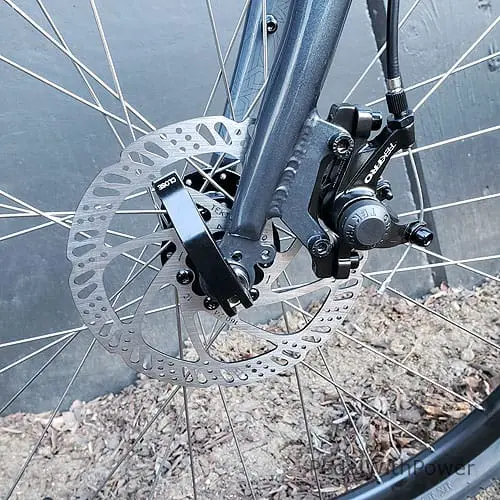 The brakes on the Izip Vibe are pretty basic Tektro mechanical (cable pulled) disc brakes with 160mm rotors front and rear. Again, these brakes are perfectly fine for lighter riders but a heavier rider would need an upgrade or just a different bike.
The Fork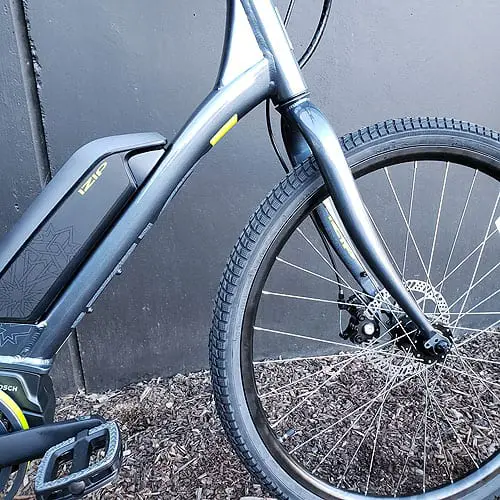 Nothing too special here, the Vibe comes with a 26" steel front fork and uses standard quick-release dropouts for the front wheel. The fork does have mounting eyelets midway up the inside of the legs, so you can mount a full front fender and/or a front rack or basket.
The Wheels and Tires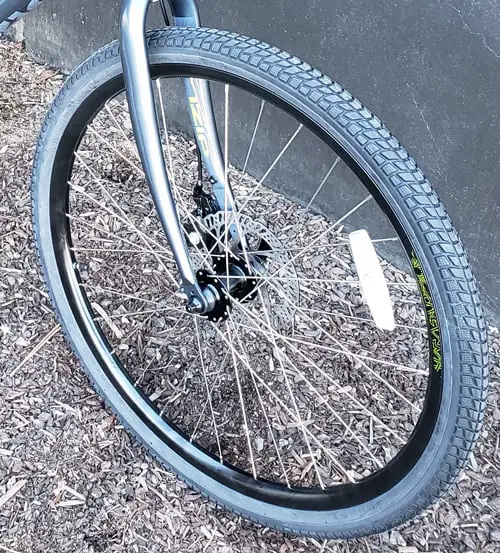 Wheels
The wheels on the Vibe are actually pretty burly. They have double-walled non-tubeless-ready rims laced to 36 spoke hubs and use oversized big gauge spokes. They are tough for a simple commuter bike.
Tires
The tires are basic Kenda 26×1.95" non-tubeless semi-smooth, but this bike can fit up to 26×2.2" so there is some room to customize here.
The stock tires are good for cruising around the neighborhood or commuting to town, but not too great for any off-roading adventures. Besides, this bike is meant for pavement riding only.
Before you buy – 
Just know this ebike is just meant for the casual rider that is looking for transportation and some exercise, nothing too thrilling. Also, the saddle is a bit on the firm side, so you may want a softer one.
You can find the Izip Vibe right here!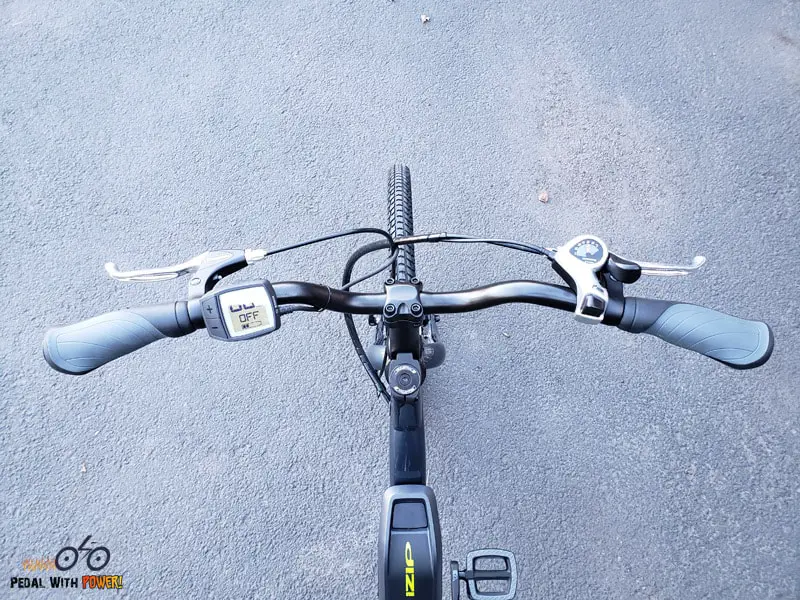 At the End of the Day
The Izip Vibe has been our go-to ebike for small ladies that just want to keep riding into their golden years. It's a great entry-level ebike with a Bosch motor and battery that will keep running for years.
It is relatively lightweight and with the nice low step, it is very easy to maneuver. The stem is adjustable, which makes it easy to find the right height for the handlebars, especially if want to sit nice and upright.
If you are looking for something similar that has a stronger motor and can do a bit of off-roading then check out my review of the Izip Vida! It's more expensive, but with ebikes, you get what you pay for.
We only have 2 of these at Bend Velo Bike Shop right now and we're not sure what their availability will be going forward. So check with your local dealer, they may have a waitlist going for this ebike.
Bonus – The Izip Vibe also comes in Blue!