Gloves and electric bikes go hand in hand! 🙂 One thing you will learn when you start riding an electric bike is that you go faster than a normal bike. This means more wind chill on your precious fingers and if you already have cold hands then this post is for you!
The best gloves for riding an electric bike will be the ones that keep your fingers from freezing during the cold season and keep your palms comfy during long rides in the summertime. My Favorite gloves are the 45NRTH Risor merino wool glove liners (perfect by themselves down to 55 degrees) that I pair with the Palmyth Ice Fishing convertible mittens when it gets super cold.
I live in central Oregon where the winter months can get down to single digits and the summer months can reach over 100 degrees. I love to ride year-round and have tried every type of glove there is. 
In this article, I will go over just the gloves that I still have and use (there are many more), and what temperatures and conditions I recommend for each of them. You will notice some of these are not traditional cycling gloves, I like to search around to find what works!
Once you have an electric bike you will end up riding more often, ebikes are that amazing. Be sure to protect your hands with the right gloves for the right seasons.
Quickly Ride to a Section -
What Are the Different Styles of Gloves for Electric Bikes?
Warm Weather Summer Gloves
You may be asking, "Why should I wear gloves when it's warm out?"
Some people can ride for hours without their hands getting numb or palms getting sore, but if that's not you, then I would look for some light, breathable padded gloves. Cycling gloves are not just for keeping your hands warm. 
These can be full-fingered or fingerless style gloves.
Even full-fingered style gloves can be very breathable and will keep your hands nice and cool but will have lots of padding on the palms, this can keep your hands from going numb and your palms from getting sore.
If you're one of the types of people that gets really sweaty hands, full finger gloves can also help improve your grip making it easier to use the shifter and brake levers.
If you're looking for gloves that are just going to help your hands with some padding but want to make sure that your hands stay nice and cool then I would look for the fingerless styles.
When it comes to padded gloves, the padded material itself can also be foam, gel, or a combination of both. The foam ones have the most padding, gel is less padding but very comfy.
If you're not sure what you're going to want you might want to go to your local bike shop and try out a few different kinds. Unfortunately, everyone is different and going like different gloves. You may need to actually buy a pair and go out and use them a few times to see if they work for you.
Spring, Fall, Shoulder Season Gloves
If you live in an area that has four seasons then the spring and fall time can get quite cool.  it's during this time that I would recommend some gloves that will provide some extra warmth and also help keep your hands nice and comfy.
I tend to find that these times are some of the nicest times to go out and ride but my rides do tend to be a little bit shorter than the nice warm summer months, so for me, padding is not really the most important feature it's more about keeping my hands warm.
If you're lucky enough to live in an area that doesn't have too harsh a winter, then these gloves may be all you need even for wintertime.
You will want to use full finger gloves that not only provide some extra warmth for your hands but are also extremely comfortable to wear. Continue reading and I will give you some examples of these types.
Also, note – There are also gloves that are waterproof if you are one of the brave ones who doesn't mind riding in the rain! Keeping your hands dry can be the only thing that helps keep them warm.
Cold Weather Winter Gloves
This is the season where proper glove selection is crucial! Having the right gloves for when the temperatures drop can mean the difference between riding or not. My favorites have been the convertible mittens, they are heaven for your hands. Read on to check them out!
I know lots of people that just like to use their skiing or snowboarding gloves for riding in the winter, and those do work, but they can also be a bit bulky and cumbersome. 
After riding for years during winters where the temperatures have gotten down into the single digits I have some different options that I think you will find much better. Keep reading and I will go over exactly which gloves I wear and for what temperatures I would recommend them.
Something I've noticed is, that when you do have the correct riding gloves for the super cold winter times, then it is actually quite a nice time to ride. You just need to bundle up!
So here are all of the gloves I still own and use for riding my electric bike. I'll start with the warm weather gloves then work my way down to the winter gloves. There will also be some recommended riding temperatures.
(The low temp is about when my fingers would get cold after about half an hour. The high temp is when my hands would get too sweaty for that particular glove. I do have pretty warm hands, so these temperatures may be a little different for you)
Disclosure – These are Amazon Affiliate links, if you click a link and make a purchase I may receive a small commission at no extra cost to you. It helps me to produce more content like this and I appreciate it very much.
To the Gloves!
---
best Warm Weather Gloves
Bontrager Circuit Gloves (but I prefer Giro gloves now)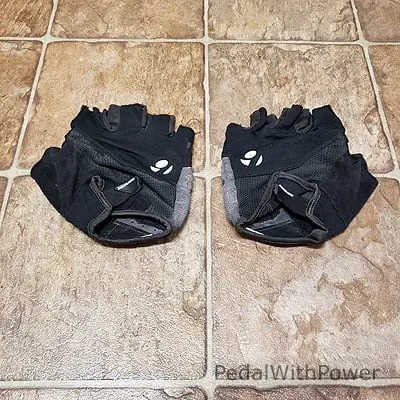 Outside Temps – 70 degrees and up
These gloves are my go-to warm weather padded gloves. As you can see from the pictures, I am due for new fingerless gloves. 
If you are looking for gloves that will give you some much-needed padding, right on your palm, but don't need them to keep your hands warm. Then pick up some fingerless padded gloves.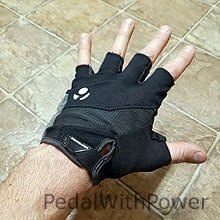 They are perfect for the warm days of summer and can help keep your hands from going numb. I still recommend you shake out your wrists every once in a while when riding to help keep blood flowing to your fingers. 
Also, if you choose a pair that has a velcro strap at the wrist, don't overtighten it. Having the strap too tight can make your hands go numb prematurely.
Padded gloves will have either foam, gel, or both used for padding, and some now even have memory foam. I used all different kinds and can't tell a huge difference. It is more important that the padded areas on the gloves are in the right place for you.
You check out a few different models and see that they put pads in different spots, so just make sure that your gloves are right for you. I will give you some recommendations for different gloves with different types of padding.
(Just Know – There is nothing especially interesting about the Bontrager brand gloves, in my opinion, I think Bontrager stuff is overpriced. Bontrager is Trek's house brand and when I bought these I was working for a Trek bike shop and got a deal.)
I will be replacing these gloves this summer with similar ones from Giro. I think Giro makes some great products. I love their helmets and I even have another type of glove from them on this list.
Here are some Giro fingerless gloves you should check out!
Men's
Women's
---
Bontrager Rhythm Gloves (but I would get Giro gloves now)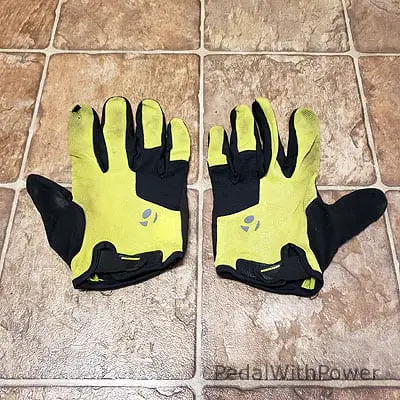 Outside Temps – 65 degrees and up
The Bontrager Rhythm gloves are the type of glove that is perfect for warm weather days when you might need some extra grip on your fingers.
These are full-fingered, padded gloves that are super breathable and will not get your hands too hot and sweaty.
They are basically the full-fingered versions of my fingerless gloves. Great for trail riding in the summer. Padded, cool, and grippy.
(Again, these are the Bontrager brand because I could get a deal, but as you can see are very worn out and I will be replacing them this summer with Giro gloves.)
I mainly use padded gloves now for trail riding that is really bumpy, or for long endurance rides when the weather is warm. If you haven't tried padded gloves before, I highly recommend you try them!
Here is where you can find some Giro full-fingered, padded, breathable gloves!
Men's
Women's
---
best Shoulder Season Gloves 
45Nrth Risor Merino Wool Glove Liners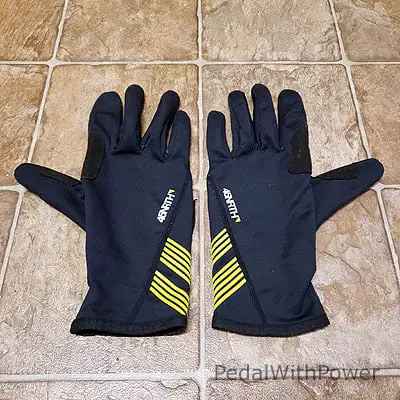 Outside Temps – 55 to 70 degrees
The 45NRTH Risor merino wool glove liners are relatively new to my collection and I don't how I survived so long without them. They are now my main go-to glove now when the weather starts to dip. 
They are very lightweight but the merino wool actually does a good job of keeping my hands warm as long as it's not too cold out. Merino wool is also known for not getting too smelly from sweat, but these can be thrown in the wash at any time.
The main reason I got these was to add them as extra liners to my winter glove set up for extreme cold riding, but I've found I use them all the time now. Typically in temperatures from 55 to 70.
These gloves are also great as lightweight extra layers for multi-day adventure rides or just to wear when it's cold out.
Keep reading and I'll show you the other gloves that I pair these with for certain situations.
You can find these 45Nrth gloves at REI here!
---
Giro D'Wool Urban Cycling Gloves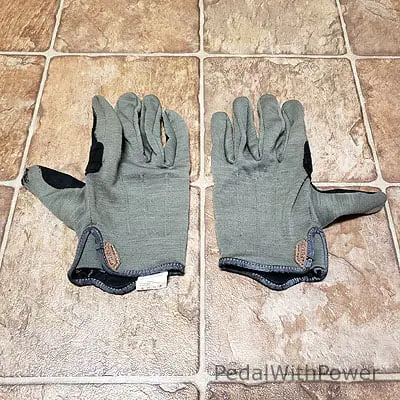 Outside Temps – 50 to 65 degrees
I love these gloves! I've worn them until there are holes in the thumb and fingers. I did use them for more than just riding.  They are comfy enough for just wearing during cold months.
These are the gloves I had before the 45NRTH's. I would have just bought another pair of these but I wanted glove liners in these are a little too thick for that.
These gloves would be perfect for someone that commutes on their ebike and wants lightweight, warm, and stylish gloves or just gloves to wear for everyday purposes.
At first, these seemed almost a little too nice and fancy for riding gloves, but I rode in them all the time anyway.
You can find the Giro D'wool gloves here!
---
Craft Hybrid Weather Gloves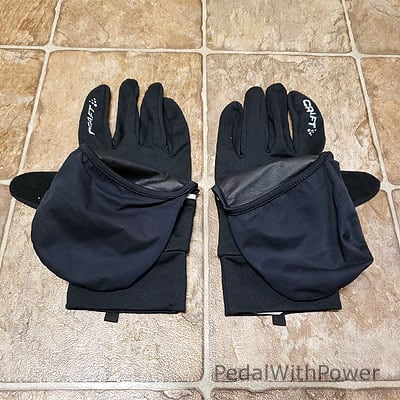 Outside Temps – 45 to 70 degrees by themselves, 25 to 45 degrees when adding the 45NRTH liners, 25 and below with hand warmers in the mittens
I was a little unsure about these gloves when I first got them. I was looking for something lightweight that was also waterproof and warm, to bring on long multi-day adventure rides.
They are light and breathable full-fingered gloves but they have a waterproof mitten shell that you can slip over all your fingers to keep them toasty and dry.  The Craft gloves have a big felt patch on the thumb for wiping runny noses. I'm not much of a runner, but when it's cold out my nose sure is 🙂
When I first tried them it was about 35 degrees out and the mitten flap did help, but after about 20 minutes my fingers were frozen. However, this is when I found the 45Nrth liners and added them to the mix and the rest is history.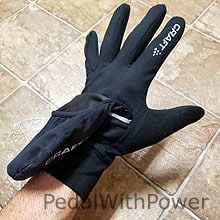 I had never used liners before and these Craft gloves paired with the 45NRTH liners are the best lightweight, waterproof set-up I have found. The nice thing about the mitten flap is that if you have to ride in temperatures below 25 degrees you can put hand warmers in them and ride on!
I was able to use this set up on my last ultra-endurance race, riding down from a snow-covered peak in the middle of the night and they kept my hands dry and warm, with the hand warmers.
These gloves are perfect just by themselves if you ride in the rain and it's not super cold. I highly recommend them, very cool design.
You can find the Craft Hybrid Weather Gloves here!
---
Garneau Rafale 2 Gloves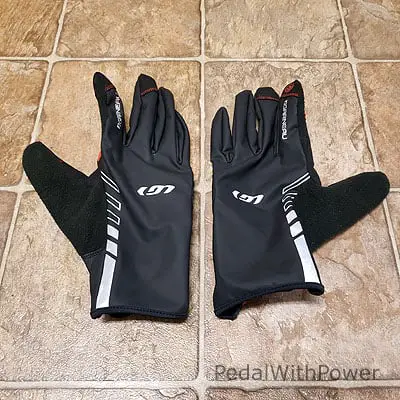 Outside Temps – 45 to 60 degrees
These are actually really nice, cool weather, gel-padded gloves. They have a really nice felt patch on the top of the thumb area for nose runnings 🙂 They also have the touch-sensitive section on the forefinger so you can use your touchscreen without taking them off. It kinda works.
I originally bought these gloves for cold winter temperatures but soon found out they are simply not that warm. I was bummed too because they are probably the nicest of the bunch but just didn't work great for my needs.
These gloves would be great if you ride in the temperature listed above and need to use your phone a lot, but keep reading to find out the gloves that I use now instead.
You can find the Garneau Rafale 2 Gloves here!
---
Manzella Convertible Fleece Cascade Gloves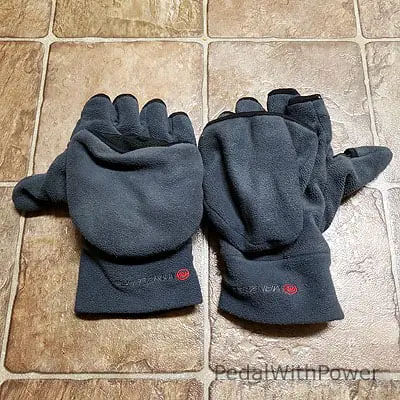 Outside Temps – 30 to 60 degrees
These gloves I have probably used the most for cold weather. They are convertible mittens to fingerless gloves and there is a little hole to pop your thumb out of if needed. These gloves are not really designed with bike riding in mind.
These gloves do the best as stand-alone gloves (no liners) for keeping your hands warm, but the downside is that they almost work too well. I would often find my hands getting sweaty on the inside of these and the fleece material would soak it up.
Almost every time I was done with my ride I would have to flip them inside out to dry them. There are really meant more for fishing I think.
When it was warm enough out you could just flip over the mitten part and let your hands air out a little. Then when your fingers started to get cold again, flip the mitten part back on. If it was really cold out though, you would not want to do this. They are also not water-resistant at all!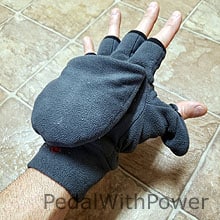 The biggest downside to these was that they are not really designed for tougher riding conditions. Constantly flipping the mitten part on and off caused to stitching to break and I had to sew them back together a few times.
These gloves use velcro to hold the mitten part up and that stopped working after about a year. The mitten part would still stay back but the velcro just didn't last.
These are also a bit thick and were uncomfortable to wear with the 45NRTH liners. So when it was time to replace them I wanted something similar but tougher, water-resistant, and could fit the liners when it was frigid. The next gloves on the list are the ones I found.
I would recommend these for anyone who has to ride on occasion in pretty cold dry weather and just wants one glove that is good for the cold morning and the warmer ride home.
You can find the Manzella Convertible Fleece Gloves here!
---
Palmyth Ice Fishing Convertible Gloves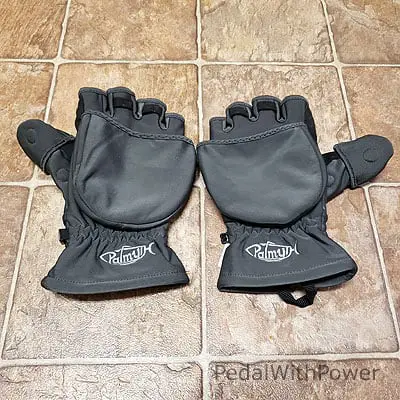 Outside Temps – 35 to 60 degrees by themselves, 35 and below with the 45NRTH liners, down to 0 degrees with liners and hand warmers
These are the gloves that I replaced the Manzella's with and they are amazing! They have microfleece on the inside and are very comfy. The mitten flap flips back and is held in place by a magnet. This works far better than the velcro on the Manzella's.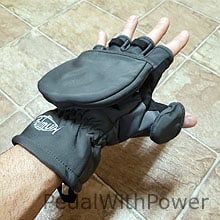 The thumb also has a magnet that holds it back, instead of just a little hole like the Manzella's. These gloves have an elastic flap on the inside by your wrist that can hold a hand warmer and you can put a handwarmer in the mitten.
With hand warmers and liners added, these gloves would be great even at below 0 temperatures. Without any warmers, but with the 45nrth liners, I can ride around 15 to 20-degree temps and my hands stay pretty warm.
Using these gloves without any liners and just by themselves, they are good down to about 35 degrees. Below that with the added wind chill of riding an electric bike, your hands start to get cold. That's when I add the liners.
Between these gloves and the 45NRTH liners, I'm pretty good for most riding conditions. If it's warm enough that I don't need the liners by themselves, I will just ride without gloves for the most part.
I highly recommend these for anyone that has to ride in cold temperatures or wants to. Pair these with the 45NRTH liners and even a couple of hand warmers and you're set for just about anything.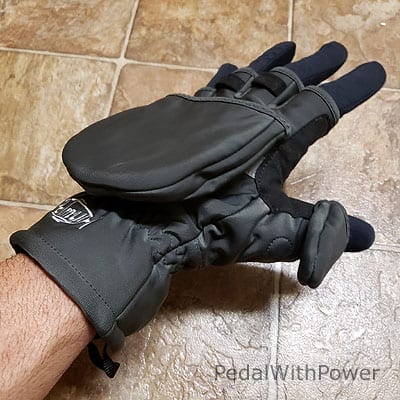 You can find the Palmyth Ice Fishing Gloves here!
---
Hand Warmers
Just to give a little reference to what I mean by hand warmers. These are those little packets that you can get and shake up and they stay warm for hours. I like the Hothands hand warmers. They don't cost a whole lot and can be lifesavers when you need one. (They also make toe warmers you can put in your boots on really cold rides)
You can find Hothands hand warmers and toe warmers right here!
---
Body Glove Snowboarding Gloves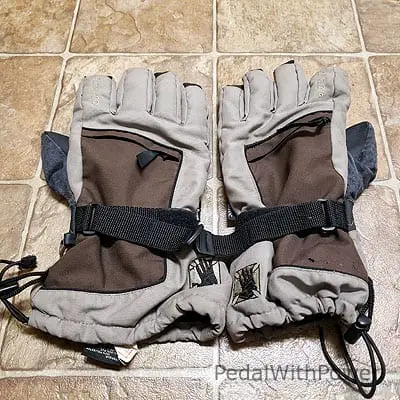 Outside Temps – 10 to 35 degrees
These were my original winter riding gloves. I just used my old snowboarding gloves and headed off into the cold.
If you have ski gloves or snowboarding gloves they will work for winter riding, but they are bulky and not really designed for brake levers and shifting. I found these kept my hands warm but made operating the bike annoying.
That's when I started looking into the convertible gloves. The snowboarding gloves also made my hands get too warm and sweaty over time.
This is a great option if it's all you have and need to get out and ride, but if you want to ride regularly in the winter, then I would save these for the slopes and get the Palmyth convertible mittens and 45NRTH merino wool liners instead.
At the End of the Day
As you can see I have tried out just about every configuration of glove set up there is and after all this trial and error I hope you can narrow down your search and not have to go through all these different gloves.
My strongest recommendations are merino wool liners like the 45NRTH Risors that I've mentioned (many times) above, paired with the Palmyth Ice Fishing gloves for commuting year round. You can also pair them with the Craft Hybrid gloves for overnight trips when weight and space are an issue.
It's also nice to have padded gloves for trail riding in the summer or if your hands get sore. Just read through the list and find out if any of these gloves may fit your needs.  You know what they say "If it meets the demands, it's a treat for the hands" (actually nobody says that) 🙂
Keep those hands protected out there and as always, keep on riding!