This is the Izip Vida and it's a super comfy upright, very low step, Bosch-powered class 1 ebike with 2.4" tires that feels like your riding a beach cruiser, but can handle some off-road dirt as well.
Quickly Ride to a Section -
The Izip Vida – At A Glance
* Price -$2800 * Weight – small 52.5lbs, medium 53lbs – small loaded 56.6lbs – small with suspension fork 58.6lbs * Sizes – small, medium, large * Class 1 mid-drive
Range Test
I weigh 220lbs and can get 15-35 miles on this ebike in real-world testing. Depending on which assist mode I'm in, how many hills there are, and how windy it is. Lighter riders will get more range.
Of course, the bike can be ridden if the battery runs out, just without any motor assistance. 
Pros
Upright riding position
Bosch Active Line Plus motor (good for all but the heaviest of us)
2.4" tires
Priced very fair
Cons
400wh battery
No, fenders, rear rack, or lights (they can all be added though)
No front suspension
Who's it For?
If you want an ebike that you sit upright on and do not have to bend over, then this is for you.
If you have trouble lifting your leg up and over a bike to get on it, then this ebike is for you.
If you want comfort, style, a mid-drive Bosch motor, and be able to do some dirt roads, then this is your ebike.
This has been a top seller for us at Bend Velo Bike Shop!
Some Backstory
Izip has had a bit of a rocky road when it comes to ebikes. They have tried out many different motors both hub and mid drives and now that Izip has Bosch bikes they have finally hit their stride.
Izip still offers some budget ebikes with hub motors, but I have not tried any since 2019. I would recommend sticking to the Bosch mid-drive Izip ebikes if you can afford to.
Form & Function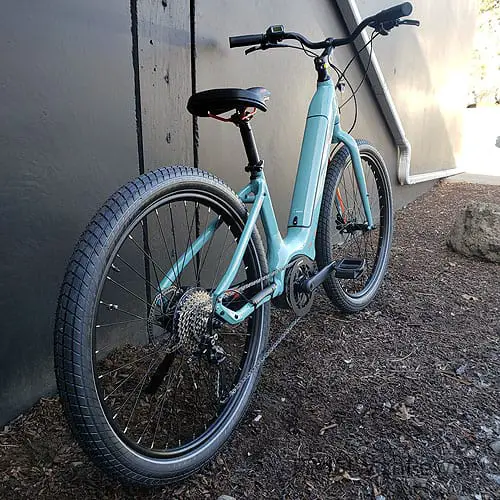 When you buy an electric bike or any bike for that matter, what you are really buying is the ride. You could have the prettiest bike in the world and unless it rides well, it's just a piece of artwork.
The Izip Vida has been one of the best ebikes we've carried at the shop, Our customers are generally older folks who love the low step-thru and wider tires. 
This is also one good-looking bike! 2021 was the first year that Izip started integrating the battery into the downtube of the frame and it works seamlessly.
Scroll to the bottom to see the Izip Vida with a rear rack, fenders, and lights! We also have one that we added a suspension front fork!
Nuts & Bolts
Here's a breakdown of what comes stock on the bike – 
The Motor, Battery, and Display
These are the parts you are really looking for when buying an electric bike.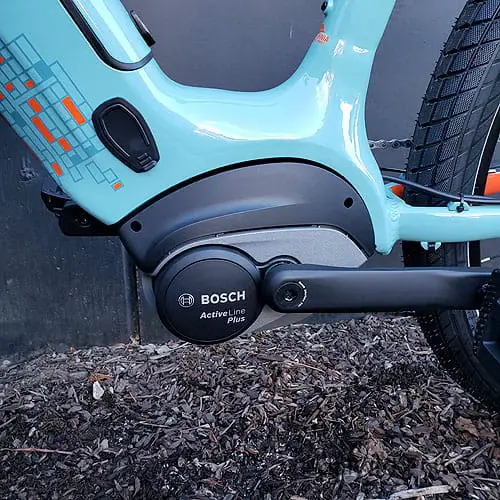 The Izip Vida uses Bosch, which is the best there is!
Motor
Bosch Active Line Plus gen3 class 1 mid-drive – 250 watts, 50nm of max torque – up to 270% assist
Battery
Bosch 400wh in-tube vertical, comes with Bosch compact charger (charges from 0-100% in about 7hrs)
Display
Bosch Purion (tells you what you need)
The Drive Train
If you are looking for a pedal-assist mid-drive ebike then the drive train is very important. This is the gearing and shifting part of the bike. You will want lower gearing if you plan to ride up steep hills.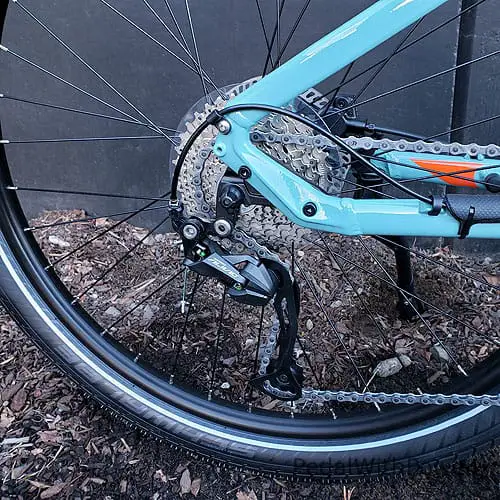 Shifter
Rear Derailleur
Cassette
Now the tooth count on the cassette is where you can tell how low the gearing is, the higher the tooth count on the biggest cog, the lower the gear is. 
Shimano's 9-speed Alivio group is really quite good. It's nice that they paired it with a cassette that has 36 tooth low gear. This makes climbing hills much easier, especially since your sitting more upright on this bike.
The Brakes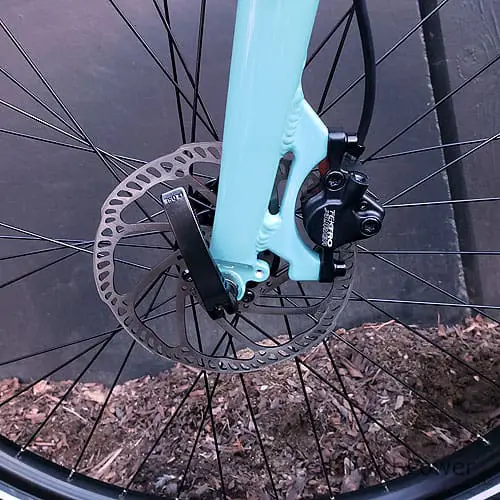 The brakes on an ebike can often get overlooked, but when you are able to cruise at speeds above 20mph it is good to know you have brakes that stop you fast if necessary.
The Izip Vida comes with the Tektro Auriga hydraulic disc brakes, 2 piston front and rear with 160mm rotors. 
This is a pretty awesome brake set for a comfort cruiser-style bike. These brakes will work for years on this bike. Good job Izip!
The Fork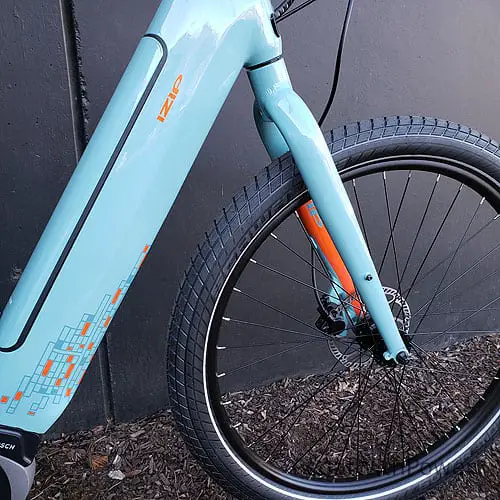 The Vida comes with an aluminum fork and has standard quick-release dropouts with eyelets on the mid to lower part of the fork. I have installed full front fenders and front racks on many of these bikes and it works great.
Also, note that the fork is really wide and can clear up to a 2.8" tire if you wanted a little more cushioning on the front end.
The Wheels and Tires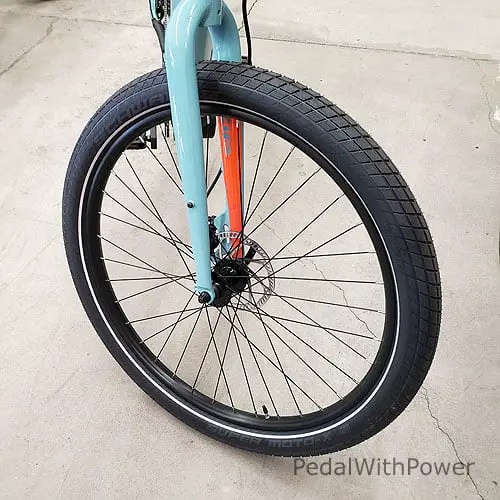 Wheels –
The Vida comes with double-walled, 36 spoke, non-tubeless rims laced to Formula quick-release hubs.
Pretty strong for this type of bike, especially running 36 spokes.
Tires – 
The tires are Schwalbe Moto-X – size 27.5 x 2.4" These are some of my favorite tires for riding just about any terrain. 
For off-road just lower your tire pressure a little and these tires grip very well even though they are smooth. I have ridden these exact tires on just about every surface and they rock. Just be cautious when turning in sandy areas.
Before you buy – 
This ebike comes pretty bare-bones, but I have installed front and rear racks, full cover fenders, and lights hooked into the Bosch system. It can also take front baskets well.
You can find the Izip Vida here!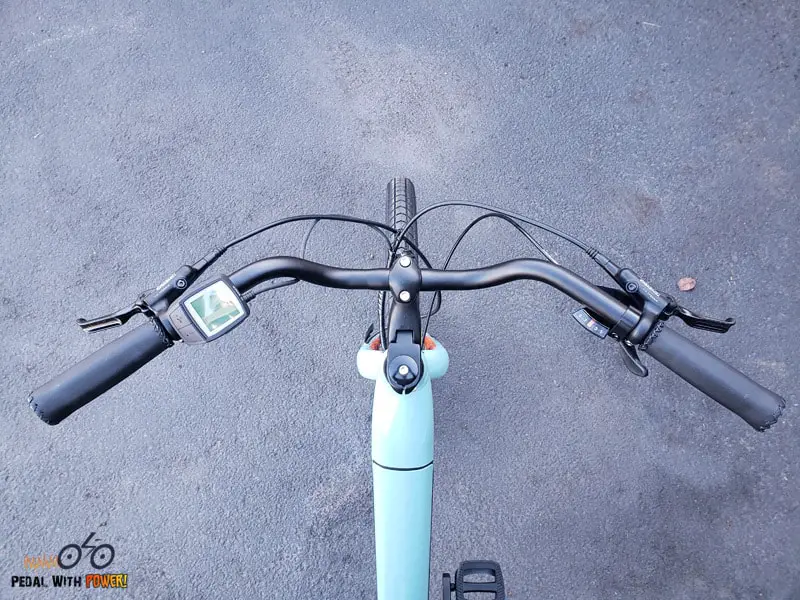 At the End of the Day
I just love this bike! I have had many smaller women come into the shop who were not able to find an ebike that they could lift their leg over until they found this one.
The fact that this bike comes with wider 2.4" tires is also a great thing. Not everyone is going to take their bike off-road, but just knowing that you can, inspires confidence.
This is a review of the 2021 model, but Izip will be offering the same Vida model for 2022, just with different color schemes. (it will also cost a little more) Look for that review as soon as we get one at the shop! Also know that for 2022 Izip will be coming out with the Vida Loca, which will be class 3 and have fenders and lights!
This bike has been available for order online in the past but due to supply issues, you may only be able to find one at your local dealer. Currently in stock at Bend Velo Bike Shop!
Bonus – The Izip Vida with rack, fenders, and lights!
Here's what the Izip Vida looks like with fenders, a rear rack, and lights!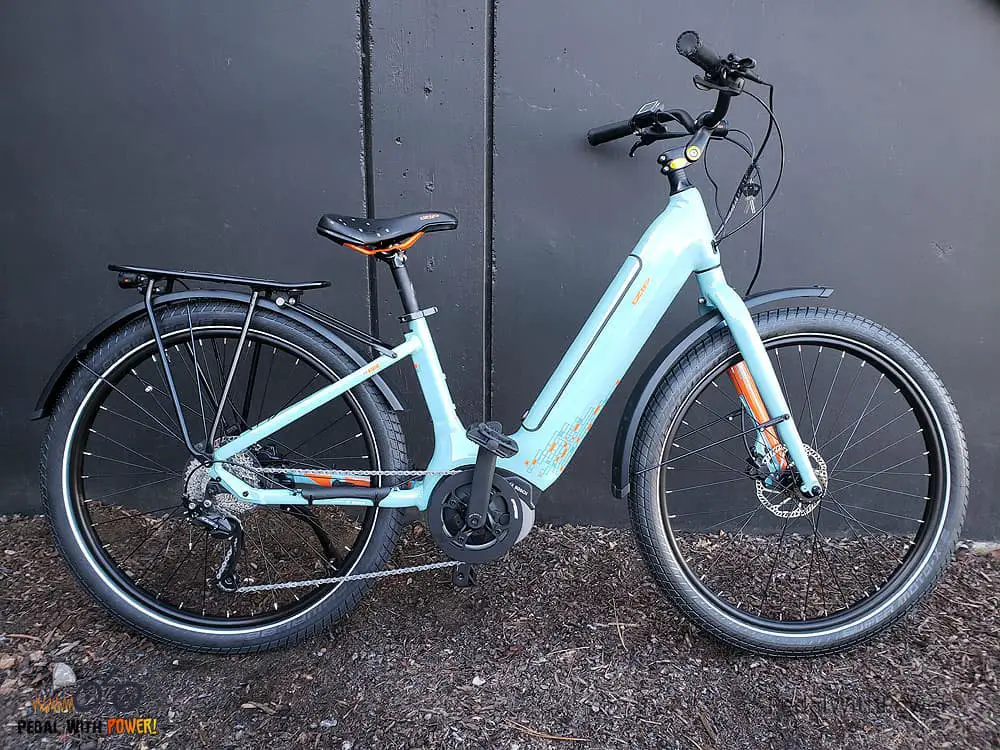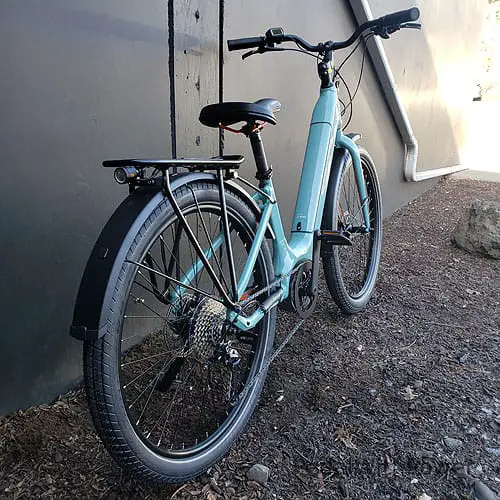 Bonus 2 – The Izip vida with a suspension fork!