This supercharged fully loaded commuter ebike is the Diamondback Union 2 and it's awesome! You get a class 3 Bosch motor on a solidly built frame with 2.4" tires that can do some off-road as well as pavement. It also comes stock with metal fenders, a rear rack, lights, and a color Bluetooth display.
Quickly Ride to a Section -
The Diamondback Union 2 – At A Glance
* Price – $4100 * Weight – XL 53.4lbs * Sizes – small, medium, large, extra large * Class 3 mid-drive
Range Test
I weigh 220lbs and can get 23-45 miles on this ebike in real-world testing. Depending on which assist mode I'm in, how many hills there are, and how windy it is. Lighter riders will get more range.
Of course, the bike can be ridden if the battery runs out, just without any motor assistance. 
This bike has been a great commuter and around-town bike for many of my customers and they have nothing but praise for it. It's fast, fun, and capable. I even sold one to an old friend who's using it to lose some weight and get into shape!
Pros
Bosch motor system 
500wh battery
Shimano Deore 10 speed drivetrain 
Intube battery
Includes fenders, rear rack, lights, color Bluetooth display
2.4" tires
Cons
A little pricey at $4100
You may want to change the handlebars, they're a little aggressive
Who's It For?
If you want an ebike you can just hop on and go, day or night, rainy or clear, short ride or long, then this is the ebike for you.
If you want an ebike that can get you around town fast but also be able to go on some dirt and gravel roads, then this ebike is for you.
If you want an ebike that already comes with fenders, rack, lights, and Bluetooth display then this is the bike. I could go on…
If you want all that and more with a top-tier motor and battery then this ebike is for you!
Some Backstory
Diamondback just started making electric bikes in 2021 and like all the Diamondback electric bikes, the Union 2 for 2022 will be the same as the 2021 model. Diamondback is carrying over its 2021 ebike line to 2022. 
If the price is a little steep, Diamondback also has the Union 1 – Full review of the Union 1 here.
A quick comparison to the Diamondback Union 1 – 
The Union 2 has a bigger battery – 400wh on Union 1, 500wh on Union 2
The Union 2 has a better display – Bosch Purion on Union 1, Bosch Kiox on Union 2
The Union 2 comes with lights front and rear
The Union 2 is $600 more 🙁
Form & Function
When you buy an electric bike or any bike for that matter, what you are really buying is the ride. You could have the prettiest bike in the world and unless it rides well, it's just a piece of artwork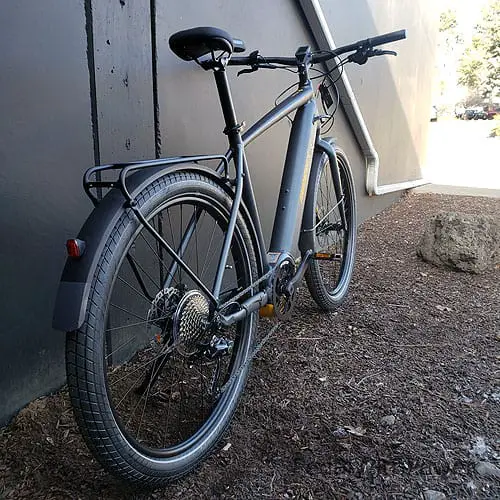 This bike is sleek, fast, and fully loaded! The Union 2 is a great ride and with the stock fenders, rear rack, and built-in lights, it'll carry your stuff, day or night, rain or shine. It has a class 3 Bosch motor, bigger tires at 2.4" and is built like a tank. Thie big tires help smooth out the bumps on an ebike with no suspension.
The color is a really cool gun metal blue with some yellow accents. It is a pretty bike!
The handlebars are a little far out front and narrow, so this puts you in a more aggressive riding position. Personally, I would change them to be more upright, but that's just me.
Nuts & Bolts
Here's a breakdown of what comes stock on the bike – 
The Motor, Battery, and Display
These are the parts you are really looking for when buying an electric bike.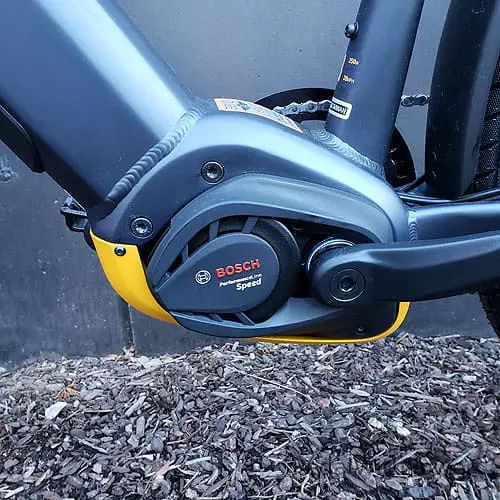 The Diamondback Union 2 uses Bosch, which is the best there is!
Motor
Bosch Performance Line Speed gen4 mid-drive – 250w – 85nm max torque – up to 300% assist
Battery
Bosch 500wh in-tube vertical with Bosch standard charger (charges from 0-100% in about 5hrs)
Display
Bosch Kiox (color, customizable screens, Bluetooth compatible)
The Drive Train
If you are looking for a pedal-assist mid-drive ebike then the drive train is very important. This is the gearing and shifting part of the bike.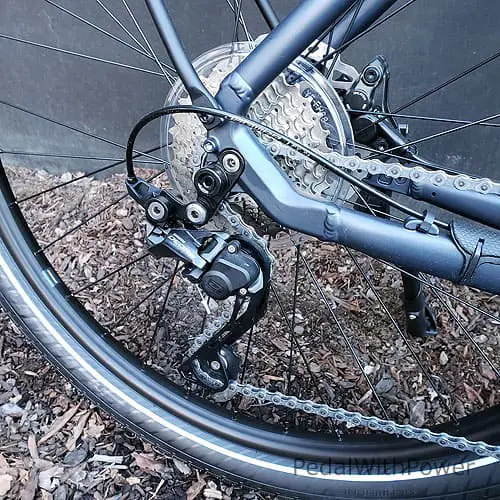 Shifter
Shimano Deore M6000 – 10 speed
Rear Derailleur
Shimano Deore M6000 SGS – 10 speed
Cassette
11-32 tooth – 10 speed (can be expanded to 11-36)
Now the tooth count on the cassette is where you can tell how low the gearing is, the higher the tooth count on the biggest cog, the lower the gear is. 
You'll notice that the Union 2 comes with an 11-32 cassette, which when paired with the beast of a motor that is the Bosch Performance Speed, is more than enough for most. 
But, you can buy a 10 speed 11-36 and put it on there if you need lower gears. The rear derailleur is rated to go to a 36 tooth.
The Brakes
The brakes on an ebike can often get overlooked, but when you are able to cruise at speeds above 20mph it is good to know you have brakes that stop you fast if necessary.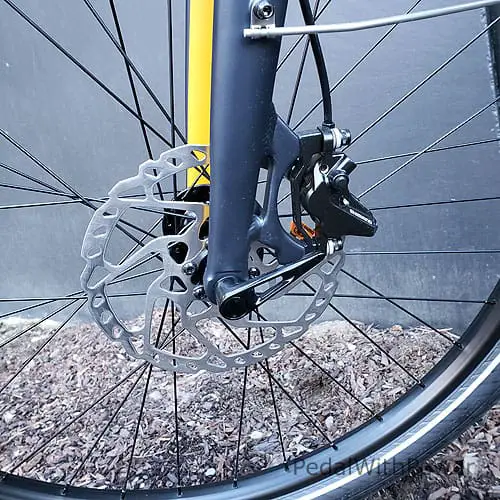 The Union 2 comes with the Shimano M420 hydraulic brakes, a 4 piston front caliper with 180mm rotor, and a 4 piston rear caliper with a 160mm rotor. 
Shimano hydraulic disc brakes are amazing and easy to service! Can't go wrong.
The Fork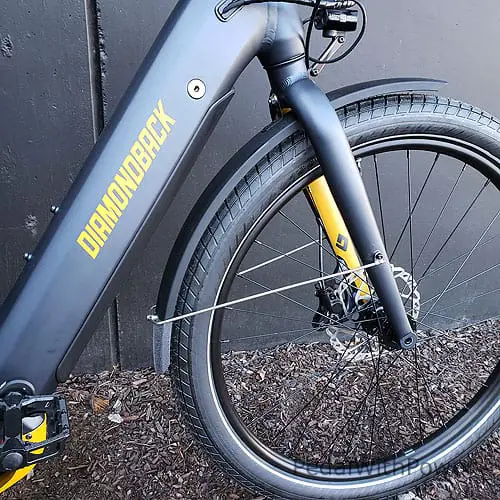 Nothing too special here. 
The Union 2 has an aluminum rigid front fork with a 12x100mm thru-axle. It does have mid-fork eyelets that the fender stays are mounted to and these can also be used to mount a front rack.
The Wheels and Tires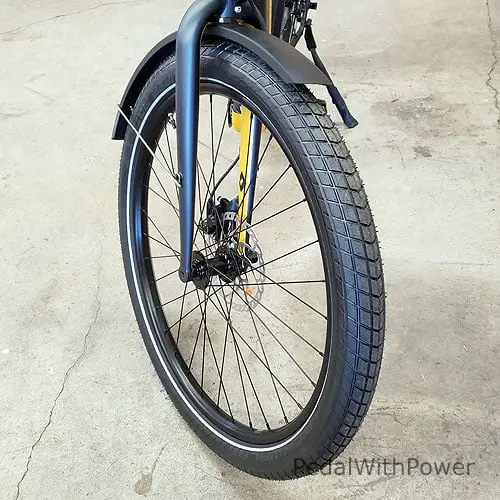 Wheels – 
The Union 2 comes with double-walled, 32 spoke, non-tubeless-ready rims laced to thru-axle sealed bearing hubs. 12x100mm front, 12x142mm rear.
This means that they are tough enough for most terrain but they are not tubeless-ready. So tubes only on this one.
Tires – 
The tires are Schwalbe Moto-X – size 27.5 x 2.4" These are some of my favorite tires for riding just about any terrain. 
For off-road just lower your tire pressure a little and these tires grip very well even though they are smooth. I have ridden these exact tires on just about every surface and they rock! Just be cautious when turning in sandy areas.
Before you buy – 
I would recommend test riding one of these to see if you like the handlebars. We have had to change out handlebars at the shop on most of the ones we've sold.
You can find the Diamondback Union 2 here!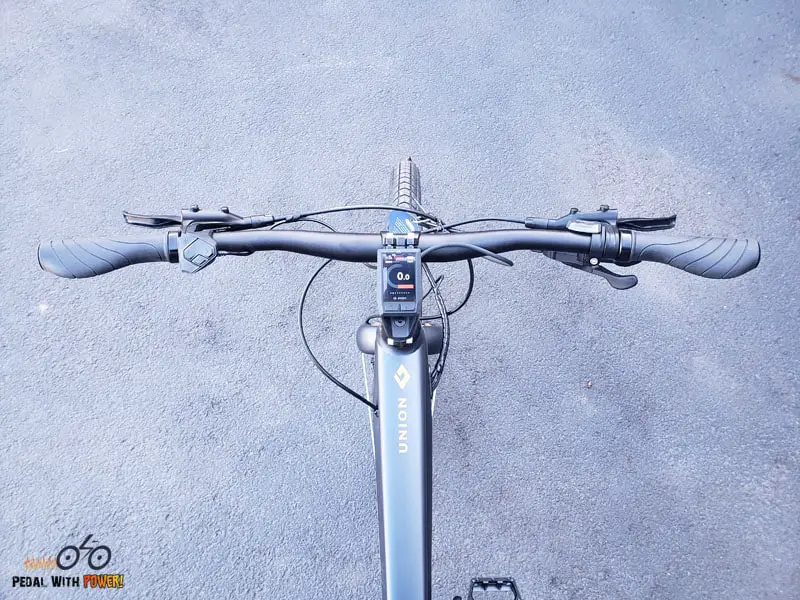 At the End of the Day
If I wanted an ebike to mainly commute to work or school and wanted one with everything on it already, then this would be it.
If after reading this far and you think you may be interested in the Union 2, but the price is a little steep then check out my review of the Union 1. It's the same bike without lights, with a basic display, and a slightly smaller battery.
This ebike is another great bike in the Diamondback lineup. A commuter-inspired ebike that can also do some dirt and gravel roads.
You can never go wrong getting an ebike with a Bosch Performance motor.
In the past, they have been available online, but that may not be the case this year due to the lack of supply. So check with your local Diamondback dealer and see if they have a waitlist going for these.
There should be a decent supply of this bike this year, but we'll see. Currently in stock at Bend Velo Bike Shop!