This is the Diamondback Current and it's a full-on gravel bike with a Bosch Performance Speed motor in it! Most drop-bar ebikes (road style) have a smaller motor and battery that keep the weight down but only assist a little. This beast has a full Bosch system with a 500wh battery and is a powerhouse!
Quickly Ride to a Section -
The Diamondback Current – At A Glance
*Price – $4100 * Weight – medium 47.6lbs * Sizes – small 48cm, medium 53cm, large 58cm * Class 3 mid-drive
Range Test
I weigh 220lbs and can get 25-50 miles on this ebike in real-world testing. Depending on which assist mode I'm in, how many hills there are, and how windy it is.
Of course, the bike can be ridden if the battery runs out, just without any motor assistance. 
I had one customer who put wood fenders and a rear rack on his and also hooked up lights to make it a super commuting machine!
Pros
Bosch motor system 
500wh Battery
Shimano GRX 11 speed drivetrain with 11-42 cassette
Intube battery
2.8" tires
Cons
Pricey at $4100
Does not include lights, fenders, or a rack
Who's it For?
If you want one of the fastest street-legal ebikes around then this is for you. 
If you are an avid road cyclist and looking to try an ebike then this is the bike.
If you want a road-style ebike that can also do gravel and dirt roads, but want a full-sized Bosch motor system with it, then this ebike is for you.
It's fast, it's fun and it's on the lighter-weight side.
Some Backstory
The 2022 Diamondback Current, like all Diamondback ebike models, will be the same exact bike from 2021. They are carrying over their whole lineup.
I have sold a few of these at the bike shop and have personally test-ridden this bike. And let me tell you it's fast and it's fun!
The customer that put the rack lights and fenders on his now commutes 20 miles to work on his and loves it.
Form & Function
When you buy an electric bike or any bike for that matter, what you are really buying is the ride. You could have the prettiest bike in the world and unless it rides well, it's just a piece of artwork.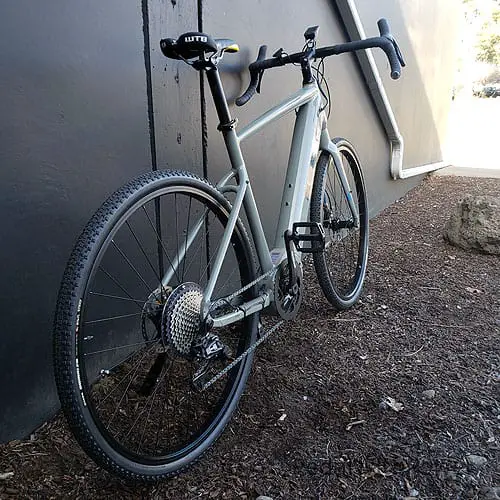 The Current is a pretty good-looking ebike and rides well as a gravel bike. It only comes in a kind of light grey off-white color so it's a little bland but with some add-ons can be very unique.
This bike comes stock with 40mm wide tires but can take up to 45mm if you need a little extra cushion. The Current is a drop-bar rigid gravel bike so off-road riding will be a little bumpy especially at the speeds this thing is capable of.
For a road bike that can take wider tires, this thing rides well on smooth pavement and bumpy gnarly terrain.
Nuts & Bolts
Here's a breakdown of what comes stock on the bike – 
The Motor, Battery, and Display
These are the parts you are really looking for when buying an electric bike.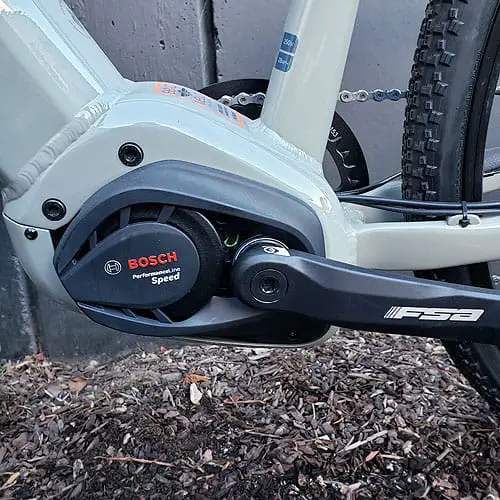 The Diamondback Current uses Bosch, which is the best there is!
Motor
Bosch Performance Line Speed gen4 mid-drive – 250w – 85nm max torque – up to 300% assist
Battery
Bosch 500wh in-tube vertical with Bosch standard charger (charges from 0-100% in about 5hrs)
Display
Bosch Kiox (color, customizable screens, Bluetooth compatible)
The Drive Train
If you are looking for a pedal-assist mid-drive ebike then the drive train is very important. This is the gearing and shifting part of the bike.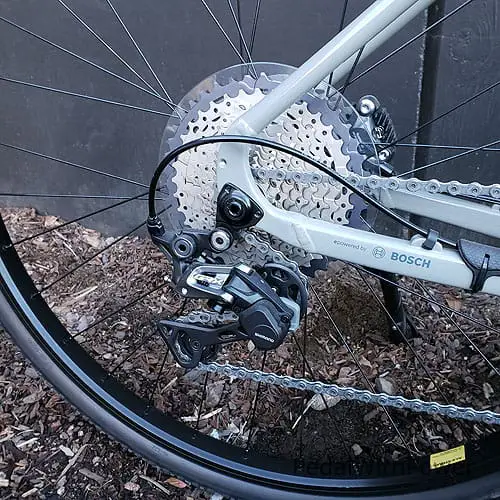 You will want lower gearing if you plan to ride up steep hills and the Diamondback Current has you covered.
Shifter
Rear Derailleur
Cassette
Now the tooth count on the cassette is where you can tell how low the gearing is, the higher the tooth count on the biggest cog, the lower the gear is. 
Having that nice big 42 tooth rear cog for a low gear is pretty sweet on a gravel bike and this thing can climb just about anything.
The Brakes
The brakes on an ebike can often get overlooked, but when you are able to cruise at speeds above 20mph it is good to know you have brakes that stop you fast if needed.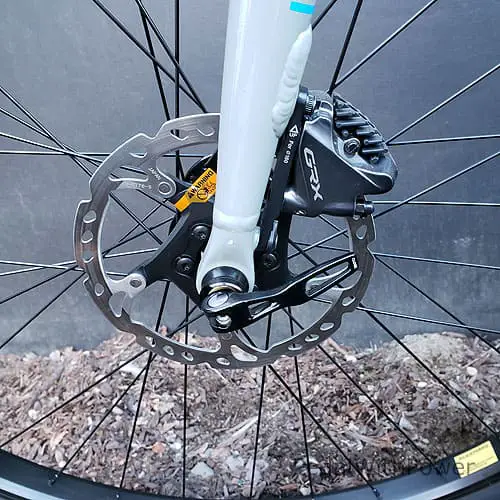 The Current comes with the Shimano GRX hydraulic brakes and has 2 piston calipers front and rear with 160mm Shimano ice-tech rotors. So they stay nice and cool!
The GRX hydraulic brakes look and feel amazing, you don't need to pull too hard for them to stop you on a dime.
The Fork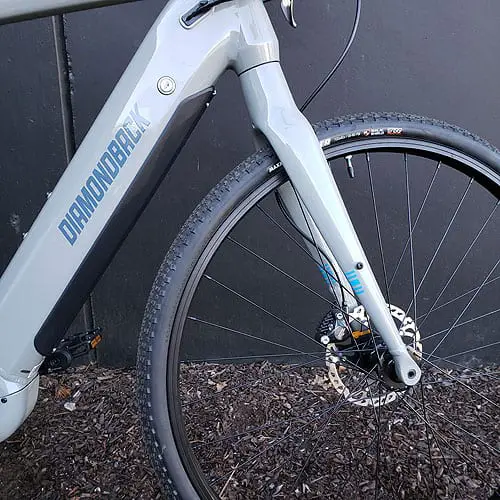 The fork is forged aluminum with 12x100mm thru-axle spacing. It would have been nice to see a carbon fork at this price but at least it does have mid-fork eyelets to mount a fender and/or a front rack.
The Wheels and Tires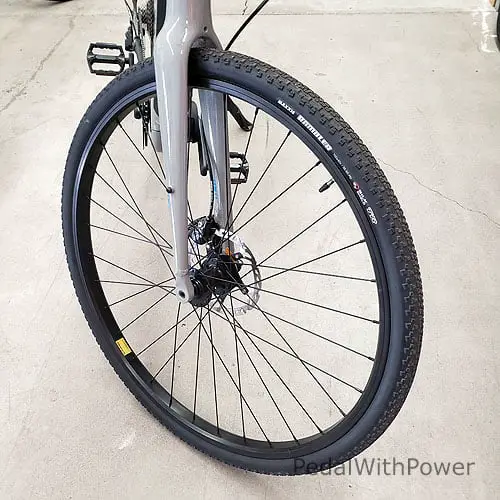 Wheels – 
The Current comes with double-walled, 32 spoke, non-tubeless-ready Alex rims laced to thru-axle hubs. 12x100mm front, 12x142mm rear.
You can set them up tubeless but are not designed to be tubeless so they may fail. 
Tires –
The tires are Maxxis Rambler 700x40c and they are tubeless ready but the rims aren't, so go tubeless at your own risk.
These tires are pretty good on-road and off, not super knobby but have some extra traction for gravel roads. Given that the bike can take up to 45mm tires there are a ton of tire options available.
Before you buy – 
This bike comes pretty bare-bones but it can take a rear rack, fenders, and you can wire lights up to the Bosch system and run them off the Bosch battery. So it can be ready for anything.
You can find the Diamondback Current here!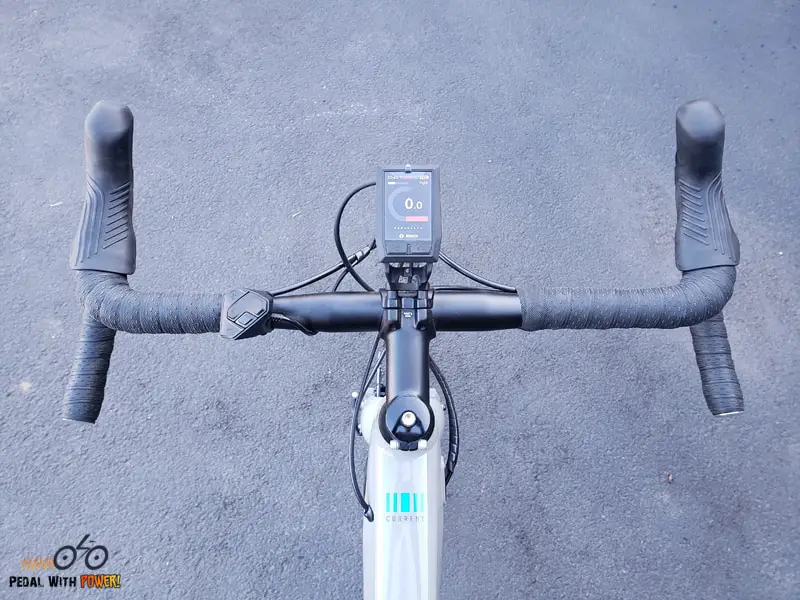 At the End of the Day
The Diamondback Current is a pretty awesome machine. Most road-style ebikes come with little motors and tiny batteries which can be good just for a little boost here and there, but this thing comes with the full Bosch treatment.
You will be starting to see more road bike options that have full ebike systems, but there are not that many right now.
I have a couple of customers from the shop that thought they never get ebikes because they were mainly road cyclists, but when they saw this bike they are now on our waiting list for 2 of them.
In the past, they have been available online, but that may not be the case this year due to the lack of supply.
Supply this year will be limited so check with your local dealer now. We have one right now at Bend Velo Bike Shop!
bonus – The Diamonback Current with smooth tan-walled tires!