This beast of an ebike is the Diamondback Response, a Bosch mid-drive class 3 commuter built on a hardtail mountain bike frame with a pretty nice front suspension fork and 2.8" wide semi-slick tires on it. It rocks!
Quickly Ride to a Section -
The Diamondback Response – At A Glance
* Price – $4100 * Weight – about 52lbs * Sizes – small, medium, large * Class 3 mid-drive
(all photos courtesy of Diamondback Electric Bikes) We are currently out of stock on this bike at Bend Velo Bike Shop, so I couldn't take any pictures myself 🙁 We are hoping to get some more by summer.
Range Test
I weigh 220lbs and can get 20-40 miles on this ebike in real-world testing. Depending on which assist mode I'm in, how many hills there are, and how windy it is. Lighter riders will get more range.
Of course, the bike can be ridden if the battery runs out, just without any motor assistance. 
Pros
Bosch motor system 
500wh Battery
RockShox front fork
Shimano Deore 10 speed drivetrain with 11-42 cassette
Intube battery
2.8" tires
Cons
Pricey at $4100
Does not include lights, fenders, or a rack
Only comes with smooth tires, though you can put knobby tires on it
Who's it For?
This is a hard one to nail down. 
If you want to commute around town fast, but also be able to hop curbs or go down some stairs then this ebike is for you.
If you want an ebike that is just as happy on the road as it is on the trail then this bike is for you. 
If you want an ebike with the best mid-drive motor brand (Bosch) that you know won't break easily then this bike is for you.
If you just want an ebike but don't know what you plan to do with it, so you want it capable of anything, then this is for you.
I think you get the picture here. It's for everybody!
Some Backstory
The Diamondback Response electric bike actually came out in 2021 and the 2022 model will be the same one carried over. 2021 was the first year Diamondback came out with ebikes and they have 4 different models right now and all 4 will be the same for 2022.
Just keep in mind that Diamondback also carries a non-electric bike with the same name – "Response" – confusing I know, so just make sure you are looking for the Diamondback Response electric bike.
Diamondback has been making the non-electric Responses for years and they have many models available so if you're searching for this bike, you will probably find a lot of the non-electric versions showing up.
I have sold a few of these at the bike shop and have personally test-ridden this bike. And let me tell you it's pretty sweet.
One customer bought it just to do door dash deliveries and not use any gas. I love it!
Form & Function
When you buy an electric bike or any bike for that matter, what you are really buying is the ride. You could have the prettiest bike in the world and unless it rides well, then it's just a piece of artwork.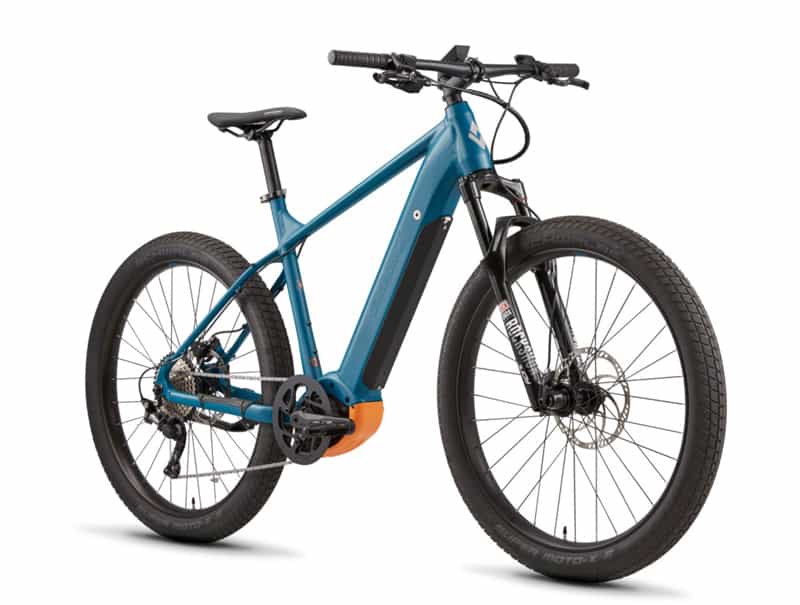 Well, let me tell you this ebike is a ton of fun! The Response rides like butter no matter what you throw at it, and it looks good doing it. The Diamondback logo on the downtube is just raised letters in the same color, very stealthy.
First off it's a class 3, meaning it can assist up to 28mph (no throttle though).
Second, it has 2.8" semi-slick tires that ride like butter on the road and can handle anything but the loosest terrain off-road. (I have these tires on my own ebike until it snows)
Third, it's a Bosch mid-drive motor with 85nm of torque which is just a powerhouse.
If this ebike is within your price range just buy it if you can find one!
Nuts & Bolts
Here's a breakdown of what comes stock on the bike – 
The Motor, Battery, and Display
These are the parts you are really looking for when buying an electric bike.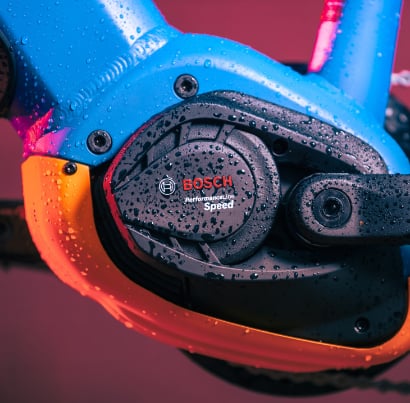 The Diamondback Response uses Bosch, which is the best there is!
Motor – Bosch Performance Line Speed gen4 mid-drive – 250w – 85nm max torque – up to 300% assist
Battery – Bosch 500wh in-tube vertical with Bosch standard charger (charges from 0-100% in about 5hrs)
Display – Bosch Kiox (color, customizable screens, Bluetooth compatible)
The Drive Train
If you are looking for a pedal-assist mid-drive ebike then the drive train is very important. This is the gearing and shifting part of the bike.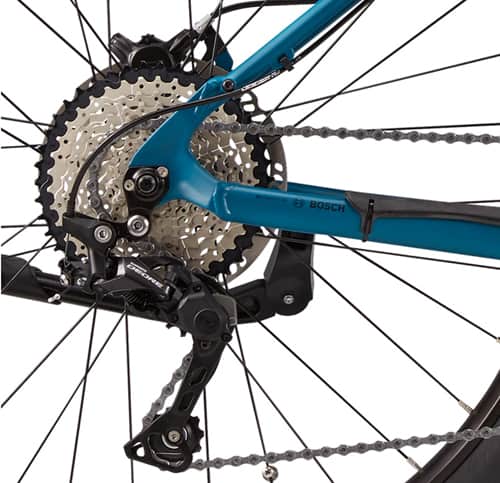 You will want lower gearing if you plan to ride up steep hills and the Diamondback Response has you covered.
Shifter – Shimano Deore M6000 10 speed
Rear Derailleur – Shimano Deore M6000 10 speed
Cassette – 10 speed, tooth count 11-42
Now the tooth count on the cassette is where you can tell how low the gearing is, the higher the tooth count on the biggest cog, the lower the gear is. 
Many mountain bikes nowadays have a low gear as big as 50 or 51 even 52, but 42 is still a pretty low gear and when paired with the Bosch motor, will get you up just about anything.
The Brakes
The brakes on an ebike can often get overlooked, but when you are able to cruise at speeds above 20mph it is good to know you have brakes that stop you fast if needed.
The Response comes with the Magura Fifty4's which have a 4 piston front caliper with a 203mm rotor and a 2 piston rear caliper with a 180mm rotor. This basically means it will stop you when you need to.
Magura makes a solid brake that works great, just be aware they are not very durable. If you crash or the bike falls over and hits the brake lever it may snap off.
The Fork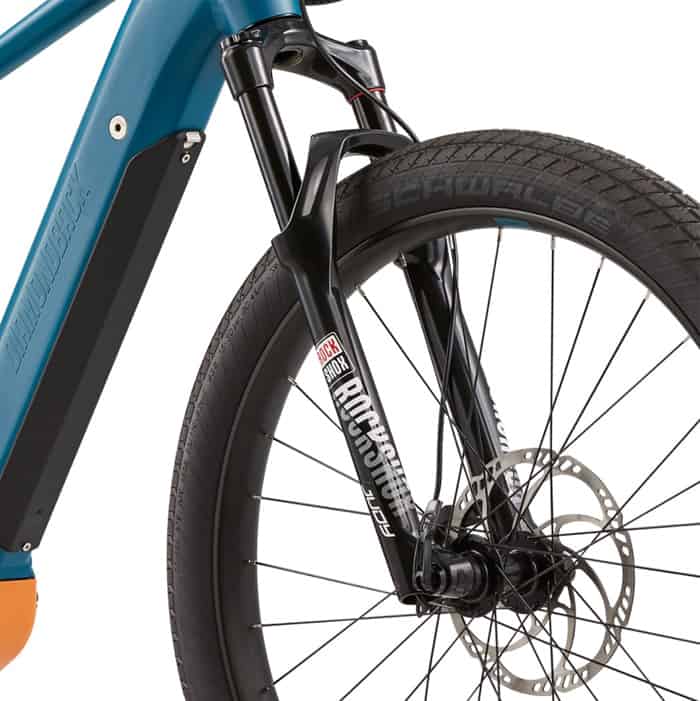 The Response comes with a RockShox Judy Gold front fork with 120mm of travel. This is plenty of travel for a hardtail ebike considering this bike is not really marketed as a mountain bike. 
Front forks can range in travel from 30mm to 210mm. Lower travel forks are found on city bikes and hybrids, designed just to be a little more comfortable riding on streets. Higher travel forks a found on enduro and downhill style mountain bikes, meant for big descents and drops.
The RockShox Judy on the Response is about in the middle and meant for more all-around riding.
The Wheels and Tires
Wheels – 
the Response comes with double-walled, 32 spoke, tubeless-ready WTB rims laced to thru-axle sealed bearing hubs. 15x110mm boost front, 12×148 boost rear.
This means that they are tough enough for most terrain and can be set up tubeless if you want, but the bike does not come tubeless, it will have tubes.
Tires – 
The tires are Schwalbe Moto-X's – size 27.5 x 2.8" These are some of my favorite tires for riding just about any terrain. 
For off-road just lower your tire pressure a little and these tires grip very well even though they are smooth. I have ridden these exact tires on just about every surface and they rock. Just be cautious when turning in sandy areas.
The only downside is that the tires are not tubeless-ready.
Before you buy – 
This bike comes pretty bare-bones but it can take a rear rack, fenders, and you can wire lights up to the Bosch system and run them off the Bosch battery. So it can be ready for anything.
The Diamondback Response Electric Bike can be found here!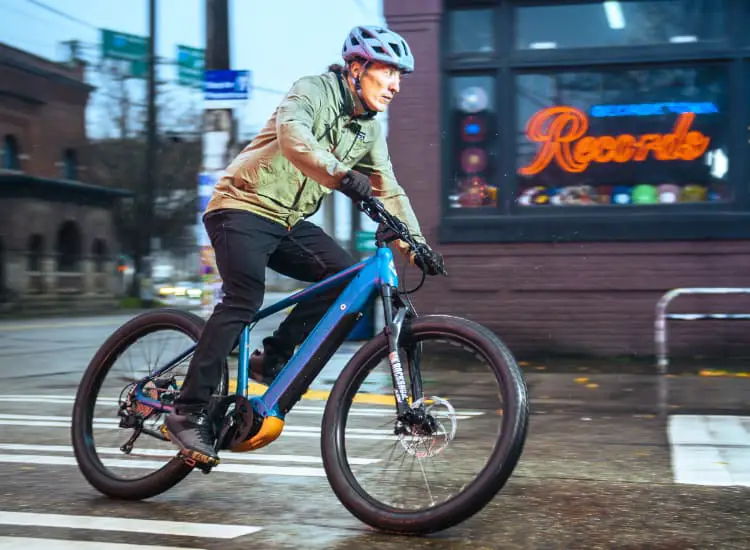 At the End of the Day
The Diamondback Response is a well-built machine that capable of just about anything you can throw at it. It is marketed as a class 3 city bike but it's really a hardtail mountain bike. Just know that if your state allows electric mountain bikes on trails they may not allow class 3 ebikes.
So if you want an electric bike that you can cruise around town and not have to baby it or something that can head off on the trail and be just as at home, then check out the new Diamondback Response if you can find one.
We were only able to get 4 of these ebikes at the shop for all of 2021, so they are in very low supply. We may only be able to get 3 or 4 this year so check with your local Diamondback dealer and they may be able to put you on a waitlist early.
In the past, they have been available online, but that may not be the case this year due to the lack of supply.