The Old Man Mountain rear rack is simply the best solution for full-suspension mountain bikes and it's a great rack for any bike as well!
I have had this rack on my full-suspension electric mountain bike for about 10,000 miles and always have at least 1 pannier attached (often 2 panniers) when I'm out riding trails and commuting to work.
When I first got my Emtb (electric mountain bike) I was concerned that I would not be able to put a rear rack on it. Installing a rear rack on a full-suspension bike is no easy task. Especially one that is stable and durable.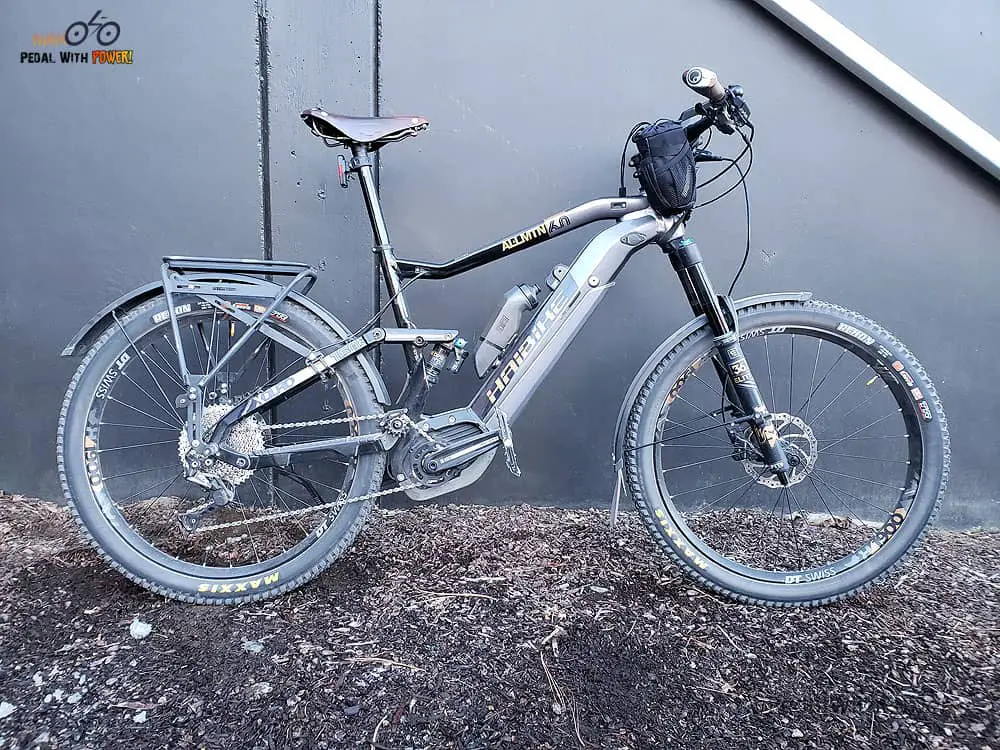 I looked for solutions and found the Thule Pack-n-Pedal Tour rack, but that thing seemed like it would swing around on trails and looked kind of cheaply made for daily riding. Even though it cost $130.
Then I stumbled across the Old Man Mountain Rack just as the company was purchased by The Robert Axle Project.
It just so happens that The Robert Axle Project (which makes custom thru-axles) is here in Bend, OR and the mechanic that used to have my job now works over there.
He brought over some of these Old Man Mountain racks and showed us how good they are!
Quickly Ride to a Section -
Who Is the Old Man Mountain Rack For?
The Old Man Mountain rack can be attached to just about any bike, but it's really best for full-suspension setups.
I use my full-suspension mountain bike as my commuter bike and having a rear rack with a couple of panniers (side bags for your rack) is crucial in allowing me to keep commuting more often.
This rack is hands down the best solution for putting a rear rack on a full-suspension bike!
For more info about racks and full-suspension bikes check out this article –> "Can You Put a Rear Rack On a Full-suspension Mountain Bike?"
How Does It Work?
The great thing about the Old Man Mountain rack is that it will come with a replacement rear thru-axle that is custom designed for the rack to mount to.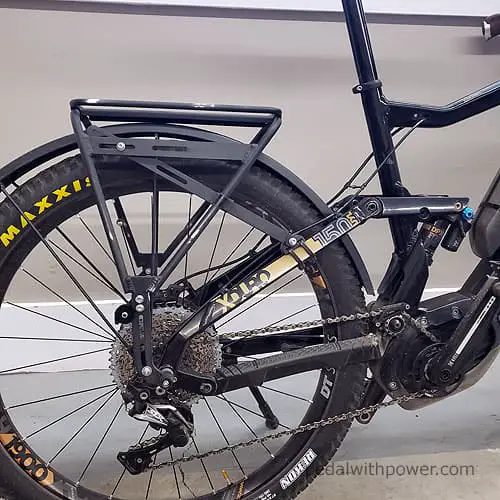 It will also come with adjustable support arms that attach to your seat stays (the frame tubes that are the upper section of your rear swingarm on a full-suspension bike).
Having your rack attached this way allows it to be mounted to your full-suspension bike without it interfering with the rear suspension.
The problem with most full-suspension bikes is that there is no good way to mount a rear rack. You could get one of the racks that clamp to your seatpost, but those racks kind of suck and will still bob up and down as you ride.
Not to mention that this is not an option with a dropper post.
With the Old Man Mountain rack, you just pick out the actual rack you want, they have a couple to choose from, and then get the correct "fit kit" that goes with your bike.
It is important that you get the right fit kit because it will have the proper rear axle for your frame. If you don't find your bike's fit kit on their list just give them a call or use their online live chat and they will help you out.
Talk to Tory and tell him Chris sent you! 🙂
To install this rack you will be replacing your rear axle with the one from Old Man Mountain.
How Much Does It Cost?
As of writing this, Old Man Mountain has a few different options.
| | | |
| --- | --- | --- |
| Rack | Fit Kit | Total |
| Divide | $78 | $246 |
| Divide (Made in the USA) | $78 | $288 |
| Classic | $70-$122 | $160-$232 |
As you can see this is not a cheap rack and I can tell you that these racks are well made and well worth the price!
You will need to know some information about your bike to get the right fit kit.
Type of bike (commuter, fat, gravel, mountain, road?)
Whether it's an ebike or not (pretty simple)
The Brand (Trek, Giant, Haibike…?)
Your rear axle spacing (142 or 148 boost)
Model year (Old Man Mountain usually gives you a range)
For your rear axle spacing, if you are not sure, you can remove your rear wheel and measure the inner distance of your dropouts. This is the inside part where your axle actually touches the frame.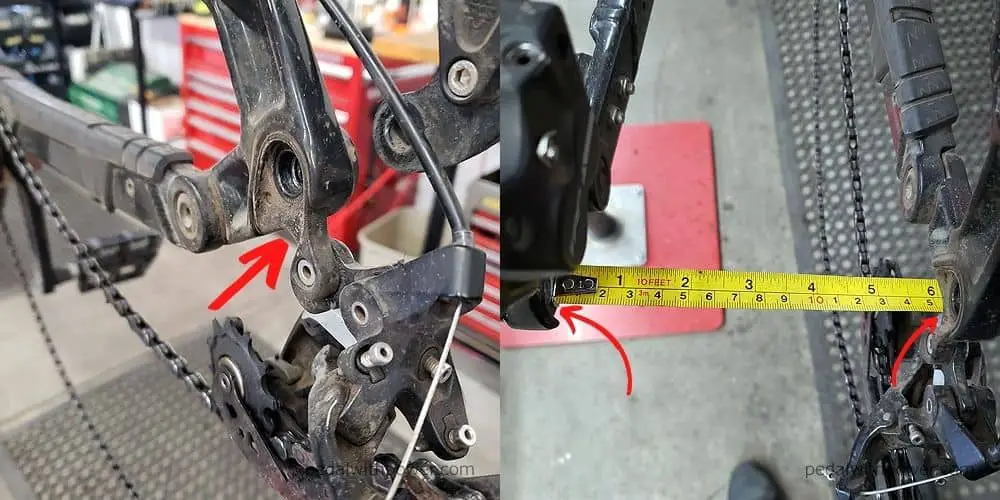 You can see from the images above how easy it is to measure your rear axle if don't already know the spacing. Just remember that this will be in millimeters so you will need a metric measuring tape or ruler. (You can measure in inches and just convert it too)
How Can I Get One?
Old Man Mountain racks can be found by clicking here! 
Their site will guide you through selecting the right fit kit for your bike. Just select the rack you want and find the right fit kit for your bike.
Bonus!
Since installing the Old Man Mountain rack on my bike I soon realized that I could now also install full-coverage fenders and mounts for a rear B.O.B. trailer!
The rack gave me the extra place to bolt these things on and it would not be possible without first having the rack.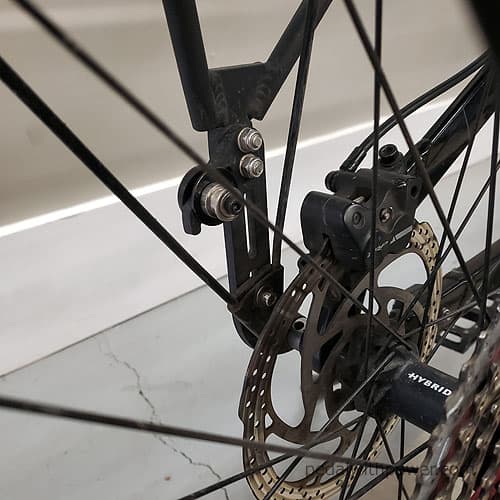 If you look close you will see that the fender stays are mounted directly to the Old Man Mountain rack and on the hooks, I was able to attach the mounts for a B.O.B. trailer. Pretty nice! 🙂
At the End of the Day
This rack has been a game-changer for me!
Now I can ride my full-suspension ebike with a rack and bags and never have to wear a backpack.
After testing this rack for more than 9,000 miles, it is well worth the price and won't let you down.