The Haibike AllMtn 3 is an amazing machine! It has the new Bosch gen4 Performance Line CX motor (85nm) and the Bosch 625wh in-tube battery. This drive system, combined with Haibike's mullet set-up (27.5×2.8 rear tire, 29×2.5 front tire) makes for one monster mountain bike!
Quickly Ride to a Section -
The Haibike AllMtn 3 – At A Glance
*Price – $5800 * Weight – large, 57lbs * Sizes – small, medium, large, extra large * Class 1 mid-drive
Range Test
I weigh 220lbs and can get 30-60 miles on this ebike in real-world testing. Depending on which assist mode I'm in, how many hills there are, and how windy it is. Lighter riders will get more range.
Of course, the bike can be ridden if the battery runs out, just without any motor assistance. 
Who's it For? 
This ebike is for anyone looking to fly up steep mountains and be able to fly right back down them with ease!
If you want an Emtb (electric mountain bike) that is german engineered and built to last, then this bike is for you.
Maybe you just want to have one of the most well-made ebikes around at a price that is very reasonable for what you are getting.
This ebike is a tank and will eat up whatever terrain you point it at, then be able to do it all again the next day!
A Brief Rundown of The Haibike AllMtn 3
Pros
Bosch motor system
625wh battery
Mullet style wheel set-up
RockShox suspension
Shimano brakes
Cons
Sram SX drive train
XLC dropper post
Alex Rims
Some Backstory 
I have the 2019 Haibike AllMtn 6.0 with 9800 miles on it and out of all the bikes I've had over the decades, this one has by far been the best!
Haibike just makes a fantastic ebike and they have been making electric mountain bikes at the top of their game for years.
Now that their Emtb's have the new Bosch motor and bigger battery I almost wanted to upgrade mine, but my ebike still works flawlessly, and I've made some custom additions that I love.
If you have the chance to test ride a Haibike then I highly recommend you do so, even if you are not ready to buy one yet!
Form & Function 
When you buy an electric bike or any bike for that matter, what you are really buying is the ride. You could have the prettiest bike in the world and unless it rides well, it's just a piece of artwork.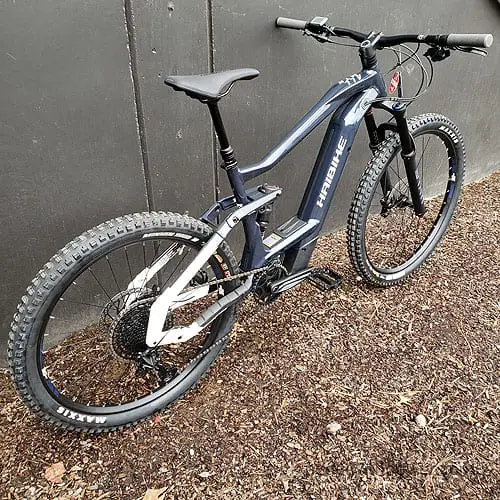 This thing is one good-looking bike! The new Bosch 625wh battery is thinner and longer than the older 500wh one that I have and with this battery hidden in the downtube, it's getting harder than ever to even tell that this is an ebike.
Another change I noticed is that the top tube has been thinned out a bit so that your knees are less likely to rub it while you are charging along.
The Bosch gen4 motors are slightly smaller and more powerful than the gen3's are and weigh a little less too.
Another thing that is unique to Haibike is their "Modular Rail System". This is a slim cutout on the top of the downtube that allows you to attach a lock, water bottle, storage compartment, or even a second 500wh battery! (for a total of 1125 watt-hours!)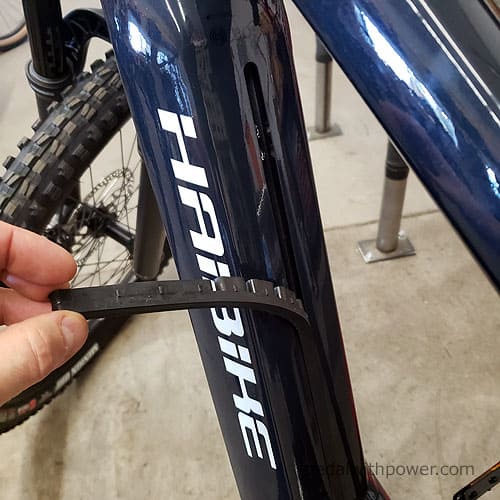 Nuts & Bolts 
Here's a breakdown of what comes stock on the bike – 
The Motor, Battery, and Display
These are the parts you are really looking for when buying an electric bike.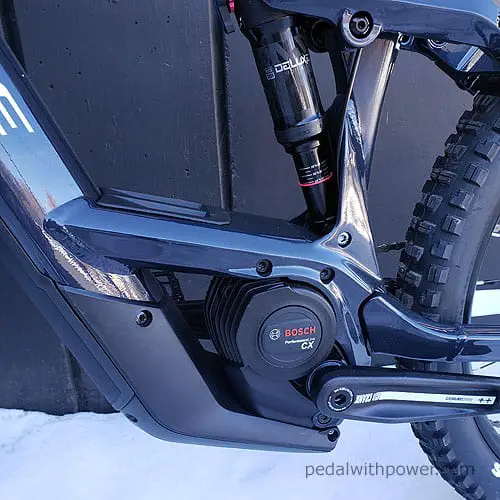 The Haibike AllMtn 3 is a Bosch bike which is, in my opinion, the best there is!
Motor
Bosch Performance Line CX gen4, mid-drive, 250watt, 85nm max torque, up to 340% max assist
Battery
Bosch 625wh, in-tube, comes with the Bosch standard charger that will charge from 0 to 100% in about 5 hours.
Display
Bosch Purion (speed, trip, odometer, range, assist level, battery level)
The Drive Train
If you are looking for a pedal-assist mid-drive ebike then the drive train is very important. This is the gearing and shifting part of the bike. You will want lower gearing if you plan to ride up steep hills.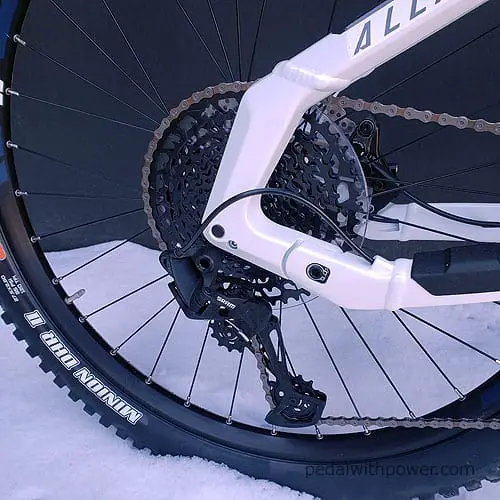 Shifter 
Sram SX Eagle – 12 speed
Rear Derailleur 
Sram SX Eagle – 12 speed
Cassette 
11-50 tooth – 12 speed
Now the tooth count on the cassette is where you can tell how low the gearing is, the higher the tooth count on the biggest cog, the lower the gear is. 
With an 11-50 tooth rear cassette and the Bosch Performance Line CX motor, there will be almost nothing you can't climb with this bike.
While the gearing range is amazing, I'm not a huge fan of the Sram SX series drive train. This is the entry-level Sram Eagle 12 speed drive train and would have hoped for a bit better at this price. Oh well, you can always upgrade it later.
The Brakes
The brakes on an ebike can often get overlooked, but with the added weight of an ebike and the ability to cruise at speeds around 20mph, it is good to know you have brakes that stop you fast if necessary.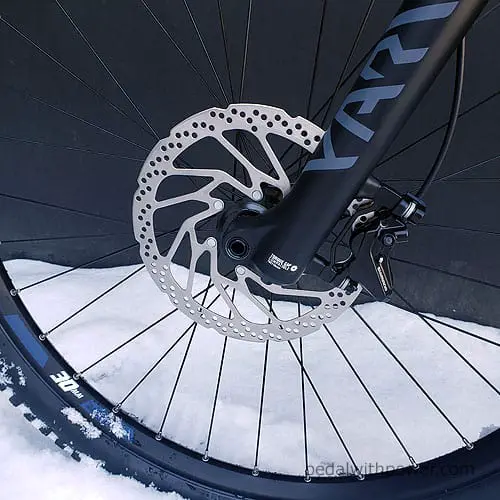 The Haibike AllMtn 3 comes with Shimano MT401 hydraulic brakes that have 4 piston calipers and 203mm rotors front and rear. (the Haibike website says it's a 180mm rear but it is a 203mm rear)
These brakes are going to stop even the biggest riders on the steepest descents. No need to worry about stopping power!
The Fork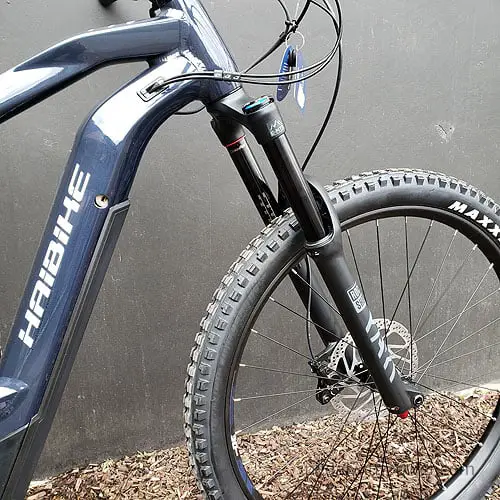 The Fork is the RockShox Yari, air spring, with 160mm of travel. On the fly compression adjust and adjustable rebound.
The Yari is a beast of a fork and will take years of abuse. Just get your yearly seals and fluid changes and you'll be good to go.
The Wheels and Tires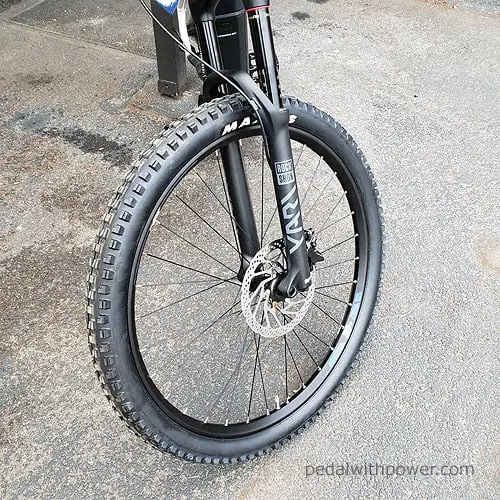 Wheels 
The Haibike AllMtn 3 has a unique wheel set up known as the "Mullet", this is a 29" front wheel and 27.5" rear wheel.
This gives you better roll-over from the big 29er in the front and a wider, slightly smaller rear wheel for better traction and torque.
These wheels have 30mm tubeless-ready Alexrims, 32 spoke, eyeleted, laced to Shimano thru-axle hubs. 15×110 boost front and 12×148 boost rear.
Tires 
The front tire is the Maxxis Minion DHF (downhill front) 29×2.5" tubeless-ready tire.
The rear tire is the Maxxis Minion DHR II (downhill rear) 27.5×2.8" tubeless-ready tire.
These tires are a very aggressive tread meant for chewing up muddy terrain and griping onto just about anything.
If you won't be riding in really muddy conditions you may want to trim these down to Maxxis Rekons or Ardents to save some rotational weight and decrease your rolling resistance. I leave the choice up to you. 🙂
Before you buy – 
This ebike can take a rear rack if choose the right one! If you are interested, check out this article – "Can You Put A Rear Rack on a Full-Suspension Mountain Bike?"
You can find the Haibike AllMtn 3 right here!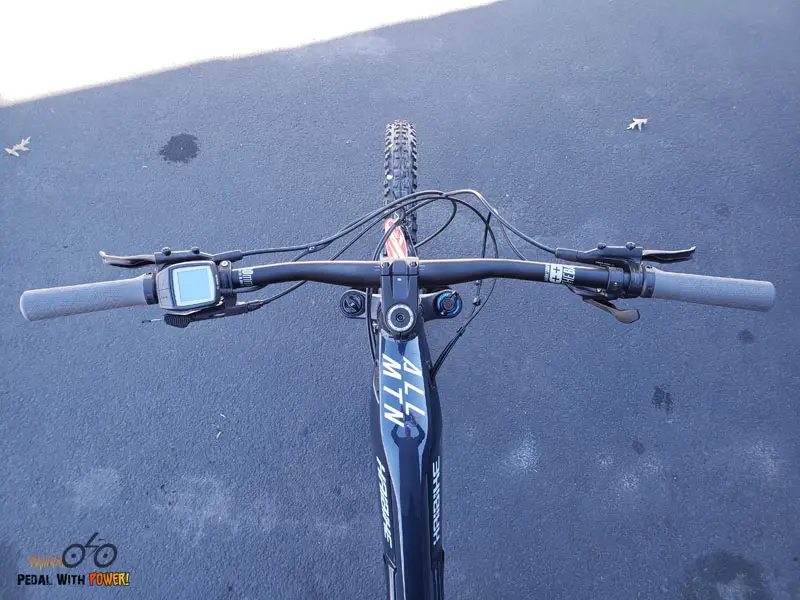 At the End of the Day
I love my Haibike AllMtn ebike! If you are looking for one of the best electric mountain bikes around then don't miss this one.
Haibike will also soon be releasing the AllMtn 5 in the US and I will do a review of that one as soon as we get it.
I have installed full fenders and a rear rack on mine to make it the ultimate on and off-road commuter, mountain biking machine.
If you have a local Haibike dealer and you're interested in this bike, don't wait. As with all ebike this year, supply will be very limited, but these are hitting store right now in March!
Keep on riding and exploring the world!