Full-suspension mountain bikes provide added comfort to your ride and let you tackle tougher terrain with ease, but what if you still want a rear rack and panniers for your bike? I will show you how I do it and what rack I have been using for more than 10,000 miles without issue!
Yes, you can if you pick the right rack. There are a couple of options, but the best is the Old Man Mountain rear rack. I have one and it works flawlessly.
When it came time to get a new electric bike I really wanted a full-suspension mountain bike because I was going to be commuting 25 miles on backcountry trails to work. I almost didn't get one due to not being able to put a good rear rack on it.
Carrying a backpack is a solution, but once you get used to carrying your stuff in a pannier on your rack, going back to a backpack is not appealing.
In this article, I will explain what rack I use, which panniers I think are best, and where you can get them, so you too can create an ultimate off-road commuter machine!
Quickly Ride to a Section -
What Is the Best Rear Rack For a Full-suspension Mountain Bike?
The Best rear rack for a full-suspension mountain bike is the Old Man Mountain rack, now owned by The Robert Axle Project!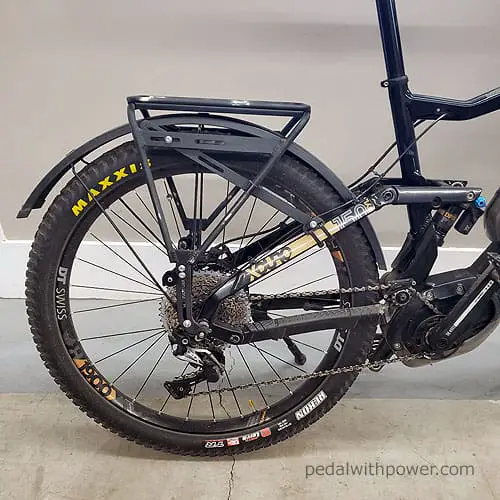 I have been using this rack now for almost 2 years and it is amazing. 
The great thing about this rack is that it mounts to your rear axle. This means that it will be stable and durable no matter what type of terrain you are on and how much stuff you have with you.
I often have two fully loaded panniers attached to this rack while riding trails on my full-suspension electric mountain bike. I have put this rack through the test!
The other options for rear racks out there attach to your rear seat stays (the 2 smaller frame tubes that come down behind your saddle to your rear axle). This type of attachment will work but there is nothing keeping your rack from swinging into your tire.
With the Old Man Mountain rack connecting directly to your axle, it is very stable, won't ever hit your tire no matter how much you load it up, and stays right where you want it to.
For a full review of the Old Man Mountain rack click here!
How To Install the Old Man Mountain Rear Rack
Installing the Old Man Mountain rack is pretty simple. You just pick out which rack you want, I have the Classic (used to be called the Sherpa) then you need to get the correct "fit kit" for your specific bike.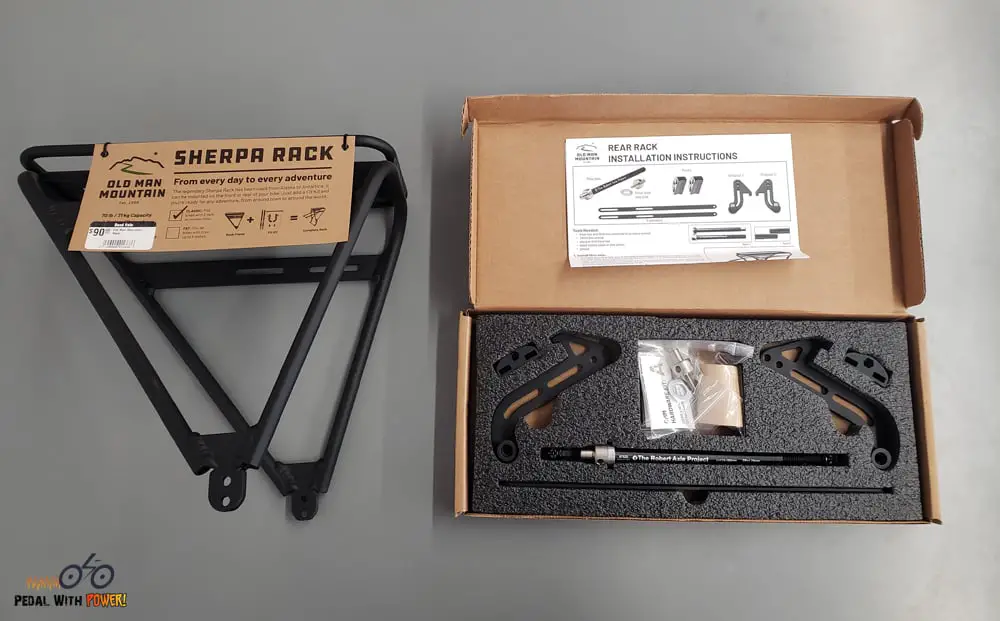 It looks like they just came out with a new rack called the Divide that looks pretty sweet! This one is made in the USA!
Once you have your rack picked out and your correct fit kit, Old Man Mountain has easy-to-follow instructions for installing it. (I will soon have a video on how I installed mine!)
One recommendation I've found is to flip the rack around and mount it pointing towards your seatpost instead of away from it.
The reason for this is that it makes your bags sit more centered over your rear axle and improve stability.
Old Man Mountain says to install the rack pointing backward, and if you do this your bags will sit way behind your rear axle and cause your bike to feel like it wants to fishtail easier.
Is It Safe To Ride Trails With a Rack and Panniers?
Yes, as long as you use the Old Man Mountain rear rack and Ortlieb Gravel Panniers! 
If you are wondering what it's like to ride trails with rear panniers on your bike and whether it's safe, rest assured I wondered the same thing and decided to just try it out.
I was concerned that the bags would snag on branches or rub on trees and bushes as I soared along and I have not found this to be the case.
I don't recommend using huge rear panniers and stuffing them till they're about to burst, but some smaller panniers stuffed pretty full don't seem to have any issues.
I was also worried that the bags would simply fly off the rack and tough technical rides. This could happen if you don't use the correct bags.
Always double-check that your bags are secured properly before starting your ride and you will be just fine!
What Are the Best Panniers for Trail Riding?
The best panniers for riding trails are the Ortlieb Gravel Packs! The reason I love these bags is that they don't stick out too far, carry lots of stuff, and have a couple of features that keep them secure to the rack.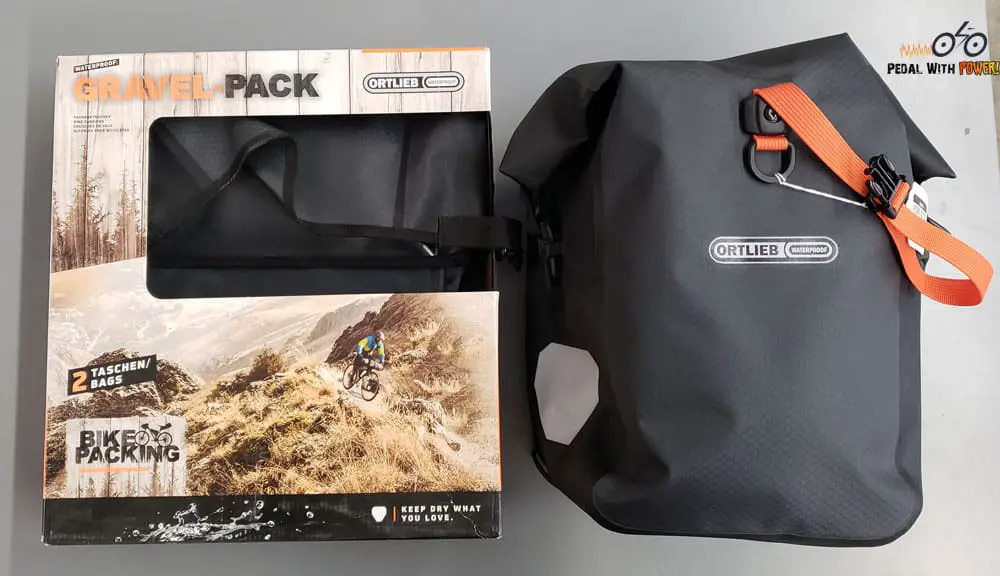 Ortlieb makes some of the best panniers and bags you can get!
The Gravel Pack has a double clip roll closure that keeps the top of the bag tucked in tight and 2 lower hooks that keep the bag from flopping around on your rack.
You can adjust the position of the top clips so that your bag sits on your rack in a way that you won't hit it while pedaling. Ortlieb top clips will actually clip onto the rack and hold your bag in place!
With the adjustability of these bags, you can use them on any rack. I know from personal experience they work perfectly with the Old Man Mountain Classic rack and will not fall off or rattle around.
Like all Ortlieb bags, these are completely waterproof and will keep your stuff nice and dry! You can even fill them with ice and use them as coolers!
How To Secure Panniers on a Full-suspension Rear Rack
The trick to setting up your panniers securely on your full-suspension mountain bike is to make sure the top clips are positioned so that they push up against the rail at the back of the rack and won't slide.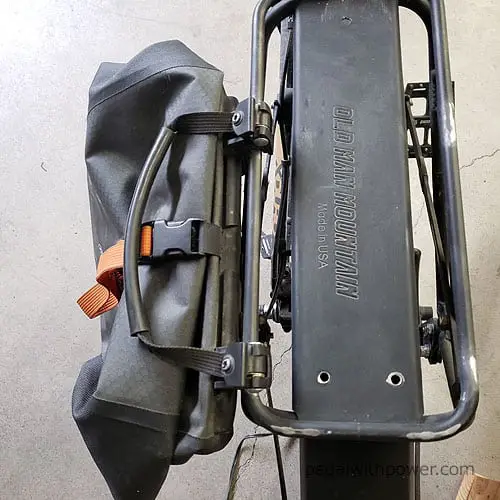 Then adjust the lower hooks so that they spread outward around the legs of the rack and really hold the bag in tight.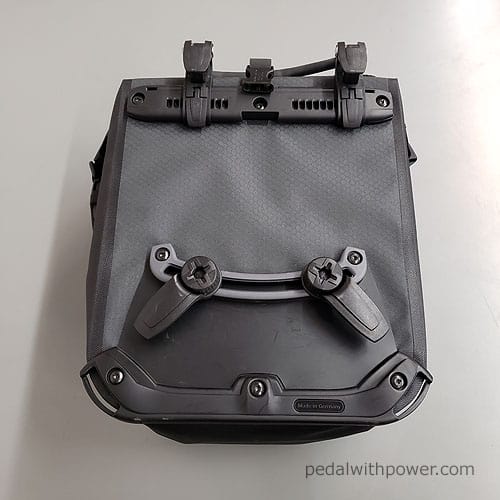 The Ortlieb bags will come with 3 sets of spacers for the top hooks and you will want to use the #10 spacers. (If you look closely you see that they are numbered).
These are just different width spacers to use depending on the rack you are using. For the Old Man Mountain Classic rack, it's the #10's.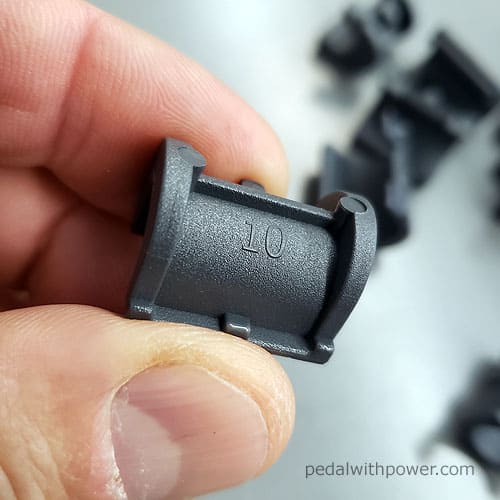 If your clips are positioned correctly and the lower hooks are snug, you will be able to load up your bags and hit the trails without any worry about your bags falling off.
Just keep in mind that these bags will be jostling around quite a bit on the back of your bike and anything you put inside will too.
Be sure that any items that are sensitive to this are wrapped up tight in something that will protect them i.e. laptop, camera gear, electronics…
At the End of the Day
If want to use a rear rack on your full-suspension bike it is totally possible with the Old Man Mountain rack.
Matched with the Ortlieb Gravel Pack panniers you will be able to carry everything you may need.
I love having a full-suspension mountain bike for commuting to work, it allows me to hit the trails on my way to work and get in some great riding during a workday!