In this article, I surveyed many different folks from a Lectric XP owner's group I belong to and asked them Why they bought their Lectric XP ebike? and Whether or not they like it?
The answers include – Affordable price, to ride with others, to bring on the RV, class 3 ebike under $1000, injuries kept me from riding a regular bike, the fold down to a small size, and many others.
I just recently bought a Lectric XP 2.0 and I have to say it's a pretty fun electric bike. My other ebike is an expensive Haibike full suspension mountain bike with a Bosch motor and I have nearly 10,000 miles on it and love it! I wanted to try out a budget electric bike to compare it with.
I promised that I would not use their original names so I will be coming up with some of my own. 🙂 But these are some of the answers I got from lots of different people, who all own the Lectric XP folding electric bike.
Hopefully, after reading through some of these it will help you decide if the Lectric XP is the right ebike for you!
Quickly Ride to a Section -
The Lectric XP is a Favorite of the RV Crowd
"We shopped ebikes for about 3 years and the components of the Lectric are equal to way more expensive bikes on the market… 2nd, we live full time in a 5th wheel camper.. so the store ability of the bikes was a big factor… 3rd the price, as newbies to the ebike world we did not want to spend 2-3k on each bike, in case we did not like them. We have two bikes and are very pleased overall."  – Dasher
Many folks wanted to try out a less expensive electric bike to see if they were even going to like riding one.
"I'm 72 and have ridden and driven almost everything by now but never an ebike. I RV a lot around the country and carrying a full-size bike became more of a pain mounting and unmounting from the motorhome rear ladder.
Two RV friends bought two Lectric XP 2.0 and saw them in operation a few times. On Tuesday found out the company was here in Phoenix where I live and contacted them and purchased it on Wednesday 2/16/22 and it will arrive tomorrow 2/19/22.
I have a scheduled HQ demo ride on Monday so I will get to get some training from the HQ folks before I head home and start riding. I wanted something small/compact and stowable for travel. Being electric was just a bonus for me and I'm sure I will use it a lot more and travel a lot further than using my peddle bike.
I'm also an electronic and structural engineer and quickly noticed things on the frame that most wouldn't. Such as high-quality welding especially in places of high stress.
The 500 Watt electric motor was a lot more than other Ebikes which had 250-watt and 300-watt motors which are way underpowered. That's it for me for now as I will have a sleepless night but should be content when FedEx arrives tomorrow with my Lectric XP 2.0" – Prancer
After getting mine I am impressed with the frame build quality and being 225lbs, I also like the 500w motor!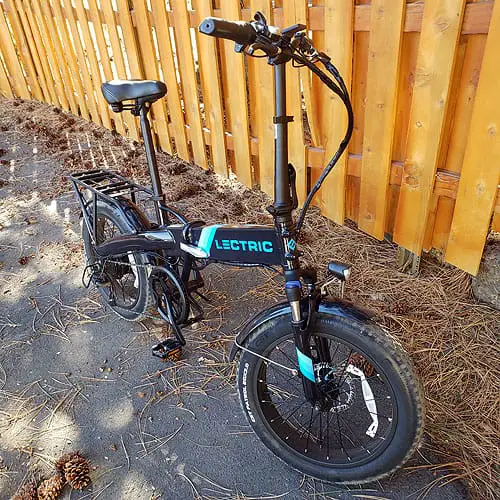 "We are RVers and we noticed Lectric bikes in a lot of parks and campgrounds seem to be the most popular brand that we saw camping we only had them 4 days and so far they work perfectly with no issues. 
We like the looks of the bikes we got two white STs as we are 64 and 67 years old and we find them very easy to ride and very comfortable in such a short time of using them.
The bikes came with a fair amount of options like lights front and back a bike rack on the back and metal fenders the price point of $999.00 there is nothing out there that compares to it unless you spend close to twice the price" – Vixen
The Lectric XP does come fully loaded with a rear rack, lights, fenders, and a front shock!
"Comet and I are 81 and 78 and got two 1.0 Lectric ebikes over a year ago for our home base in Maryland. Those travel on the back of our RV. 
Then we got two 2.0 Lectric ebikes for our Florida apartment. Best purchase we ever made! We both usually ride with PAS 1 since both our parts of Maryland and Florida are fairly flat. Twisting that handlebar to zoom turns our ebikes into instant electric motorcycles. May we never act our ages!" – Comet & Cupid
I love the fact that electric bikes are allowing folks into their 80's to keep riding like kids!
"We got ours as we live in our RV full-time, so needed something that folds and can go decent distances. The price to value was high, especially since we both got packages included for free (she got the black Friday deal with comfort pkg and upgraded light. I got the comfort and saddlebag pkg). We love them." – Donner
There is an optional comfort package that Lectric XP offers to help smooth out your ride!
An Electric Bike Can Help You to Go on Rides With Others
"I'm 50 – I couldn't keep up with my husband and daughter. I live in an area with a lot of inclines and I just don't have the lungs for it. I have gone on 20-mile rides several times now." – Dancer
One of the main reasons I hear about why people buy an electric bike is so they can keep up with others!
"Am 63 years young, bought my Lectric bike so I could keep up with my grandson's going uphill…
" – Blitzen
I see more and more grandparents out riding with their grandkids now that they have an ebike!
The Lectric XP Costs Less Than $1000
"We were 1st-time eBike buyers. We shopped around entry-level bikes & decided, although there were cheaper ones available, Lectric was the best value, had the best reviews, & the best customer service." – Rudolph
I have customers who come into the bike shop all the time who are not sure if they want to spend a lot of money just to see if they will like riding an ebike!
"Appeared to be the best bang for the buck from our research, and ranked 2nd in Consumer Reports against many higher priced brands." – Grumpy
I have not had to use their customer service yet, but most are saying it is very good!
"We are on our 4th Lectrics! Like the bikes, like the price, and love the price.! (2) XP and (2) ST!" – Dopey
I bought mine as an affordable second electric bike!
Electric Bikes Allow Riders With Injuries to Keep on Riding
"Doc, 67, I bought the Lectric XP 2.0 ST because I had both my knees replaced 10 years ago and my right knee stiffened up a couple of years ago and I couldn't ride my road bike anymore.  The eBike allows me to slowly work my knee around the crank and the bike keeps moving with the pas. It's really helping and I'm pretty sure if I keep working my knee on my eBike that I will eventually be able to start riding my road bike again. – Doc
I have personally seen folks with knee injuries able to ride again thanks to an ebike!
"I used to ride every day then I herniated 2 disks in my back and had to stop because pedaling up hills was too painful. After 20 years of agony, my back is finally stable and I can ride again but the PAS will give me the help I need.  I researched for a year before choosing Lectric. The personal reviews and recommendations along with the professional articles made my decision for me. No regrets
" – Happy
Having the PAS or pedal assist to help you out is a confidence-inspiring feeling!
"I have Sjogren's and sometimes am hit with chronic fatigue, where I just have to stop what I'm doing and rest for a bit. Before I had it, my husband and I really liked hiking trails or walking around the campground while camping. We'd thought about getting bikes, then this hit me two years ago. 
Last May, I bought a Sohoo first just to try an ebike. I'd ridden a minibike throughout my childhood. It was nice for the price, only about $500 at the time, but it was so hard to just pedal unassisted, and it wouldn't coast, either. 
Plus, our bikes had to be transported in our truck bed because our trailer bumper can't hold the weight of ebikes on it. I was researching folding ebikes and was leaning towards the Lectric.  Then while camping, a couple next to us had two ebikes, a Rad Power bike, and the Lectric ST. The woman on the ST told me she also had the Rad but preferred the Lectric. She had bought that one used and was going to be selling her Rad. 
Her husband told me he really liked the Lectric better, too. They offered a ride on it, but I was too afraid I'd crash it or something. But I was sold. I ordered a white ST in the fall, sold my Sohoo, and received the ST in a little over a week. I really enjoy it. 
It is much easier to pedal, and it coasts! It also hauls better since it folds. I tried to talk hubby into getting one, too, mainly so I don't feel guilty while using the assist or throttle while he has to pedal the whole time, but also so it would save even more room in our truck bed. He refused. 
So I bought a black ST for his Christmas gift during their Black Friday sale. He really likes it. We've only taken short rides around our subdivision on warmer days (hoping to go today and tomorrow), but I'm really looking forward to our first camping trip in a month." – Bashful
A lot of folks compare this ebike to the Rad Mini. I am not super familiar with the Rad Mini but they seem pretty similar and this one is $500 less!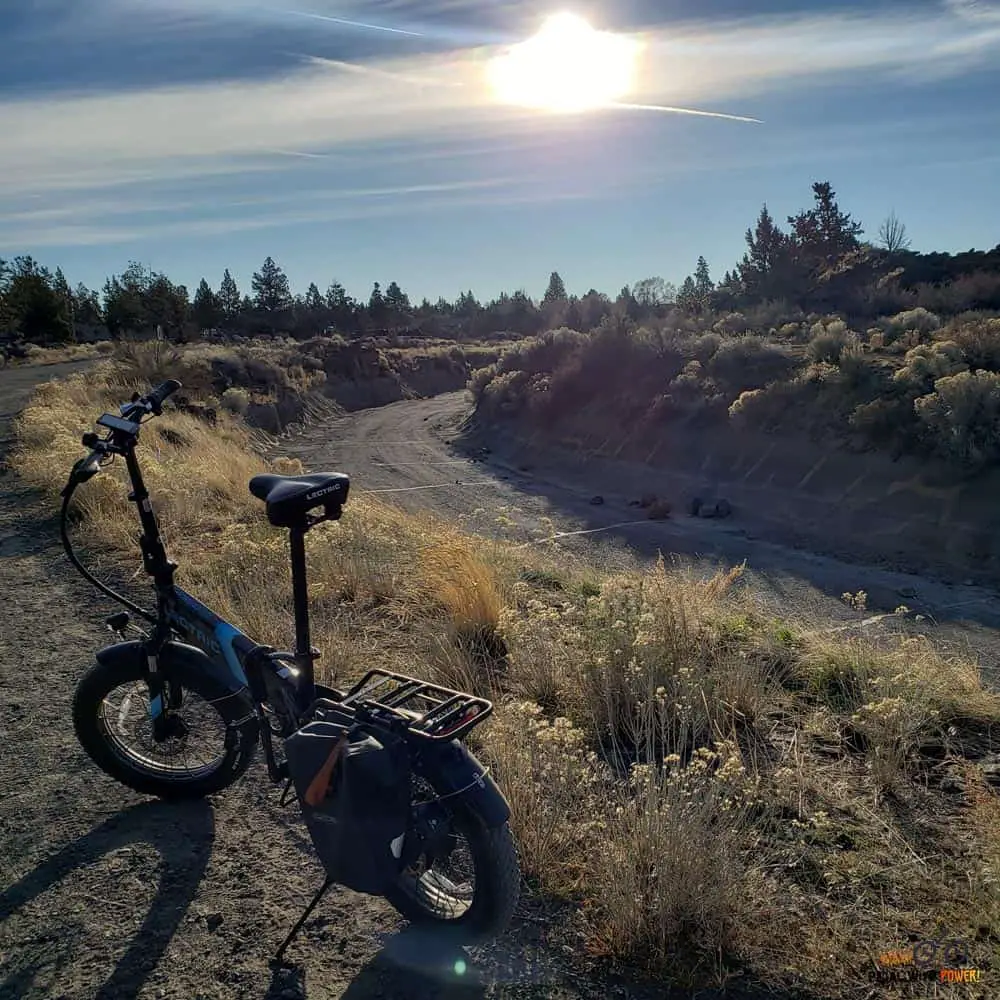 "Just ordered 2 for me and my wife. I'm 59 and my wife is 52. We are both disabled veterans. Having had 4 back surgeries, I can't do the strain of hard riding. I love the outdoors and seeing the sights from a bike. Hopefully, this will be the answer. 
Picked Lectric ST for ease of mounting, reviews, what all you get….all for $999. (I also received a military discount). And I need to mention the girl I spoke to at customer service (Amanda) was EXCEPTIONAL. Nice to have an actual number to call and speak to a person." – Sneezy
I have heard that Lectric will actually answer the phone and help you out if you have a problem!
You Can Also Use an Ebike to Replace Your Car
"Sold my car. Car insurance was $73 a month and this bike costs only $80 a month for a year. Electricity costs about $.20 per 100 miles." – Sleepy
I personally use my ebike as my main form of transportation now and it is awesome!
At the End of the Day
As you can see there are many reasons to buy a Lectric XP in 2022. 
To me, it seems mostly marketed toward first-time electric bike riders, budget-minded folks, the RVing crowd, and people that just want a simple and easy ebike to ride around on.
I am enjoying mine, but I will have to say that I definitely prefer my nicer Haibike to the Lectric. The Lectric is what it is, an inexpensive, folding, electric bike, that will help you get out and ride more.
If you are looking for a more performance-based electric bike riding experience I would check with your local bike shop and try out some mid-drive style ebikes.
If you just want a cheaper ebike that can fold away and will put a smile on your face then consider the Lectric XP!