The Lectric XP 2.0 is a budget-friendly, folding, electric bike with a 500w rear hub motor and 20×3" tires. This little ebike is adjustable for anyone 5 feet tall to 6'4''(like me). It is a fun and capable electric bike that comes with lights, fenders, a rear rack, throttle, and a suspension fork that won't break the bank.
Quickly Ride to a Section -
*Price – $999 * Weight – about 62lbs * Sizes – step over, step through * Class 1, 2, or 3 hub-drive (you can switch between classes) 
Here is a video of me testing out how well this ebike can climb at Pilot Butte, here in Bend, OR –
Range Test
I weigh 220lbs and can get 12-20 miles on this ebike in real-world testing. Depending on which assist mode I'm in, how many hills there are, and how windy it is. Lighter riders will get more range. I heard of some smaller riders getting around 25 miles in the lower assist modes.
Of course, the bike can be ridden if the battery runs out, just without any motor assistance. 
If you switch it over to the class 3 setting this thing is pretty fast! The battery will drain fast too.
The Lectric XP does not come with a very large battery, but you can buy a spare for $299 and double your range.
Who's it For? 
This budget-minded ebike is for someone looking to just get out and enjoy some shorter rides and get out for some exercise.
Even though this ebike has fatter tires and a small suspension fork it is not designed for long off-road trips. You can ride it off-road, but I would stick to smoother gravel roads than anything technical.
I own one of these and bought it as a second, inexpensive ebike to take people out on.
The Lectric XP is also a favorite of the RVing crowd because it can fold up pretty small and fit into an RV easily.
Here is an entire article about who this ebike is for "Should You Buy A Lectric XP in 2022 – Owner's Survey"
I did a survey in a Lectric Owner's group and asked them all why they bought theirs. It's pretty interesting.
A Brief Rundown of The Lectric XP 2.0
Pros
Foldable
Inexpensive
Easy to ride
Can switch between classes 1, 2, and 3
Comes with fenders, lights, and a rear rack
Cons
Limited range
Cheap components
Heavy for its size
Some Backstory 
Lectric Bikes was started by a couple of friends that just wanted to make an affordable electric bike that is fun to ride, doesn't take up much space, and can fold up.
These folding electric bikes have gained quite a following among baby boomers and RVers that wanted to be able to navigate campgrounds and National Parks after parking their RVs for a fun vacation.
After buying one myself and riding it around for a while, I have to admit, it's a fun little ebike.
Just don't expect a whole lot out of it and you will have a blast riding your Lectric around.
Form & Function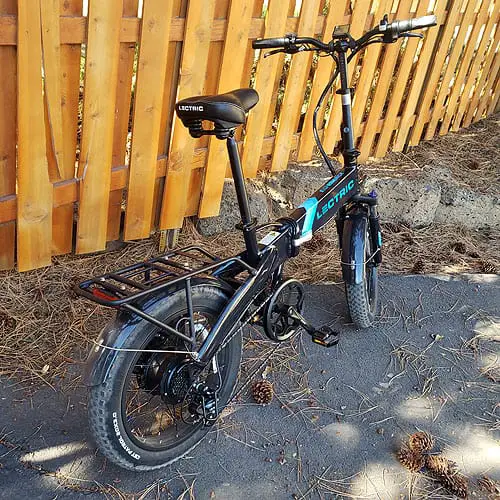 When you buy an electric bike or any bike for that matter, what you are really buying is the ride. 
You could have the prettiest bike in the world and unless it rides well, it's just a piece of artwork.
I was quite surprised by the frame quality for such an inexpensive bike. While the components are on the cheap side the frame is built pretty well.
The Lectric folds down pretty small so you can stash it in the back of a vehicle or RV easily. Just keep in mind that it weighs almost 65lbs and can be difficult to move, even when it's folded.
Nuts & Bolts 
Here's a breakdown of what comes stock on the bike – 
The Motor, Battery, and Display
These are the parts you are really looking for when buying an electric bike.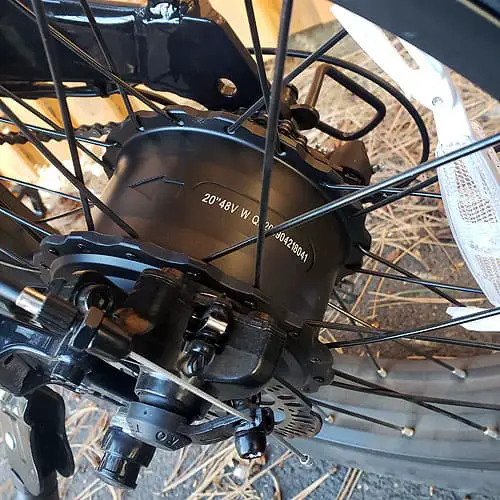 The Lectric XP 2.0 is a hub motor ebike which means the motor is in the rear hub of the back wheel.
Motor
500w (800w peak) brushless, geared, rear hub, with 5 assist levels
Battery
Lithium-ion 48v, 9.6ah, with a 4 to 6 hour charge time 
Display
Backlit, LCD display (battery level, speed, miles, voltage, amps, trip distance, trip time)
The Drive Train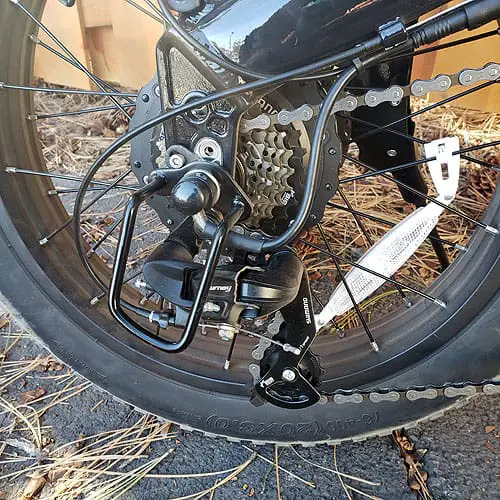 If you are looking for a pedal-assist mid-drive ebike then the drive train is very important. This is the gearing and shifting part of the bike. You will want lower gearing if you plan to ride up steep hills.
Shifter 
Shimano Tourney 7 speed thumb shifter
Rear Derailleur 
Shimano Tourney 7 speed
Freewheel
14-28 tooth basic freewheel
This ebike has a pretty basic and inexpensive shifting and gearing setup. I find that I top off pedaling around 18 mph. 
With the bike set on the class 3 setting (meaning it will assist up to 28mph), I just have to spin the pedals with no resistance to allow the motor to continue propelling the bike.
The Brakes
The brakes on an ebike can often get overlooked, but when you are able to cruise at speeds above 20mph it is good to know you have brakes that stop you fast if necessary.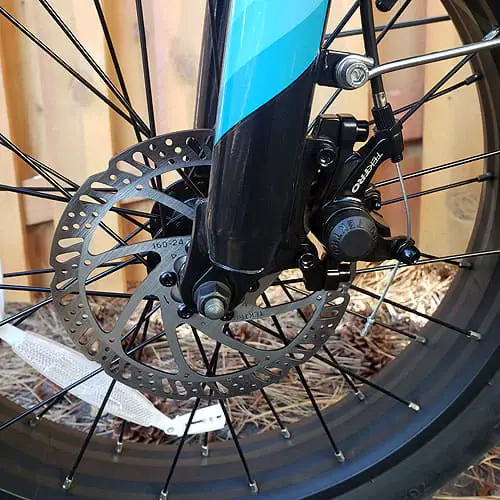 The Lectric XP 2.0 has basic Tektro mechanical disc brakes with 160mm rotors, front, and rear. These work well enough but bigger riders will wear through brake pads pretty quickly.
Bigger riders like me may also want to upgrade their brakes if they plan to ride a lot!
The Fork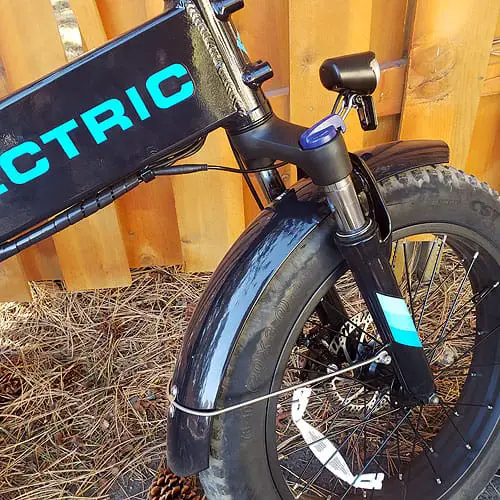 It's got a tiny little front suspension fork! It works, you're going to get a ton of travel here but I notice it on my Lectric. The Fork comes with a lock-out lever and will help smooth out the ride.
The Wheels and Tires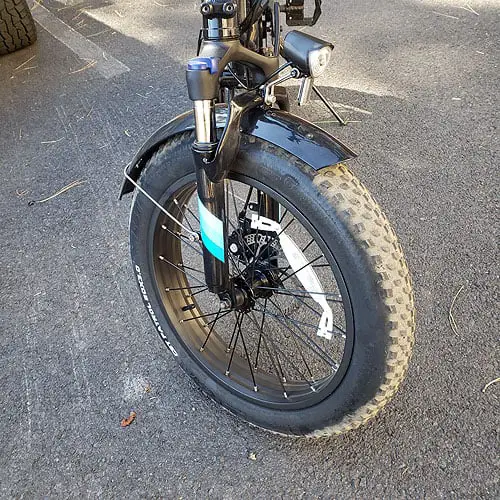 Wheels 
This ebike has fat little 20" rims with bolt-on hubs, front, and rear. Nothing super special here. Just know that you will have to bring a wrench with you if you want to remove the wheel to repair a flat!
Tires
The tires are 20 x 3" CST tires, they have some flat resistance but I would recommend adding tire liners to help prevent flats. These are not easy to change out tubes on.
With the wider tires, you will notice improved traction, but wider tires are more prone to flats than thinner tires are.
I have a whole article about – "Why Do Electric Bikes Have Small Wheels" you may want to check out.
Before you buy – 
Check out this article about – "Why Should You Buy a Lectric XP Ebike in 2022 – Owner's Survey" to learn about why other folks decided to purchase this ebike and how they like it!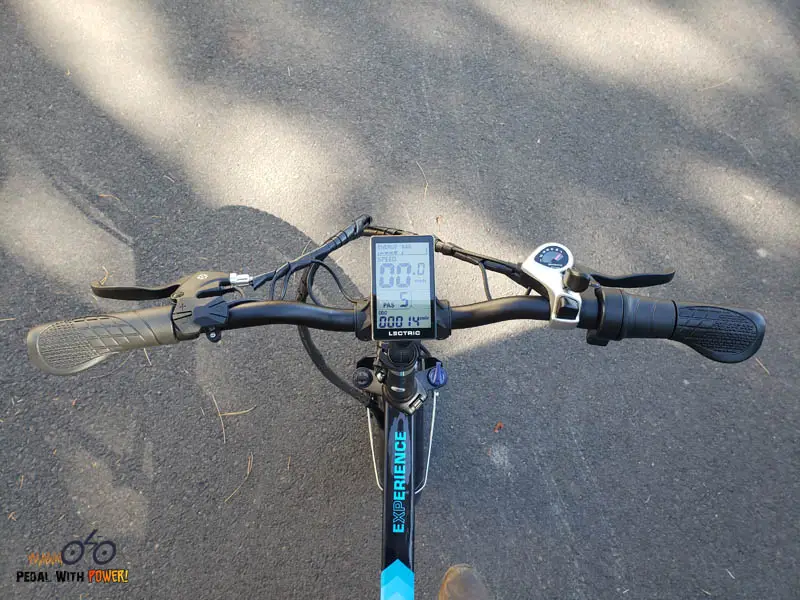 You can find the Lectric XP right here!
At the End of the Day
The Lectric XP 2.0 is a pretty fun little ebike for the price.
As long as you don't have too far to go this can be a great alternative to driving. In my survey I did this seems like a great bike to help get people out riding again.
This ebike is unassuming and easy to get on and off of while being one of the few options under $1000.
If you want to try out ebiking, without breaking the bank, then give the Lectric XP 2.0 a try.
Every ebike ride is one less car being driven and that's always a good thing!
How To Unlock Lectric XP 2.0 For Higher Top Speed (Freewheel Upgrade)

I will show you how to adjust your hidden settings to increase how fast your Lectric XP 2.0 can go and how to install a new freewheel so that you can engage the pedals at higher speeds. You will need to change the settings so that screen P08 reads "100". Then, install a new freewheel…

How to Maintain Your Electric Bike Chain

The chain on an electric bike will get more abuse and higher torque than a chain on a regular bike and therefore, proper chain maintenance is even more crucial. The best practices for maintaining your ebike chain are to keep your chain clean, regularly lubing your chain, use the correct chain lube, and do regular…

What Is It Like To Ride an Electric Bike for the First Time?

Riding an electric bike is simply amazing and words do not do it justice. I have customers come into the shop and I try to explain ebikes to them, but it's not until they take one out for a test ride that everything becomes clear and their faces are sore from smiling! Riding an electric…