The Haibike Hardseven 5 is a hardtail electric mountain bike with a Bosch Performance Line Cruise (65 Nm) mid-drive motor and a Bosch 500wh in-tube battery. This ebike has 27.5" wheels and an entry-level 120mm travel front fork.
This ebike is a solid electric mountain bike that will help you hit the trails, traverse town with fun and ease, and it comes in smaller sizes for shorter riders.
Quickly Ride to a Section -
The Haibike Hardseven 5 – At A Glance
*Price – $3,325 * Weight – small 53.8lbs, medium 54.4lbs * Sizes – small, medium, large * Class 1 mid-drive 
(the weights given or from me actually weighing the bikes at the shop on a scale)
Range Test
I weigh 220lbs and can get 22-50 miles on this ebike in real-world testing. Depending on which assist mode I'm in, how many hills there are, and how windy it is. Lighter riders will get more range.
I recently had a couple of customers that weigh around 150lbs go out for a 3-mile test ride on the Haibike Trekking 5 which has the same motor and battery as this bike, so we could check out what kind of range they will get. After letting the range feature reset to their riding weight, it said they will likely get 35-70 miles on this bike! Rider weight plays a big role in the overall range.
Of course, the bike can be ridden if the battery runs out, just without any motor assistance. 
Pros
Bosch motor system
500wh in-tube battery
Class 1 for trail riding if your state allows it.
Cons
Pretty simple front fork (can be easily upgraded if needed)
65nm motor instead of 85 Nm
Who's it For? 
Although this ebike comes in a large size, I would say it's more ideal for shorter riders that want a fun, reliable, mid-drive, Class 1, mountain electric bike. 
The Haibike Hardseven would be a great commuter bike for anyone that likes to hop curbs in town and hit dirt paths to find better routes to where they need to go.
This ebike would also be great for you if Class 1 ebikes are allowed on trails in your area. The 27.5" wheel size makes for an agile and playful mountain bike and the Bosch motor supplies more than enough power for smaller riders.
Some Backstory 
This is technically the 2021 model of the Haibike Hardseven 5, but since we just received these in stock at the shop towards the end of January 2022. Let's just call them the 2022's. This will be the only version of this ebike for 2022 in the US.
All of the Haibikes that we were supposed to get last year for 2021 are coming this year in 2022. The bike industry has seen its share of supply and shipping issues.
Form & Function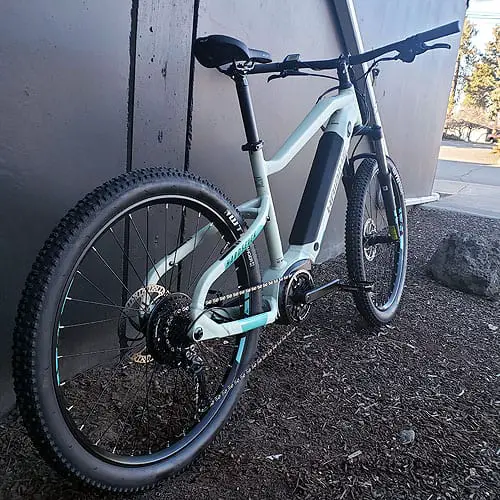 When you buy an electric bike or any bike for that matter, what you are really buying is the ride. You could have the prettiest bike in the world and unless it rides well, it's just a piece of artwork.
The pictures do not really do this ebike justice on the color. It is actually a sort of mint ice cream greenish color and looks really cool. It has a matte finish and the new way the battery cover goes on makes removing the battery very easy.
Haibike has always had pretty good-looking bikes but this year they really made some nice changes.
Nuts & Bolts 
Here's a breakdown of what comes stock on the bike – 
The Motor, Battery, and Display
These are the parts you are really looking for when buying an electric bike.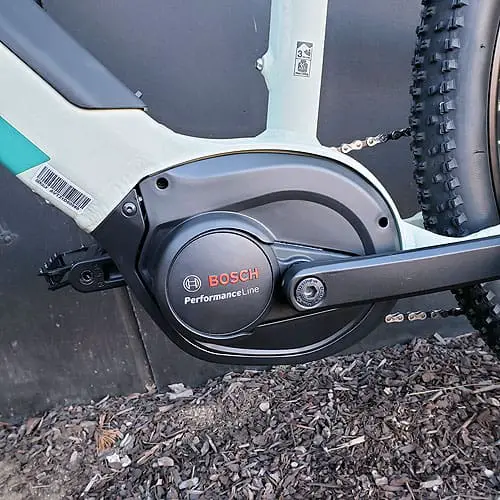 The Haibike Hardseven 5 is a Bosch-powered ebike which I think is the best there is!
Motor 
Bosch Performance Line Cruise mid-drive, 250 watts, 65nm max torque, up to 270% assist.
Battery 
Bosch 500wh in-tube with a Bosch compact charger will charge from 0-100% in about 7hrs. 
Display 
Bosch Purion (speed, trip, range, odometer, assist level, battery level)
The Drive Train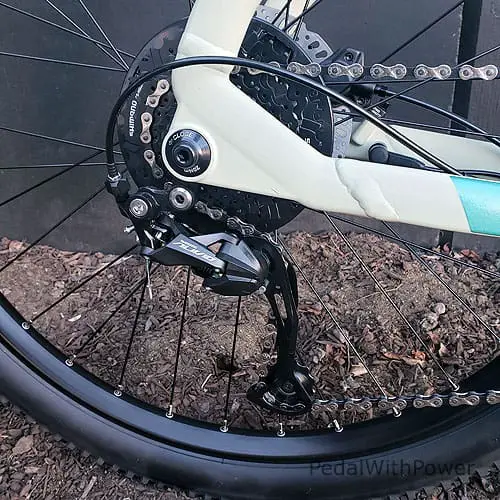 If you are looking for a pedal-assist mid-drive ebike then the drive train is very important. This is the gearing and shifting part of the bike. You will want lower gearing if you plan to ride up steep hills.
Shifter 
Shimano Alivio – 9 speed
Rear Derailleur 
Shimano Alivio – 9 speed
Cassette 
11-36 tooth – 9 speed
Now the tooth count on the cassette is where you can tell how low the gearing is, the higher the tooth count on the biggest cog, the lower the gear is. 
Having the lowest gear be a 36 tooth paired with the 65nm motor will allow anyone under 175lbs to climb pretty steep hills. Riders from 175 to 200lbs will have to work a bit harder. Riders over 200 lbs may find this gearing and motor set-up a bit of a challenge for really steep climbs.
The Hardseven 5 and the Hardnine 5 have the exact same setup for the drive train and the motor.
The Brakes
The brakes on an ebike can often get overlooked, but when you are able to cruise at speeds around 20mph it is good to know you have brakes that stop you fast if necessary.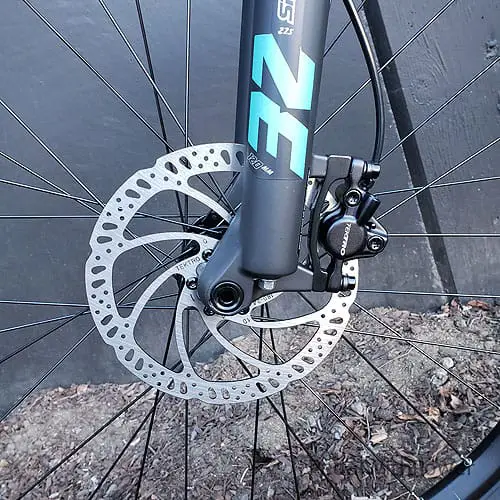 The Haibike Hardseven 5 comes with Tektro HD-M275 hydraulic disc brakes which have 2 piston calipers paired with 180mm rotors, front, and rear. 
These brakes are pretty entry-level hydraulic brakes, they provide decent stopping power with 180mm rotors. For smaller riders, they work very well, for bigger riders I would test your stopping power on steep downhills to see how much they heat up.
The Tektro HD-M275 brakes use mineral oil for brake fluid so they will be easier to bleed down the road and should last you a good long time. Big riders will be replacing brake pads more often, though.
The Fork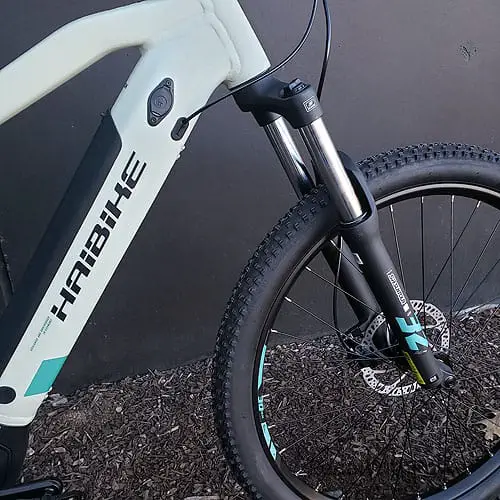 The fork that comes stock on this ebike is the SR Suntour XCM 32 dual spring with boost thru-axle spacing 15x110mm (not 15x120mm like it says on the Haibike website, I measured, there is no such thing as 15x120mm).
Both of the springs have preload knobs on top to adjust the tension. (This is not an air spring fork)
The Wheels and Tires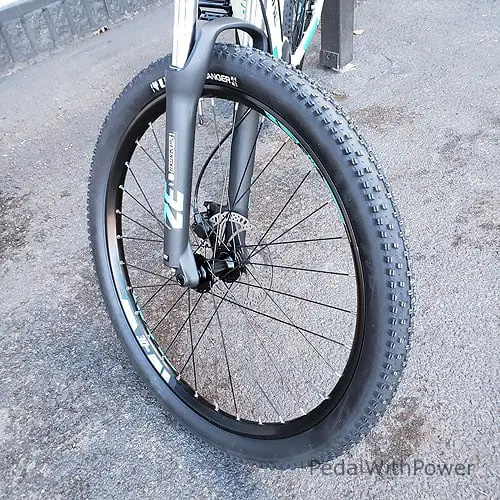 Wheels
The Haibike Hardseven 5 comes with double-walled, eyeletted, 25mm internal width, 32 spoke, tubeless-ready Alex rims laced to Haibike branded "The Hub" hubs.
Tires
The tires are WTB Ranger Comp 27.5×2.3" (these are not the tubeless-ready ranger tires!) The rims are tubeless-ready and can take tubeless-ready tires, WTB does make a Ranger tire that is tubeless-ready, just not these ones 🙁
The WTB ranger tires are a fast-rolling medium-sized knobby, good for drier conditions to lightly wet, nothing too muddy.
If you do live in an area that gets a lot of muddy conditions then you might consider changing the tires to something more aggressive.
Before you buy – 
You can add a rear rack to this ebike and some fenders if needed. Lights can be connected to the Bosch system and run off the Bosch battery.
You can find the Haibike Hardseven 5 right here!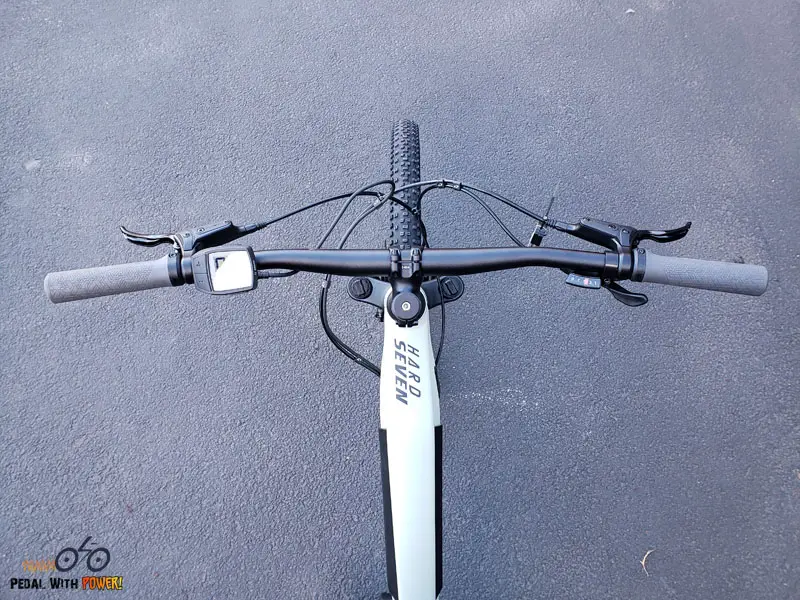 At the End of the Day
I think, bang for the buck, Haibike makes some of the best ebike around! I have almost 10,000 miles on my current one and put over 2,000 miles on my last one before I had to sell it.
If you have a local shop that carries Haibikes, I highly recommend you check them out!
The Haibike Hardseven 5 is a great hardtail mountain bike for someone that wants a quality mid-drive ebike and doesn't want to spend a fortune.
Stock will be very limited on this bike, just like all bikes this year so get to your local dealer soon before they are all gone!