In this article, I will go over how I ride my full-suspension mountain bike all winter long and have no issues with the brake, shocks, or pivots!
Yes, you can ride your full-suspension mountain bike all winter long and the cold won't affect your brakes, fork, shock, or pivots, as long as you take a few precautions.
With the technology of modern mountain bikes including hydraulic fluids in the brakes and suspension oil in the shocks, you may be wondering if riding in the cold affects these things.
Read on and I'll answer some of the questions I get all the time about mountain biking in the winter!
Quickly Ride to a Section -
How Does Cold Weather Affect Hydraulic Brakes?
I use the TRP G-spec brakes on my bike and have never had a problem with them in the cold. These brakes use mineral oil and even temperatures in the single digits seem to have no effect.
I have never owned Sram or Avid brakes that use DOT fluid and I'm not sure if the cold will affect these, but I've known many people who have and they don't seem to have any issues.
A big worry about hydraulic brakes in the winter is the lines freezing and after many winters riding in very low temperatures, I have never had my brakes lines freeze. I also store my bike outside in a shed during the winter.
Can Hydraulic Brakes Freeze?
Eventually, at extremely cold temperatures. Mineral oil will freeze at around -30 degrees (Fh) and DOT fluid should start to freeze at around -75 degrees (Fh). 
So if you are planning to ride in this kind of weather, good luck, I think brake lines freezing might be the least of your worries. 🙂
How Does the Cold Affect Suspension?
On my Fox fork and shock, I have never had any issues with the cold. Keeping your shocks well maintained will play the biggest role here.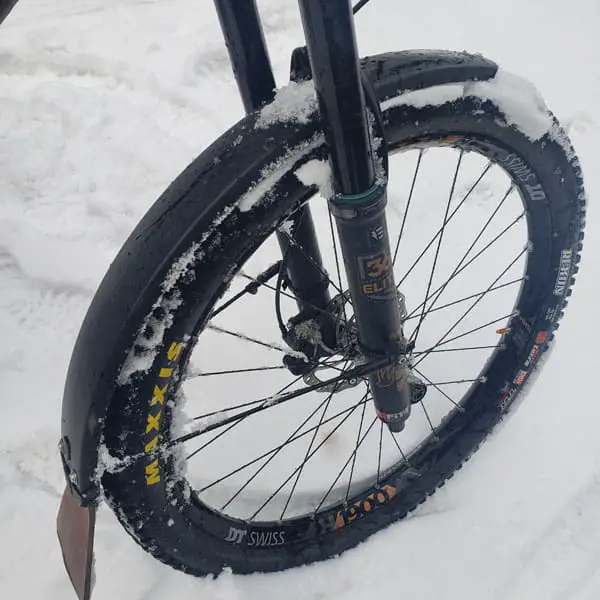 Suspension forks and rear shocks also contain fluid in order for them to perform properly. The oil that is in the shock will become more viscous (thicker) as the temperate drops and this can cause your suspension to feel a little sluggish.
As long as you are riding your bike and the shocks are moving consistently, this will keep them warm due to friction and you should not have any issues.
If you do have to take a long break out in the extreme cold (first I would ask, Why?), just know that your shocks will feel tighter until they have had some riding time to warm back up.
We're talking sub-zero, sustained temperatures here, and I would not advise you to go out for a ride when the weather is like this. (Mother Nature is saying its OK to take a break) 🙂
It's also good to make sure your linkage and swingarm are as free of debris as can be (rhymes). I have never had my pivots freeze up or stop moving while out winter riding.
If your pivots start to lock up then I would have your bike checked out at your local bike shop. This usually means your bearing a failing and should be replaced. All the bearing in your suspension pivots can and should be replaced every couple of years.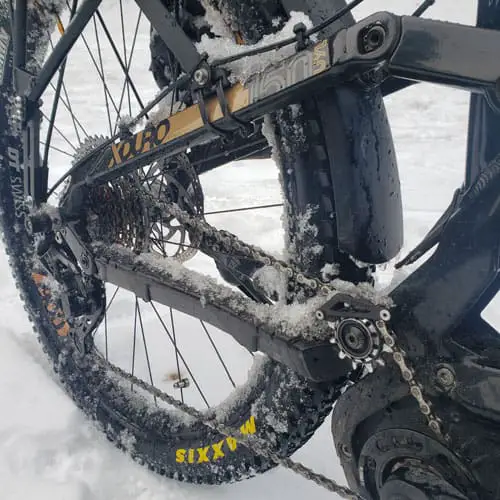 Do I Need Special Tires to Ride in the Snow?
If there is about 2 to 4 inches of fresh snow, then regular mountain bike tires will do just fine. If there is 4 to 8 inches, then you will want fat tires. If the conditions are "Icy" then you will want studded tires (tires with metal pins) and maybe even studded, fat tires.
If there is more than 8 inches of fresh snow and the trail you are trying for is not groomed, again, Nature is saying "Break Time!"
Trying to mosh through thick snow is not very fun and most of the time, near impossible.
Many Snow parks are starting to groom out areas just for fat bikes to ride, away from the snowmobiles and cross country skiers.
If you really want to try out some snow biking then I would rent a fat bike first and take it to one of these snow parks.
How Do You Ride Your Bike on Ice?
For riding on ice, you will need studded tires, there's no way around it. Studded tires come in just about any size these days and will allow you to ride on ice if that's what you want.
If you do have to ride on ice for an extended period of time, try to keep your wheel pointing forward and your momentum slow but steady. If you need to brake, just apply your brakes gently and come to a slow rolling stop.
Riding on ice is dangerous. Turning your front wheel too quickly can still cause you to slide out and hit the ice, even with studded tires.
Another thing to keep in mind is that studded tires do not like to be ridden on the pavement. You still can ride them on pavement but you will lose studs quicker and the tires will wear out fast.
How Do You Stay Warm While Riding in the Winter?
Layers! Wool socks with waterproof insulated boots, thermal tops, and bottoms, down pants and jacket, waterproof rain shell pants and jacket, glove liners and warm winter gloves, neck gaiter, warm headwrap or beanie, and sometimes throw in some hand and toe warmers.
There you go, that's all you need to stay warm while riding in the winter. Winter riding is not for everyone and if piling all those clothes on to go for a ride sounds like too much, that's OK. Just wait for the warmer days of spring!
I like to ride year-round and keep that whole list of clothes at the ready for riding in the winter. Once you put on your "Super Suit" a couple of times, it gets a lot easier and quicker.
The other key thing is to keep moving. When riding in below-freezing temperatures it is not the greatest time for taking a rest break. Just keep pedaling and your body will warm itself.
Here is a video I took, riding up to the falls on March 13th, 2022 (late winter). I was on my Haibike AllMtn 6.0 and it was a slushy delight!
At the End of the Day
I love mountain biking in the winter, but I also understand that it's not for everyone.
Make sure your trails are actually open to mountain bikes in the winter, most will be closed. If you are like me and also just like to keep commuting by bike in the winter, you will be fine riding your full-suspension mountain bike.
I do like to clean mine off regularly so no ice and muck build up anywhere.
As always, proper bike maintenance will be your best defense against bike failure. Keeping your bike serviced and well maintained will allow you to ride all year long, Summer through Winter!