I've been in the bicycle industry for more than 20 years now and I can tell you that even though an electric bike brand is based in the USA, that brand's electric bikes are not always made in the USA. However, there are a few companies that do make their ebikes in the US!
Yes, there are! These 3 electric bike companies offer ebikes that are Made in the USA – Outrider USA out of Fletcher, NC, Electric Bike Company out of Costa Mesa, CA, and Hi-Power Cycles from Chatsworth, CA.
They have some amazing electric bikes that look like a lot of talent was poured into the craftsmanship. I hope they continue to succeed and more companies take note.
So let me try to clear up some of the confusion about ebikes and where they are made. I have read many blog posts on this subject and they are full of misinformation.
It's not too hard to find the truth, so I wrote this article to explain where bikes are made and why many of the electric bikes made overseas are still amazing!
If you are looking for an electric bike that is Made in the USA then allow me to introduce you to 3 companies that make their bikes here in the States! (I have talked to each of these companies in person just to be sure the information is accurate.)
Quickly Ride to a Section -
Outrider USA
Outrider USA is located in Fletcher, NC, near Ashville, and custom builds every bike they sell, in-house, to fit their customer's needs. Outrider USA specializes in 3 and 4 wheeled all-terrain electric vehicles that can be pedaled with motor assist or throttle support, and even makes ebikes for adaptive riding needs.
After talking with Mickey at Outrider USA it is clear that this is a labor of love for these folks. Mickey told me that about half of the bikes they produce are made for adaptive riding. They build bikes for people that have physical limitations that make it impossible for them to ride regular bikes.
The folks at Outrider can even build you a bike that uses the seat as the throttle by leaning forward and back or is operated just by hand controls.
They are truly doing something unique and amazing, allowing access to the outdoors for people that would not otherwise be able to enjoy it!
Outrider USA also uses batteries that have a 1500 watt-hour capacity and some of their ebikes can take up to 4 of these batteries! That's an electric bike with 6000 watt-hours of capacity!! With an average of about 30 miles per battery (range will vary based on rider weight, trail conditions, wind, etc.) you can see that these bikes are made for range.
When you are ready to choose an electric bike with Outrider USA (they actually prefer "electric ATV" which is really what these are), you choose a base model and can customize it from there.
Mickey told me one of the options is an internally cooled mid-drive motor that they can custom design the power on to go from 2000w up to 5000w depending on your needs. This upgrade can help you reach as much as 45mph on 3 wheeled full suspension ebike with over 100-mile range!! (with the 4 battery upgrade)
I really want one of these now. 🙂
Now, with this kind of craftsmanship and customization, these are not budget bikes by any stretch. Expect to spend about $15,000 to $20,000 on one of these beauties. The electric ATVs that Outrider USA are creating are truly one of a kind!
I have not ridden one or seen one in person, but they are made in the USA and if you are looking for a well-built, custom, recumbent-style 3 or 4 wheeled all-terrain electric ATV, then be sure to check them out!
Here is a factory tour of Outrider USA –
Electric Bike Company
Electric Bike Company was established in 2014 in Newport Beach, Ca with the purpose of bringing everyday biking to those that thought it was out of reach. Whether due to riding distance, age, fitness level, steep hills, or time many people choose not to ride a bike for their daily routines.
What Electric Bike Company has focused on is making custom cruiser-style electric bikes that are made in the USA, right from their factory in Costa Mesa, CA. Their ebikes are custom built to order and each one is unique to the customer. They even have wood fender options!
Electric Bike Co. has its frames made overseas from some of the best frame builders in the world and custom specs every bit of the design here in the US. Then the frames are delivered to their factory in Costa Mesa and every component is installed by their in-house expert technicians.
After talking with Blake from Electric Bike Co. he told me that in Jan. 2020 they had about 14 employees working out of one location in Huntington Beach and now in Feb. 2022 they employ over 100 people locally and train them to build each bike they produce to the specific customer designs.
Every ebike they make is a custom-built thing of beauty and even though not every part is made in the USA (Electric Bike Co. gets some of their parts from 11 different countries), you can rest assured that your ebike will be hand-built by trained experts here in the USA.
Electric Bike Company has 8 base models to choose from starting at $1699 and then you get to customize it as you see fit. The more options you pick out the higher the price will be. I highly recommend you go to their website and play around with the bike customizer, it's insane.
Here is a factory tour of Electric Bike Company –
If your looking for a custom cruiser electric bike then check them out here.
https://electricbikecompany.com/
Hi-Power Cycles
Hi-Power Cycles was founded back in 2008 by brothers Chris and Derek Hunt and manufactures all of its ebikes here in the USA. The idea for the company actually started in 2005 when Chris was commuting to college on his regular bike and getting tired of always being sweaty and well, tired.
He picked up a basic ebike that was available at the time and after realizing how weak it was, modified it to be a higher-powered beast. This led to him eventually building some of the most powerful electric bikes you can get.
Their team of engineers and mechanics hand test all of their various electric bikes to make sure every ebike they produce is well crafted. They have professional riders test out every electric bike they produce to make sure the quality is second to none.
They have an insane ebike called the Typhoon that is up to 8000 watts on a mid-drive motor that can reach 45mph! High Powered!!
Hi-Power cycles is an off-road-focused ebike company that seems to go by the model "If you can see it, you can ride it" and the ebikes they carry will get you up and over it.
They currently offer 9 different models of electric mountain bikes that range in price from $1,895 to $13,500. Hi-Power Cycles is based out of Chatsworth, CA, and is hoping to expand and move to a bigger location soon.
I had a chat with Hi-Power Cycles and they make and manufacture all of the bikes in the USA!
Here is a video of Hi-Power Cycles making their Revolution ebike –
If you're looking for a made in the USA electric mountain bike then check them out here.
hpcbikes.com/pages/electricbikes
So whether you're looking for a cruiser, powerful mountain bike, or an all-out ATV electric machine, there are some companies that are making electric bikes in the USA!
What about electric bike companies that are "based" in the USA?
This is where it gets interesting.
My opinion is, that even though most electric bikes are made overseas, supporting US companies is still a good thing. These companies employ thousands of people, here in the US, helping our economy, and most importantly getting people on ebikes.
Most ebike companies that sell their bikes in the US are based in the US. Just not made in the US.
Keep in mind – We live in a global economy and not every part is made in one single country.
Here's a breakdown of some of the most popular electric bikes sold in the US
(in no particular order)
| Brand | US Headquarters | Their Ebikes are Made in: |
| --- | --- | --- |
| Trek | Waterloo, WI | Taiwan, China, Netherlands, Germany |
| Electra | Encinitas, CA | Taiwan |
| Vintage Electric Bikes | Santa Clara, CA | Taiwan |
| Rad Power Bikes | Seattle, WA | China |
| Aventon | Los Angeles, CA | China |
| Pedago | Fountain Valley, CA | Taiwan, Vietnam, China |
| Specialized | Morgan Hill, CA | Taiwan, China, Netherlands, Hungary |
| Cannondale | Wilton, CT | Taiwan, Vietnam |
| Juiced | Chula Vista, CA | China |
| Lectric | Phoenix, AZ | Overseas |
| Haibike USA | Denver, CO | Taiwan |
| Ride1up | San Diego, CA | China |
| Blix | Santa Cruz, CA | Asia |
| Co-op cycles (REI) | Kent, WA | Taiwan |
| Rambo | Lakeville, MN | Overseas |
| Giant | Newbury Park, CA | Taiwan |
| Gazelle USA | Santa Cruz, CA | The Netherlands |
| Schwinn | Vancouver, WA | China |
| Diamondback | Kent, WA | Taiwan |
It's just the way the bicycle industry works.
Here's a quick overview of when each of these companies started with electric bikes, how many ebike models they carry, and what their price range is.
Trek Electric Bikes
I have spent years selling and servicing Trek bikes and they are the biggest retailer of bikes in the US by a landslide. (scroll down to see a chart on US bicycle market share). They had a great customer service and warranty department. Top-notch brand.
Trek now has options of buying online and picking up at your local retailer. I would search their online store for ideas then just go to your local shop first and see what they have.
Trek actually got started making ebikes way back in 2001. It wasn't until the last 5 or 6 years that Trek has gone all-in on electric bikes.
Trek electric bikes are some of the best available, but with that brand trustworthiness and level of quality comes a price.
Trek currently has 6 ebike models to choose from with many variations of each. Prices range from $2,849 to $13,549.
Trek is also the parent company of Electra.
Electra Electric Bikes
Electra started out as a beach cruiser company in Leucadia, CA in 1993. They offered a wide range of beach cruiser bikes with all the colors, bells, and whistles you could imagine. Then in 2014 they were bought by Trek and have since made some of the best comfort and cruiser style electric bikes on market.
I rode an Electra cruiser for years while living in Santa Cruz, CA. It was a great bike. Electra electric bikes come in many fun styles and colors. Their bikes are designed for comfortable upright riding and are great for cruising around.
Under the Electra brand, Trek offers an additional 9 ebike models. Prices range from $1,549 to $3,849.
Both Trek and Electra can be found here.
www.trekbikes.com/us/en_US/e-bike-landing/
Vintage Electric Bikes
Vintage Electric Bikes was started by Andrew Davidge back in 2013 after Andrew took his first ebikes to a vintage car show in Monterey, CA.
Their ebikes are an amazing blend of retro-style street racer motorcycles and modern electronic marvels! (I want one) This is the ebike you need for cruising down the boardwalk or taking in the city at night. Expect to have many people stopping and asking you about your bike and where they can get one.
If you have never seen an ebike from Vintage Electric then check out what they have to offer. These are truly unique electric pieces of art that will put a smile on your face.
These vintage-inspired, modern electric bikes are built with durability, power, and speed in mind. Vintage Electric Bikes currently have 5 models to choose from, ranging from $3,995 to $7,249.
These bikes look amazing and seem like a work of passion.
If you are truly interested in a vintage-style electric bike, head on over to their site and check these guys out.
www.vintageelectricbikes.com
Rad Power Bikes
Rad Power Bikes have used the direct-to-consumer approach to become one of the best-selling ebike brands in the US. You can just order one online and it will be shipped right to you.
Rad Power Bikes was started in 2015. They currently offer 6 different models, most with variations. Prices from $1,199 to $1,999.
Rad Power Bikes are sold through online orders only, but they do have 3 showrooms in Seattle, WA, San Diego, CA, and Berkeley, CA.
Rad Power Bikes has recently received some major funding and investment and wants to start producing bikes in North America and Europe. To have a major electric bike manufacturer in the US would be game-changing.
Join my newsletter and I'll keep you up to date on this development.
(Check out this article – https://electrek.co/2021/10/28/rad-power-bikes-lands-giant-154m-investment-will-begin-north-american-e-bike-production/)
There could soon be a major electric bike actually made in the U.S.A.
Rad Power Bikes can be found here.
www.radpowerbikes.com
Aventon Electric Bikes
Aventon Electric Bikes are available to order online and you can have one shipped directly to you, but unlike Rad Power Bikes, Aventon also has local dealers across the US. So if you're considering buying an Aventon ebike I would check to see if there's a local bike shop near you.
Aventon electric Bikes can be found here.
www.aventon.com
Pedago Electric Bikes
Pedago is another brand that has direct-to-consumer buying, just order one online, and then it shows up. You can also order online, have a local shop build it first, then have it delivered fully built. They also have over 200 locally-owned Pedago stores across the country. As always I would recommend finding a local shop if you are interested in one of their bikes. Hopefully, there is one near you.
Pedago was founded in 2008 with mostly beach cruiser-style ebikes. They now have 11 different models including cargo bikes, tandems, 24", folding, and city commuters. Pedago prices range from $1,895 to $4,495.
Pedago Electric Bikes can be found here.
pedegoelectricbikes.com
Specialized Electric Bikes
Specialized is the third biggest bicycle brand in the US and they started making electric bikes in 2009. Specialized, like Trek, now have online buying options and will even deliver a completely built bike to your door, if there is a qualifying dealer near you.
My first "good" mountain bike was a Specialized Stumpjumper and I loved that bike. It helped me win a few races back in the day.
Specialized has always led the market with their style. Their bikes are cool-looking. As with Trek though, you will pay top dollar for a Specialized ebike, but it's worth the price.
Specialized Electric Bikes come in 7 different models with many variations of each. Prices range from $3,250 to $15,000.
Find a local dealer and check them out here.
www.specialized.com/us/en/electric-bikes
Cannondale Electric Bikes
Cannondale has been around since 1971 and was actually manufacturing bikes in the US up until 2011 when production moved to Taiwan. Only in the last few years have they been making electric bikes. (I couldn't find the starting year, sorry)
Cannondale electric bikes are available at local bike shops and even at R.E.I. You can buy one online and have your local shop build it or just go straight to the shop and see what they got.
Cannondale Electric Bikes come in 9 different models, with many options of each. Prices range from $1,900 to $10,000
If you want to check them out, find them here.
www.cannondale.com/en-us/electric-bikes
Juiced Electric Bikes
Juiced Electric Bikes is another company that uses the direct-to-consumer distribution model. So you can order one online and build it yourself. Juiced launched their first electric bike in 2010 and have since become quite competitive in the US market.
Some Juiced ebikes come with 1000w motors and go over 30mph. Wow! Just check your local laws, because you will need a license to ride those on the street. Not all Juiced electric bikes are that "Juiced" up though.
Juiced now has 7 different models to choose from, some with sub-models of their own. Prices range from $1,399 to $2,999.
To find Juiced Electric Bikes go here.
www.juicedbikes.com
Lectric Electric Bikes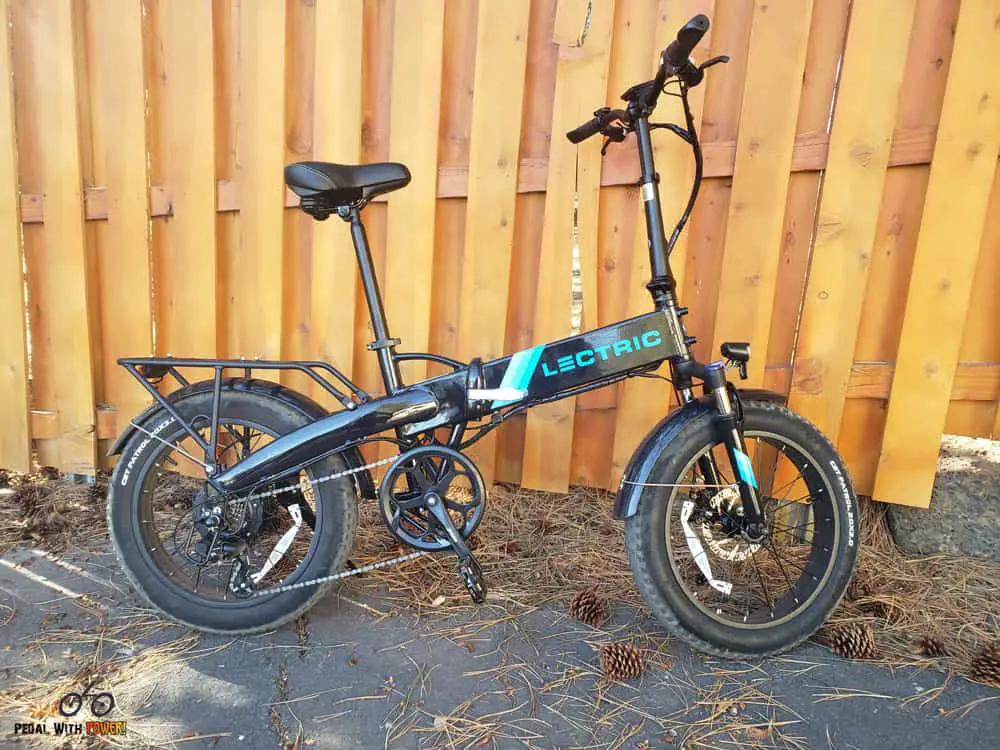 Nope, not a typo. Lectric is an electric bike company with simplicity in mind. It's this simple – Lectric has 3 bike models. They are all folding bikes. They all have fat, 20" tires. They come in black or white. Done.
Lectric Electric Bikes is a family-run business and their bikes do lean toward the RVing crowd. They launched in 2019 through hard work and determination. I respect that a lot.
If you want a folding fat tire electric bike for under $1000, these are it. Yep, you heard right, all 3 Lectric models are $999.
You can find them here.
lectricebikes.com
Haibike USA Electric Bikes
Now to my personal favorite, Haibike. I am on my second Haibike, I had to sell my first one to fix my Jeep or I would have kept it. Haibikes are the first modern ebike that I have serviced and sold and I think they are one of the best bangs for the buck.
I have put almost 10,0000 miles on my current Haibike and it just keeps purring along. Haibike launched its first ebike in 2010 and has been leading the way ever since. Haibike is a German bike company that now has Haibike USA and headquarters here in the US.
If you have a local Haibike dealer, I would strongly recommend you check them out. Keep in mind, my shop is a Haibike dealer and their ebikes are in very short supply. You may have to get on a waiting list.
Haibike will offer 6 models in the US this year and prices are $3,325 to $6,800.
Haibike USA electric bikes can be found here.
www.haibikeusa.com
Ride1UP Electric Bikes
Ride1UP follows the direct-to-consumer approach. Their ebikes can be ordered online. Ride1UP has been offering commuter and city-style ebikes since 2019. Even though Ride1UP ebikes are not available at your local bike shop, they do have a 30-day trial, with some restrictions. (see their website and read the 30-day return policy)
Looking at their site, they now have a mid-drive Brose motor ebike for $2,295 "The Prodigy". That's a pretty great deal. One model of The Prodigy has lights and a front shock and the other two models have lights, fenders, and racks.
Ride1UP electric bikes have 7 models in total to choose from and range in price from $945 to $2295.
You can find them here.
ride1up.com
Blix Electric Bikes
Blix Electric Bikes is yet another direct-to-consumer ebike company. Blix carries city and commuter style ebikes and launched in 2014 in Santa Cruz, CA. Blix ebikes are simple, stylish, and affordable.
They have some very low step models that can be great for someone with shorter legs or trouble swinging their leg over the bike. Blix also has a cargo bike model.
Blix has 4 models to choose from and they range in price from $1,699 to $1,999.
You can find Blix Electric Bikes here.
blixbike.com
Co-op Cycles Electric Bikes
Co-op Cycles is REI's house brand and they only have one electric bike model so far. The only reason I mention them on this list is that the one ebike they do have, has front suspension, lights, rear rack, and a Shimano motor for $1,999.
If you're an REI member you would also get 10% back. That puts the bike below $1800.
That's a great deal and they are in stock as of writing this. Check them out here.
www.rei.com/product/172495/co-op-cycles-cty-e21-electric-bike
Rambo Electric Bikes
Rambo Electric Bikes are geared toward the hunting crowd. I don't have much knowledge on hunting and don't talk about hunting ebikes much on this site but, they're Rambo. Any company that makes big powerful ebikes made for the outdoors and hunting in the wild that calls itself Rambo Electric Bikes is worth mentioning.
Rambo started in 2018 and it's pretty clear what they have and what they do. I like that. Rambo currently has 16 models to choose from with names like "The Venom" and "The Megatron". You can order their bikes online, but they have local dealers all over.
You can check them out here.
www.rambobikes.com
Giant Electric Bikes
Giant is the second-largest retailer of bikes in the US. Giant owns most of the bicycle manufacturing in the world and has contributed greatly to the world of bicycling. Without Giant, most other brands would fail.
Giant may not be the most well-known brand name here in the states, but believe me, they make amazing electric bikes. As with Trek and Specialized, you will pay a bit more for brand recognition, but their ebikes are worth it.
I don't know when the first Giant electric bikes came out, for such a huge company it's tough to find some of this info.
Giant Electric bikes now carry 10 different models with multiple versions of each. Giant ebikes range from $2,650 to $9300.
You can find Giant Electric Bikes here.
www.giant-bicycles.com/us/bikes/electric-bikes
Gazelle USA Electric Bikes
Gazelle USA is out of Santa Cruz, CA, and has been making electric bikes since 2015. A cool thing about Gazelle as a company is that their bikes are made in The Netherlands and they started making bikes almost 130 years ago.
Gazelle USA is mostly electric bikes, and they are designed for commuters and daily riders. All of their electric bikes come with lights, fenders, and racks. They also have many models with front suspension too.
So if you're like me and want your ebike fully loaded, then check out one of the three models they carry.
To find Gazelle USA Electric Bikes look here.
www.gazellebikes.com/en-us
Schwinn Electric Bicycles
Oh, Schwinn, I know that name, they're an American company, right? Well, no.
Schwinn started as an American bicycle company way back in 1895. They did make bikes here in the states for decades. In 2001 Schwinn was bought out of bankruptcy by Pacific Cycles, which was then bought by Dorel Industries in 2004. Dorel Industries is a Canadian company that also owns Mongoose, Cannondale, and GT.
Often when the big guys eat the little guys they dissolve the smaller company. Other times, if the company has a good brand then they will keep the name and outsource the production. In other words, Schwinn Electric Bikes are now made in China.
Schwinn does have 4 models to choose from. Prices range from $1,499 to $1,999.
Schwinn Electric Bikes can be found here.
www.schwinnbikes.com/pages/e-bikes
Diamondback Electric Bikes
Diamondback has been well known in the US for years. They just started offering their first electric bikes in 2021. I'm adding them to this list because Diamondback actually produced its bike here in the US, up until 1999.
We carry the new Diamondback electric bikes at my shop and even though they only have 4 models to choose from right now, they are on the right track. All four are Bosch mid-drive bikes and they are all class 3 (they assist up to 28mph).
Starting in the year 2023 they will be expanding to carry a full line of electric mountain bikes and if they are anything like the bikes they have now, then keep an eye out.
Diamondback Electric Bikes range from $3,499 to $4,100 and can be found here.
www.diamondback.com/ebike-bikes
At the End of the Day
All these companies combined employ thousands of people here in the US. Those people in turn spend their money here and the economy is all the better for it. When you buy an electric bike from them, you are buying American. You are supporting businesses that are the livelihoods of your neighbors.
There is a lot more that goes into having a company that sells electric bikes in the USA than just where the bikes are made.
We are blessed with so many different options out there when comes to ebikes. If you find an electric bike that you like, and it fits your needs and budget, then go ahead and buy it. My main purpose of this whole site is to get you to start riding an ebike and using it for daily transportation.
If you're not sure if you're going to like riding an ebike, then start with one of the more budget options, or just head down to your local bike shop and test ride one for free.
One more person riding an electric bike is one less car on the road.
Made in the U.S.A. It's a nice dream, but when it comes to the bicycle industry, it is rarely so.
Where do the biggest bicycle brands in the US make their bikes?
These are not specifically electric bike brands just the overall biggest ones.
The US is trending to have more than half the market share of bicycle sales in the world by 2025.
Global Bicycle Market Size & Trends: Industry Report, 2020 – 2025
This means that the bike business in the US is booming.
Here are the biggest bicycle companies in the US by market share
| Brand | State | Market Share % |
| --- | --- | --- |
| Trek | Wisconsin | 22.5 |
| Giant | California | 10.5 |
| Specialized | California | 9.5 |
| Redline | Washington | 6 |
| Raleigh | Washington | 5 |
| Haro | California | 4 |
| Electra | California | 3.5 |
| Cannondale | Connecticut | 3 |
| Sun | Florida | 2.5 |
| Schwinn | Connecticut | 2 |
https://www.statista.com/statistics/255601/market-share-of-major-bicycle-brands-in-the-us/
And here are where their bikes are made
| Brand | Countries where they are made |
| --- | --- |
| Trek | Taiwan, China, Netherlands, Germany |
| Giant | Taiwan, China, Netherlands, Hungary |
| Specialized | Taiwan, China, Netherlands, Hungary |
| Redline | Taiwan, China |
| Raleigh | Vietnam, China, Taiwan |
| Haro | Taiwan |
| Electra | Taiwan |
| Cannondale | Taiwan, Vietnam |
| Sun | China |
| Schwinn | China |
These are not specifically electric bike companies
(found with a quick Google search)
Keep in mind – Almost all bikes, whether electric or not, are made overseas. This does not mean that these bikes are bad (some of them are), but some of these companies make the best bikes in the world.
So don't let the fact that your electric bike may not be made in the USA keep you from getting out and riding more!
If you have an ebike company that makes its bikes in the USA and I have left you off the list, just let me know and I'll add you. Or, if you know of a company that I've missed, let me know and I'll check them out and add them. You can reach me on my contact page.