Did you just get a new electric bike and join the club? Congratulations! If you ordered your new ebike online then you may want to be able to do repairs at home and the Park Tool PCS 9.3 home repair stand is the best ebike home repair stand money can buy.
The Park Tool PCS 9.3 is the best ebike home repair stand because of the excellent quality, 80lb max load capacity, and ease of use you get from the bike industry leader "Park Tool" at a value-packed price of $220.
In this article, I will show you how to set up the Part Tool PCS stand and how to use it. I will explain why I think it's a great value for the price and why you should consider buying one.
You can find the Park Tool PCS 9.3 right here – 
Quickly Ride to a Section -
Perks of The Park Tool PCS 9.3
Easy to assemble
Sturdy when holding an electric bike up to 80lbs
Folds down for easy storage and transport
Reasonably priced for how good it is
Has adjustable height (for tall folks like me)
Made out of steel!
Keep reading to learn a little more about each of these aspects.
The Park Tool PCS 9.3 is easy to assemble
Any repair stand you buy that can hold an electric bike up and off the floor will require some assembly. Some can be a real pain, but the Park Tool PCS is very easy to set up and comes with some basic tools to help you out.
You will easily be able to assemble this stand in less than 10 minutes and be working on your own ebike right away!
Cool set up and promo video coming soon… I'm still finishing it 🙂
The Park Tool PCS 9.3 is sturdy when holding an electric bike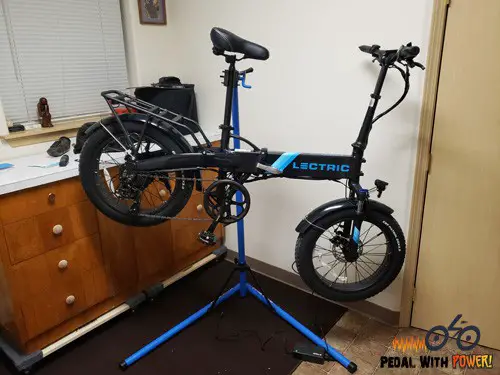 Even though I have used Park Tool tools for years, and they make some of the best bike tools available, I had my doubts about a home repair stand when it came to my ebikes.
Ebikes are heavy! Most home repair stands are kind of flimsy. These 2 things didn't sit well with me. But, being that it was a Park Tool stand I decided to give it a shot.
As you can see, this stand can hold my new Lectric folding ebike and my full suspension electric mountain bike just fine. Surprisingly both weigh about 65lbs each but are obviously very different shapes.
The adjustable clamp secures nice and tight and neither of the bikes felt like they were about to tip over.
The Park Tool PCS 9.3 folds down for easy storage and transport
What's great about the repair stand is that you can fold it up when you are not using it and tuck it away for future tinkering.
The repair stands we have at the shop are awesome, however, they would not only look ridiculous in my kitchen, but they also weigh a ton and I'd never be able to get one up to my apartment.
This collapsible repair stand is perfect for when you don't have a lot of space or just need to be able to put it away when you're done.
The Park Tool PCS 9.3 is reasonably priced for how good it is
If you start searching on Amazon, you will find a lot of no-name brands selling at-home repair stands, and the reviews are all over the map.
At around $220, the Park Tool PCS 9.3 is everything you would need to do your electric bike repairs at home.
Park Tool also offers the PCS 10.3 for about $280, so why is this one more?
The main difference is that the 10.3 has a nicer clamp. The only reason I would justify paying the extra $60 for this nicer clamp is if you have to work on many different bikes and are switching out bikes a lot.
If this sounds like a better fit, you can find the Park Tool PCS 10.3 right here – 
If you are mostly going to be using your repair stand for one bike at a time the clamp on the 9.3 works perfectly, it just takes an extra second or two to tighten.
The other main ebike repair stand that shows on Amazon is the "Bikehand Ebike Repair Stand" and even though it is a little cheaper at $200 it is not a Park Tool stand. 
If you look at where the middle clamp sits on the Bikehand stand, it's much lower than on the Park Tool stand. This means that there will be more of the thinner tube extending upward, making it less stable. Stability is the key here, you don't want your whole operation to collapse. 
Also, the Bikehand repair stand has a hinge to fold down the clamp and this looks like a point of failure to me.
The PArk Tool PCS 9.3 has adjustable height (for tall folks like me)
Speaking of the thinner tube extending up, the Park Tool PCS 9.3 has full height adjustability. You can always make sure your ebike is at the best height for you.
For me, at 6' 4", this is very important. I work on bikes all day and if I had to bend over every time to adjust something, my back would just scream out in protest, then go on strike till I raised the stand up a bit higher. 🙂
With the Park Tool PCS stand, the larger main tube is high enough that when you extend the upper tube to your favorite height, it never extends out more length than the lower. This helps keep the stand from wobbling and tipping over.
The 2 legs at the bottom extend out nice and far to keep the stand stable, but at an angle that does not get in your way when working on your bike.
The Park Tool PCS 9.3 is made out of steel!
Yep, that's right, the whole stand is made out of steel and built to last. The clamp has a thick rubber claw so that it won't scratch your bike and there are some plastic caps on the legs to help it from slipping, but other than that it is all steel, baby!
Even though this stand is steel and prone to rusting, it can still be used to help you wash your ebike. Just wipe it down afterward and leave it out to dry.
At the End of the Day
I own this stand and use it for both of my electric bikes. It works great, as do most Park Tool products, and fits perfectly in my little kitchen work area, as shown above.
I would not test your luck and go for a slightly cheaper brand that you've never heard of only to have it fail and then be wishing you had just bought the Park Tool stand instead.
Just get this one first and you will be able to start fixing your own flats, upgrading your own components, and earning your mechanic merit badge in no time. 🙂
Working on your own bike can actually be a lot of fun, but only if you have a sturdy and reliable repair stand to put it up in!