Getting a flat tire sucks! Getting a flat tire on an ebike is even more suckier! (suckier?) So what is the best way to reduce getting flats? Welcome, Tannus Tire Armour Inserts!
Tannus Tire Armour Inserts are a thick, dense, foam tire liner that goes inside your tire, between the tube and the tire, to help prevent punctures.
I have been using Tannus on my ebikes for over 3 years and have installed them on countless others, they really do the trick. 
Nothing will really stop all flats from ever happening except getting solid tires, but those are garbage and there's a good reason nobody uses them. Solid tires are heavy, hard to install, and when riding on them it feels like you are riding on tires with low pressure all the time.
If you have the option of setting up your ebike tubeless, then I would recommend you do that, but for most of us this is not an option and Tannus Armour is the best solution I've found.
Quickly Ride to a Section -
How Does Tannus Tire Armour Work?
These big foam inserts will need to be installed in your tires between the tire and the tube to help stop sharp objects from causing a flat.
The foam is thicker in the middle and thins out as it goes around your tube, protecting it on all sides.
This will add an extra layer so that something (a nail or piece of glass) will have to go through your tire, then through the Tannus Armour, before it can reach your tube and pop it.
If you have Tannus Armour in your tires you will even be able to ride for a ways if you do happen to get a flat. (With an ebike, this can be a little difficult.)
If you use strong tires and Tannus Armour together, you will barely get any flats. This does not mean you can't get any flats. You would just have to run over something big and sharp and it would have to be in just the right way to cause a flat, which is rare.
How Much Does Tannus Tire Armour Cost?
Tannus Armour costs between $45 and $60 per tire and they're generally sold separately. So you will need to order 2 of them to do both of your tires. If you go to the Tannus website you can now order them as a bundle!
This may seem like a lot but keep in mind that replacement tubes are usually $10 (for regular sizes) to $25 (for fat bikes) and if you need a bike shop to help you, they will charge $5 to $15 for labor. We charge $30 for hub-drive ebikes because of how long it takes.
This can add up quickly and I guarantee you that your Tannus Armour will pay for itself by stopping flats.
You can also use the same inserts when you need new tires. Just take them out of the old tires and put them in the new ones. 🙂
Another thing I've seen on my own tires and tires from customers is that Tannus Armour will make your tires last longer, saving you money.
Check out the pictures below and see how Tannus Armour allowed these tires with a big holes to still be ridden –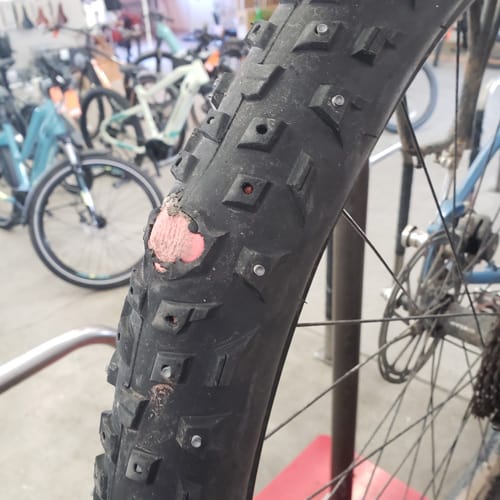 Where Can I Get Tannus Tire Armour?
Tannus Armour can be found at your local bike shop, online at Amazon, and directly from the Tannus Website!
If your local bike shop carries Tannus, I would ask them if they have a deal for installation. These are not easy to install!
If you are feeling brave and want to install them yourself I have a video of me installing Tannus on my Letcric XP 2.0 – 
Do Tannus Armour Inserts Really Work?
Yes, Tannus Armour works great! I use them and have installed them on many customers' bikes and they all say they get little to no flats afterward.
In the 10,000+ miles I have used these, I have only gotten 2 flats. Remarkably, they were within 12 hours of each other.
One was a big chunk of glass that I managed to run straight over and it lodged in my rear tire.
The other was a box staple that got stuck in my rear tire and it wasn't until I hit a big dip and really pushed it through that it popped the tube.
I haven't had a flat since and I have pulled out thorns and smaller pieces of glass from my tires that never popped the tubes.
Nothing is really going to stop any and all flats tires, but Tannus Armour Inserts sure do a good job at it. They will also allow you to keep riding on the same tire, even if the tire has a hole in it!
Does Tannus Tire Armour Add a Lot of Weight to My Tires?
Putting Tannus Armour in your tires will add some weight, but these liners are not very heavy.
Tannus recommends running a slightly smaller tube when using these and that cuts down some of the weight.
If you are thinking about adding Slime or Flat Out to your tires, those sealants are not weightless either.
How Much Weight Will Putting Tannus Armour Add to My Bike?
Here is a breakdown of how much Tannus Inserts weigh for popular ebikes – 
| | | | |
| --- | --- | --- | --- |
| Tire Size | Popular Ebikes | Weight (grams, pounds, per insert) | Price, per insert |
| 20×3-4″ | Lectric XP, RadMini, RadRunner, Aventon Sinch | 230g, .5lb | $60 |
| 26×1.95-2.5″ | RadCity 4, Izip Vibe, Ride1Up Cafe Cruiser | 300g, .66lb | $45 |
| 26×4-4.8″ | RadRover, Aventon Adventure, Pedago Trail Tacker | 550g, 1.2lbs | $60 |
| 27.7×1.95-2.5″ | RadCity 5, Aventon Pace, Ride1Up 500 | 310g, .68lb | $45 |
https://tannusamerica.com/pages/tannus-armour-sizing
As you can see adding Tannus Inserts will add weight to your bike, especially if you have a 26" fat-tire ebike. But the great thing about ebikes is that you won't even notice it while riding!
It will make the bike a little heavier to lift, but not much.
Is Tannus Armour Good for Electric Bikes?
I actually discovered these inserts because of electric bikes. I think these are best suited to electric bikes and install them on many of the ebikes I sell.
Electric bikes put more stress on your tires than regular bikes. They can be prone to more flats due to the increased weight, higher speeds, and longer rides.
Changing a flat out on an ebike can also be more challenging, especially if you have a hub-drive bike.
Even with a bike stand and a shop full of tools it can take me 30 to 45 minutes to change a flat on a hub-drive bike.
At the End of the Day
I don't like to get flats and I'm sure you don't either. 
Tannus Armour Inserts have been working for me and I love the fact they will keep your tires rolling even after they have a hole. 
This means not only having to buy fewer tubes but also fewer tires. These worn-out tubes and tires fill up refuse deposits and impact our environment.
Anything that we can do to use less of each is a good thing and riding longer on the same set of tubes and tires is a step in the right direction.
Get fewer flats, get Tannus Tire Armour!