The Cube Kathmandu is a very well-crafted electric bike that comes in a myriad of different varieties. This review will be on the Hybrid ONE 500. The 500 is for the number of watt-hours the battery is.
This Cube Kathmandu is what Cube calls the trapeze style, kind of like a traditional step-through bike. Cube also does an easy entry version, and a step-over version, all of these versions also have options for a 625wh and the new 750wh battery.
Cube uses Bosch motor systems in all their bikes and Bosch is simply the top of the line for electric bikes. 
Quickly Ride to a Section -
The Cube Kathmandu Hybrid 500 – At A Glance
*Price – $4100 * Weight – medium 58.4lbs * Sizes – extra small, small, medium * Class 1 mid-drive
Range Test
I weigh 220lbs and can get 25-45 miles on this ebike in real-world testing. Depending on which assist mode I'm in, how many hills there are, and how windy it is. Lighter riders will get more range. (up to 70 miles)
Of course, the bike can be ridden if the battery runs out, just without any motor assistance. 
Who's it For? 
This ebike comes fully loaded with lights, fenders, a front shock, and a rear rack, so if you are a commuter then there isn't much better.
With the wider 2.16" tires, this ebike can handle some off-roading too. Gravel roads and dirt paths shouldn't put up much of a fight, just nothing too technical.
If you want an extremely well-made and reliable ebike with a Bosch CX (85nm) mid-drive motor then the Cube Kathmandu is for you. Not many commuter-style ebikes will come with the full Bosch CX motor.
A Brief Rundown of The Cube Kathmandu Hybrid 500
Pros
Bosch Performance Line CX motor
Front suspension
Fenders, lights, and a rear rack included
Upright riding position, with included suspension seatpost
Cons
The tires are a little narrow for heavier off-roading
It's dark grey (Just a personal con, I like colorful bikes 🙂 )
Some Backstory 
Cube is relatively new to the States but has been making ebikes in Europe for a long time. They are very welcome here!
Supply on Cube electric bikes in the US will be very limited, so don't wait to get yours. I've had many people on waiting lists and calling around to different shops to try to get one of these.
Cube also makes a full lineup of non-electric bikes, so they are quite a big brand.
Form & Function 
When you buy an electric bike or any bike for that matter, what you are really buying is the ride. You could have the prettiest bike in the world and unless it rides well, it's just a piece of artwork.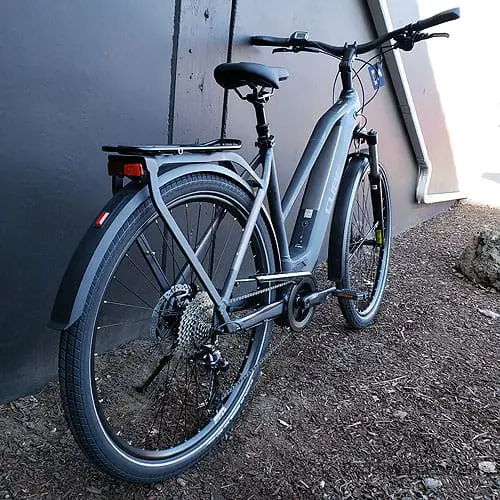 One thing you'll notice right away about the Cube Kathmandu is how everything is designed to fit together perfectly.
Another thing Cube plans ahead for is that the battery cage underneath the bike is expandable to hold a 625w battery if you'd like to upgrade later on.
Being that Cube and Bosch are both German companies, they work hand in hand to make sure the motors and batteries fit seamlessly into the bike frame. This is a good riding and good-looking ebike!
Nuts & Bolts 
Here's a breakdown of what comes stock on the bike – 
The Motor, Battery, and Display
These are the parts you are really looking for when buying an electric bike.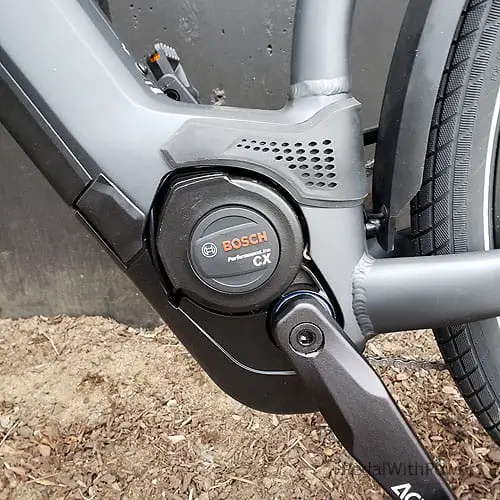 The Cube Kathmandu Hybrid 500 is a Bosch bike which, in my opinion, is the best there is!
Motor
Bosch Performance CX, mid-drive, 250 watts, 85nm of max torque, and up to 340% of max assist.
Battery
Bosch 500 watt-hour, in-tube with the Bosch standard charger that will charge from 0 to 100% in about 6 hours. 
Display
Bosch Purion (speed, trip, odometer, range, assist level, battery level) 
The Drive Train
If you are looking for a pedal-assist mid-drive ebike then the drive train is very important. This is the gearing and shifting part of the bike. You will want lower gearing if you plan to ride up steep hills.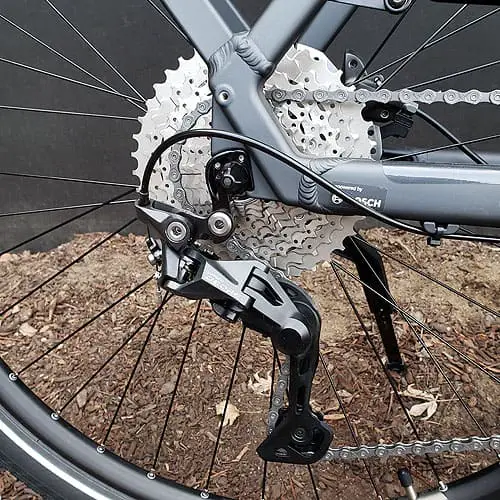 Shifter 
Shimano Deore – 10 speed
Rear Derailleur 
Shimano Deore – 10 speed
Cassette 
11-42 tooth – 10 speed
Now the tooth count on the cassette is where you can tell how low the gearing is, the higher the tooth count on the biggest cog, the lower the gear is. 
The 42 tooth lowest gear paired with the Performance Line CX motor will assist just about anybody up just about anything.
This is a very well-spec'd ebike for being marketed as a commuter bike.
The Brakes
The brakes on an ebike can often get overlooked, but with the extra weight of an ebike and the ability to cruise at 20mph, it is good to know you have brakes that stop you fast if necessary.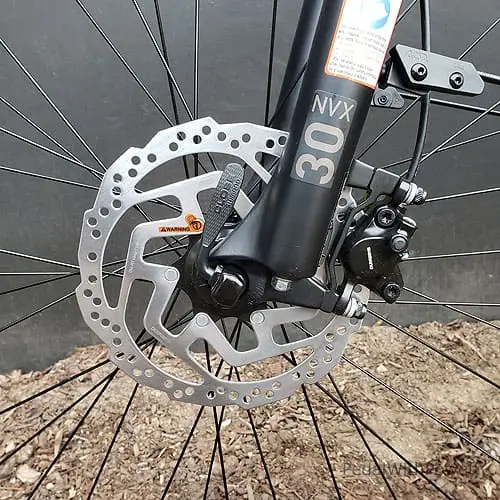 The Kathmandu comes with Shimano BR-MT200 hydraulic, 2 piston, disc brakes paired with 180mm rotors, front and rear. Not super high-end, but more than enough, even for a bigger rider like me.
The Fork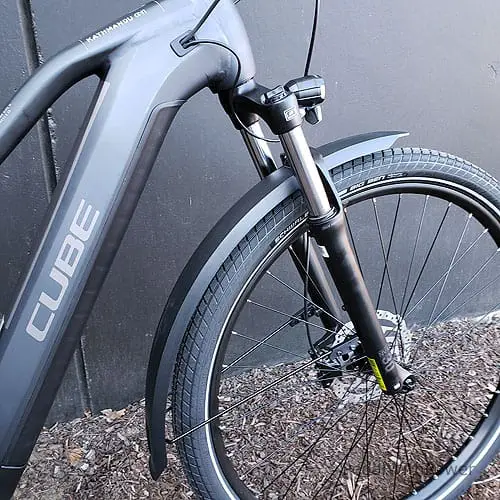 The fork on the Kathmandu is a pretty basic SR Suntour NVX30 coil-spring fork, but it does have 100mm travel which is pretty good for a commuter bike.
This fork will help smooth out your ride and allow for long gravel road enjoyment. Just nothing too hardcore, but that's not what this bike is designed for anyway.
The Wheels and Tires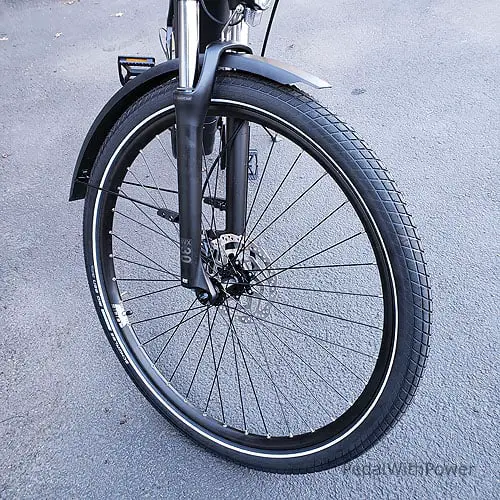 Wheels
The Kathmandu comes with Cube branded, double-walled, 36 spoke, tubeless rims laced to Shimano quick release hubs.
Tires 
The Kathmandu comes with Schwalbe Big Ben, 29×2.16 or 700×55 tires (same size, different names) They are not tubeless-ready though.
These are semi-smooth tires, perfect for most road conditions including grave and dirt (just lower your pressure a little)
Before you buy – 
This is usually where I would give some extra options to consider when buying this ebike, but with this one, all you may need is a bag to carry your stuff. 🙂
You can find the Cube Kathmandu Hybrid ONE 500 right here!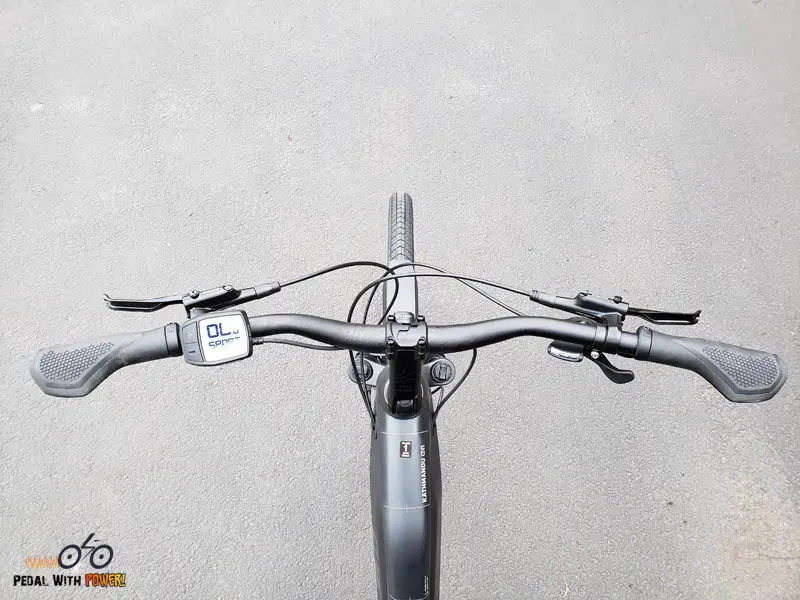 At the End of the Day
We have been very impressed with Cube bikes since we started carrying them 3 years ago. I would highly recommend a Cube electric bike to anyone looking for quality and reliability.
The Kathmandu is was of the more impressive commuter ebikes I've tested and will be sure to put a smile on your face. 
My only complaint is that we can not seem to meet the demand for these. Cube ebikes are very limited and hard to get, but if you start your search now, you could be one of the lucky ones!
Stay safe out there and Keep on Riding!